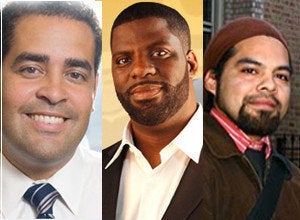 Chicago's hip-hop scene has always had a social conscience. Rappers like Common, Kanye West and Lupe Fiasco emerged to national prominence in part on their themes of community empowerment and the inner-city struggle, and plenty of lesser-known artists continue to preach that gospel at underground shows around the city.
In Tuesday's municipal elections, several young men of the hip-hop generation are hoping to take that spirit of empowerment to the very halls of established power, as they vie for seats on Chicago's City Council.
Among those voices: Che "Rhymefest" Smith, a Grammy-winning rapper and activist; Hector Gonzalez, a former instructor at the University of Hip-Hop on the South Side; Rafael Vargas, a Philly-raised hip-hop lover turned education lawyer; and Brian Sleet, whose neighborhood ties and hip-hop connections run deep.
Surely the biggest name in the lot is Rhymefest, who won his Grammy for co-writing the anthem "Jesus Walks" with Kanye West. The rapper was raised on Chicago's South Side, but went on to national and international stardom, testifying before Congress on artists' rights and meeting with now-Prime Minister David Cameron in England after Cameron decried hip-hop for inciting violence.
But 'Fest is back in his home neighborhood now, fighting to back his words up with actions.
"There's a lot that rappers do, we talk about the hood where we're from, how hood we are," Smith told HuffPost Chicago. "In my hood, I live in a community with 28,000 vacant city-owned lots. I live in a community where you have to drive two miles to get fresh fruits and vegetables. I live in a community where they dump thousands of tires behind people's houses because they know people won't fight it.
"People give me love because I live in the community. So I asked myself, what can I give back that's more than a song and a dance?"
He decided to run against incumbent 20th Ward Alderman Willie Cochran, in a district that spans Englewood, Woodlawn, Washington Park and a few other neighborhoods. Cochran, a former police officer, has described Rhymefest as "a known hip-hop artist who degrades women and promotes violence in his videos," and has suggested that the artist is a gang member.
"Everyone who knows me, who has followed my career, knows that isn't true," Smith responded. "Alderman Cochran should ask his daughter, his children about me. He's using the Willie Lynch theory to separate people on the basis of generations."
Though he does have a criminal record — a count of misdemeanor domestic battery in 2001 and a count of criminal recklessness in 2005 — Smith told FOX Chicago, "I've evolved. I've grown, I've done positive work and tried to repair not only the damage I may have done to my family, but the damage I have done to my spirit and my community."
He emphasized the theme of evolution in a recent interview. "Eighty percent of black men in Cook County, before we reach working age, have some sort of encounter with the law. Are we saying to society that your past predicts your future? I don't believe that. And as far as the rap goes, I've used my music to help people."
To get a better sense of the values of his music, Smith suggested his song "Bullet," which in his words "describes my view of some of the problems facing the community."
"What's the one thing that parents all come together for at our schools?" he concluded. "The arts, a play or a musical program. Music can bring people together."
As Rhymefest was coming up on the mean streets of Englewood, so too was Hector Gonzalez, all the way across the city in Albany Park. Gonzalez was plugged in to the hip-hop and break-dancing worlds from a young age ("when I listened to the stuff Nas was saying, in eighth grade, it was mind-blowing"), and he connected with a young student teacher who was working on turning hip-hop into education and activism.
Raven brought Gonzalez down to the South Side to work on engaging students at underperforming high schools through the hip-hop arts. Ultimately, Raven would found the "University of Hip-Hop," an organization aimed at mobilizing and engaging youth through the art form.
As he grew older, Gonzalez would work with the University to explore misogyny and violence in popular music, get high schoolers questioning the artists they heard on the radio, and use hip-hop, art and dance to advocate for issues like summer jobs for youth and fighting the prison-industrial complex. But the long reign of Mayor Daley had Gonzalez disillusioned with city politics.
All that changed when Daley announced he wouldn't be running for re-election, and neither would the Machine-backed alderman in the West Lawn area, Frank Olivo. Gonzalez saw a rare opportunity to put into practice the social ideals he'd been preaching at the University, and took the plunge into the aldermanic race.
"When Daley decided he wasn't going to run, I started hitting the streets," Gonzalez said. I got a response that was intergenerational. Young people wanted to become more active, and some of our senior citizens have known Frank Olivo for 16 years and have seen no change. It's been stagnant. We need someone who's gonna be moving and shaking in the neighborhood."
But the 13th ward is the stomping-ground of the über-clouted House Speaker Michael Madigan, and when Olivo retired, Madigan wasn't about to let the seat go unclaimed. His aide, Marty Quinn, announced he was running for the seat — and Madigan attorney Mike Kasper was brought in to participate in that grand Chicago tradition of knocking opponents off the ballot on technicalities.
He got Gonzalez for filing his statement of economic interest two days late.
"I felt pretty honored," the unflappable Gonzalez said. "I must be doing something right for them to send the big dogs at me."
He's now running as a write-in candidate, and says if he doesn't succeed this time around, he'll be better prepared next time. "I'll have another four years to prepare, instead of four months," Hector said.
"They're not going to be able to stop the new generation of movers and shakers. We're going to be a force to be reckoned with."
About the last place you'd expect to see a hip hop head running for political office is the 43rd Ward. The district encompasses some of Chicago's most gentrified, bourgeois areas: Lincoln Park, Old Town and some of the Gold Coast.
Rafael Vargas admits it. "I'm probably the first person of color to run in this ward in many, many years."
But the Philadelphia native and son of a single mother credits the soundtrack of his youth with his development of social consciousness. The themes of KRS-One, Blackstar and Public Enemy resonated with him and his neighbors, as they fought to improve a community neglected by its leaders and by the city at large. When he moved to Chicago, he noticed that same disconnect between leadership and the people, albeit in a different context.
"My mother raised me to be engaged in public discourse and to be willing to give back to the community," Vargas said. "That experience really informed my desire to be in public service."
Vargas emerged from his tough upbringing to become a public education lawyer, "because I know what it's like for families not to have good education choices, because I know what it means for a child to be scared to go to school." He has fought for issues like expanded access to gifted and special education, and is currently litigating a class-action case against the Elgin School District — Illinois's second-largest — for improved bilingual education.
The seat in the 43rd is also vacant; along with Olivo, Vi Daley was one of twelve aldermen to retire this term. Vargas was planning on running even before she retired, though. "She was very committed to the community, but was complacent on issues like reform and education citywide. For instance, on crime, if we're complacent because we're a safer community, we can't be surprised if crime starts to trickle in. We can't just look at issues like crime as a South Side issue or a West Side issue. It's a citywide issue."
Nine candidates are running to replace Vi Daley, including Michele Smith, who has racked up a mountain of endorsements from political figures and publications. But Vargas is optimistic about his chances: "We were the first candidate to launch, we feel like we're poised to make the runoff, and if we make the runoff we'll have a really good chance of prevailing."
Brian Sleet is now a well-trained political operator. He's worked on campaigns for Roland Burris, Barack Obama and Sandi Jackson, wife of Jesse Jackson Jr. and alderman in Chicago's 7th Ward.
But he got his start in politics "by trying to sneak out to the Chi-Rock meetings," he said in an interview. Chi-Rock Nation was a decentralized city-wide hip-hop organization in the '80s and '90s, counting such underground icons as The Molemen, Ill-State Assassins, Legendary Traxster and Ang13 as members.
One staple figure at the Chi-Rock meetings was Upski, also known as Billy Wimsatt, who would go on to write the controversial book "Bomb The Suburbs." Upski was a progressive organizer, and Sleet credits him with raising his political awareness at a young age. "It sort of helped give me a broader foundation, that we were in here to make sure we fought for the common good."
Sleet, who grew up in a middle-class black neighborhood and went on to Dartmouth College, also credits KRS-One as an early influence. "I always remember what he said in an interview. He was talking about the fact that when you say you're 'hip-hop,' a hip-hop lawyer doesn't go to court in baggy pants. It means that you bring the perspective that comes from the music into whatever profession you're doing."
To become a hip-hop alderman, he'll have to defeat incumbent Alderman Freddrenna Lyle and her main challenger, Roderick T. Sawyer, son of former Chicago mayor Eugene Sawyer. Sleet sees these two big names as an opportunity, not a crisis — while the two front-runners duke it out for the usual constituency, Sleet hopes to tap into the younger voters who turned out for Obama but have since gone quiet, hoping his own youth and energy will stir them to vote again.
Aside from their connections to hip-hop, all these candidates have one thing in common: they describe their candidacies in terms of visions for the city and for the future. They may have their policy differences here and there with their opponents, they say, but what really sets them apart is a citywide plan, for uplifting all neighborhoods and not just their own. "There's a reason it's called the City Council," Rhymefest said.
This hardly seems like a coincidence, given that the music that brought them to politics is about much more than filling potholes and plowing streets.
The one other commonality these candidates share: they're facing long odds. Even Che Smith, with the resources of a successful recording artist at his back and promises from people like Kanye West to open businesses in the neighborhood if he wins, is staring at an uphill battle against a powerful and connected incumbent. But if hip-hop has taught these men anything, it's to keep fighting. And as Hector Gonzalez said, this generation of young activist politicians will surely be a force to be reckoned with in years to come.
Related
Popular in the Community