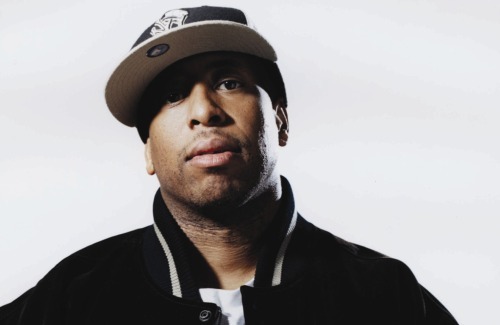 Christopher Martin is an undisputed legend in hip-hop. We all know him as DJ Premier, one half of the legendary duo Gang Starr with the late Guru, as well as producing bona fide classics for the likes of Nas, Notorious B.I.G., Jeru The Damaja, and Jay-Z, among a slew of others, and even hits for D'Angelo and Christina Aguilera. The contributions from DJ Premier to hip-hop are unparalelled, and done with so much class, respect, and genuine passion for the culture.
There is no one quite like DJ Premier. The way he crafts records with a unique hardcore soulful sound is often replicated, but without any of the same results that make his productions special. With a great love of hip hop motivating his deep work ethic, DJ Premier has enjoyed longevity in music that most wish they could achieve.
The recent chapter in the career of DJ Premier is PRhyme, a project he did with long time collaborator, Detroit emcee Royce Da 5'9", in which Premier sampled songs from the world-renown producer/composer Adrian Younge (who's work includes the soundtrack to the film Black Dynamite). The chemistry between DJ Premier and Royce Da 5'9" has been undeniable, ever since their first collaboration "Boom" back in 1999, and throughout the years through tracks like "Shake This" and "Hip Hop", among many others.
Along with PRhyme, DJ Premier has also formed a yet to be titled four -piece touring band. With Brady Watt on bass, Lenny "The Ox" Reece on drums, Takuya Kuroda on trumpet, and Corey King on trombone, the band will play a selection of Premier's past works, while shaking things up a bit on stage. Presently, they are holding a contest online with all the fans to find a name for the band.
PRhyme is currently on their headlining tour, and I was able to chat with DJ Premier over the phone for a few minutes while he was handling some business at his studio before he hit the road with Royce Da 5'9".
The PRhyme album has gotten tons of support worldwide, and your work with Royce Da 5'9" has always been a good idea since "Boom". What's your thoughts on this long time connection you have had musically with Royce Da 5'9"?
He's like the only artist besides Guru, Jeru, and Group Home that's like a family member. Nas is like that too. Even if I don't see Nas for years or talk to him, we have a family member type of relationship. Because of that, anything he needs to do, if I have that window, I'm down to do it. When it comes to PRhyme, when he approached it to me along with Mike Herard who works at Shady,who really came up with the idea about doing this whole project, it was just automatically a go. When they ask me if I'd do this project, even though it was originally suppose to be a Slaughterhouse project, I was like "Let's roll!". So glad that we did. I'm proud of the album. We have a formula and not everybody that you work with has that formula just right off the top but me and Royce have that, so it's very easy to connect with him anytime we do any type of project.
I don't know if you disclose this information but there have been rumors that over the past year or so you've cut some records with Eminem. Any truth to that?
We never cut the records. We were going to do one and it just never materialized at the time. He scrapped those songs during the Relapse album. After PRhyme was done, I saw him when he was doing his Shady promotions and he said he loved the album and that we got to do something finally. We talked about it recently but still nothing materialized. We at least said we got to do something. At least we got to that point.
In all walks of your life, whether it's on tour, your radio shows, online, you really exemplify the term "DJ" by really exposing the real music out there whether you were involved with it or not, speak on the importance of that.
I know my brand is valuable because I understand how that works. When the Internet challenged us to having to do different things, I was like I have to now catch up with this world because I really was not into that part of the world. When I decided to do it, it got to a point where if I get on the Internet and I get the right people to help me set it up, I'll be able to really do some things. If you're into it like I am, you got to keep up. I keep up with everything. I got to know who Migos is. I want to know who Drake is. I want to know who J. Cole is. I want to know who Young Thug is. I'm studying all those guys. I know their records. They may not know mine. Drake does. J. Cole does. I'm literally keeping up with everything and that's how you maintain. Only different is I'm not selling to the audience that they cater to. I'm going with the audience that already knows me and does what I do.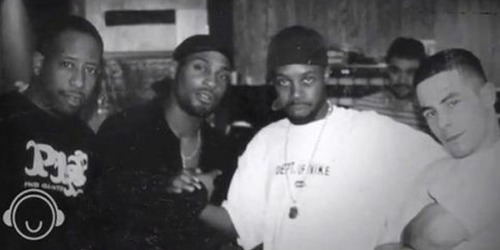 (Photo Credit: Waajeed)
There's an iconic photo that's been circulating the Internet over the past decade that my friend Waajeed took of you, D'Angelo, Dilla, and Alchemist in the studio during a Voodoo session. Do you remember anything about that particular session?
That's was when we were doing "Devil's Pie". Alchemist and I used to hang out because we had just toured together; the Smoking Grooves Tour with Cypress Hill, Gang Starr, MOP, Freddie Foxx, Big Shug, and Public Enemy. I was laying my beats down for "Devil's Pie" for D'Angelo. That was my second day going there to finish laying some stuff down and Dilla was there, ?uestlove was just leaving from laying drum tracks. We just went there to lay the scratch and smoke a little bit, and somebody said let's take that picture. That was a memorable moment. Dilla wasn't sick. It was a good time.
With the loss of the likes of HeadQCourterz and Guru, and the closing of the studio among many things, it's like you are paying homage to the past by going extra hard going forward.
That's exactly what it is. Guru and I have been a unit for a long time. Me and him fought all the time just like any group does. I'm a big fan of the group The Police. I was reading one time, they said they would get off stage and Sting and Stuart would throw punches and punch each other in the face backstage. Be like 'Fuck you!' and their music was incredible. They never made any garbage. Through all the fights me and Guru had, you could not make the records me made if our love was not strong. You just can't do it. All of our records were tight all the way up to The Ownerz. Moving onto keeping the legacy alive, that's my job, that's my duty. I'm going to do it and I'm going to rep it right. I'm not going to it foul. Guru left behind his wife and his 13 year old son, so I'm going to make sure they eat. All that money I make from the Gang Starr stuff, I pay them. I make sure they get half of it. We'll do a 50/50 split. That's exactly what we do. I keep my 50 and I give them the other 50. You're supposed to do that. And HeadQCourterz, naming the studio HeadQCourterz keeps his name alive. I'll never let that go because that was a huge part of our team. Big part of our life. It's a beautiful to be a part of knowing that they know while they're gone that I'm holding it down and they're watching me. I know spiritually they're watching me. I'm doing the right thing.
The PRhyme tour with Royce Da 5'9" and DJ Premier hits the Blind Pig in Ann Arbor on Thursday, February 26th with special guests Your Old Droog and Detroit's own Boldy James. For more informaion on PRhym, visit prhymeofficial.com. For more information on DJ Premier, visit premierwuzhere.com.
REAL LIFE. REAL NEWS. REAL VOICES.
Help us tell more of the stories that matter from voices that too often remain unheard.