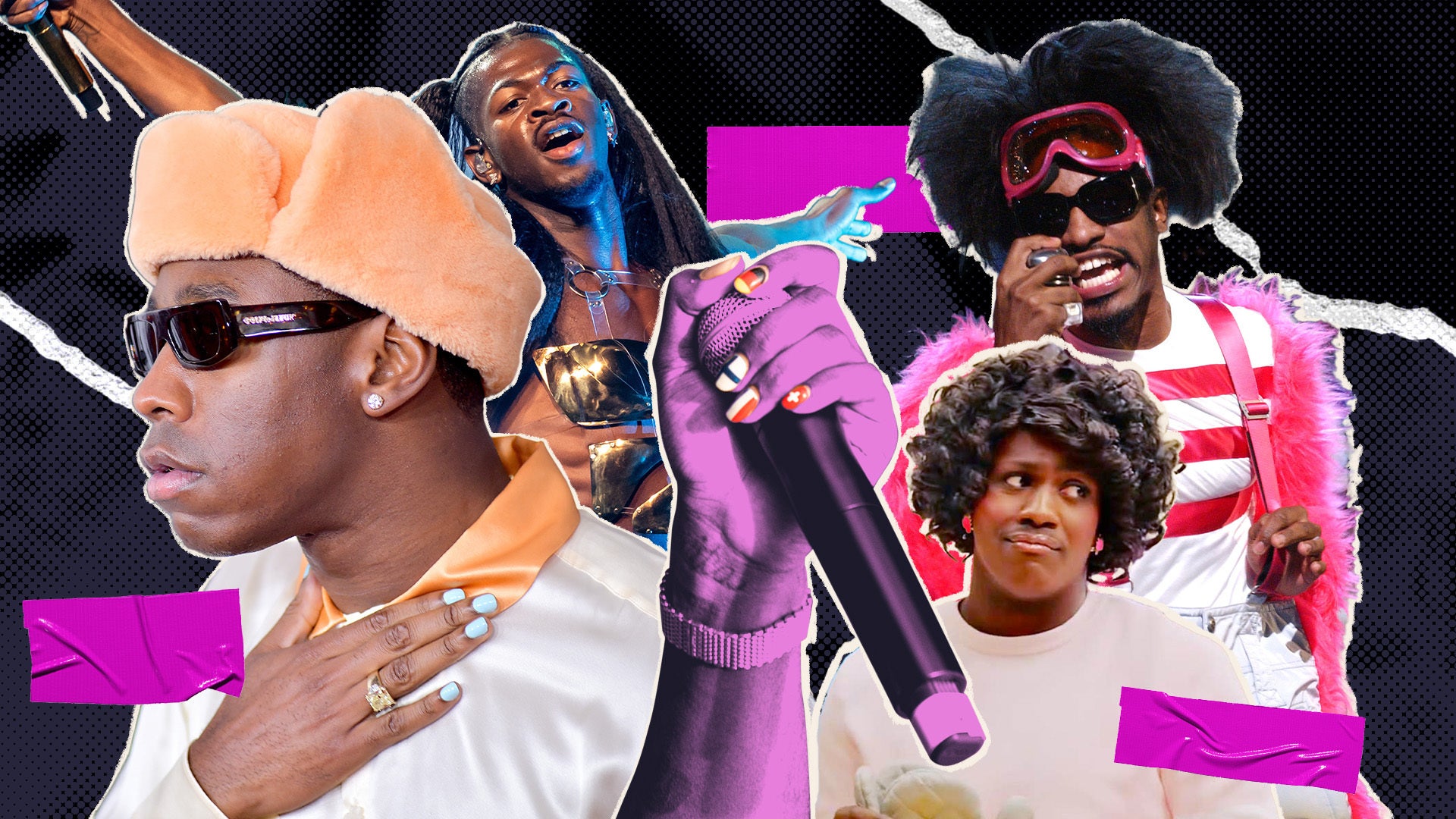 Hip-Hop's New Generation Is Giving A Polished Middle Finger To Toxic Masculinity
Gen Z was born into hip-hop, and they don't concern themselves with made-up heteronormative rules.
Fifty years ago, hip-hop was defiant protest music born out of necessity. The kids had something to say, so they used their parents' music differently, made their beats, and told the world what they didn't know they needed to hear. The result was an organic, earth-shattering form of storytelling that shook up the world. Everything is hip-hop now. From nursery rhymes to fashion, the impact can be felt worldwide.
So it's embarrassing that after 50 years, hip-hop hasn't grown an inch above the playgrounds of our pasts, where wearing the wrong sneaker or a T-shirt a little too small was enough to get you teased for being feminine. The truth is much like the history of this world, America, and yes, even hip-hop, homosexuality has always been not only around but a part of the fabric that helped push the genre to the forefront. But hip-hop doesn't tell that part. They don't mention how many label heads, fashion designers they idolize, stylists, producers and radio execs who help break their music identified as queer. Nope, the old guard is only worried about one thing that isn't even actually happening, but they can't stop waxing about: The belief that there is some nefarious element at play to feminize hip-hop and, more importantly, Black male rappers.
That's because Gen Z is actively working to bash homophobic stereotypes in hip-hop and the old guard can't get the hell off the porch to stop yelling at the kids for driving too fast in a residential area. And what's funniest about the latest angry homophobic rant from the old heads is that their gripe stems from this: Young Black rappers, at least a few of them, have been wearing… hold your chest here… nail polish.
I know. I know. The line between Black male masculinity and being labeled everything but a straight, cisgender male seems to lie in one's painted nails, among a bazillion other inconsequential things. Drake, arguably the most prominent name in hip-hop, damn near broke the internet after appearing on a live stream where he wore yellow nail polish (at least one of the Canadian rapper's nails was also painted blue.)
Fans and foes found common ground in hating on the rapper's finger paint but also Black male masculinity.
Drake would double down on his painted nail popularity by posting a photo to his Instagram story showing his nails painted… gasp… pink! And not even bold pink but a soft, luscious, light pink.
This time, all of the commentary on his nail color proved a bit too much as Drake fought back rhetorically, asking, "Wait, is the world homophobic? Smh."
This isn't the first time that the crosshairs of masculinity have been trained on the admittedly sensitive rapper who often rhymes about his failed relationships and his feelings behind loveless sex. Most recently, Americans took time away from rising inflation, the Supreme Court stripping away the rights of African Americans, women and the LGBTQ+ community to create memes feminizing Drake for his verse in "Rich Flex," in which he playfully asked rapper 21 Savage to "do his thing."
Here's how fashion site HighSnobiety reported the phenomena:
"Given Drake's history of feminine selfie poses and claiming to be a 'lesbian,' it didn't take long for the internet to point out the rapper's zesty delivery of the chorus. And thus, a new sassy Drake meme was born."
The memes won't be shared here because they're childish and, truthfully, not funny. They wade into the finger-pointing nonsense of gay-bashing anyone who doesn't follow the exhaustive list of performative maleness. You know the list that says two straight men can't sit beside each other on a bus. Or you can't stand next to another man at an open urinal, especially if another urinal is available. It's a weird dynamic to think that when men wear rainbows, it instantly means they're attracted to the same sex, and so does the color pink, unless it's worn by the rapper Cam'ron, and then his sexuality isn't questioned. There are always exceptions; I don't know how or who they are made for. But I know that André 3000 has never adhered to masculinity rules, including wearing wigs and skirts and donning every color from a 64 big box of Crayola crayons. No one cared about the other half of OutKast's sexual preference; they all accepted him and loved his music. In fact, many of the old guard have Three Stacks in their top 10 best rappers list. But these are the exceptions, not the rule.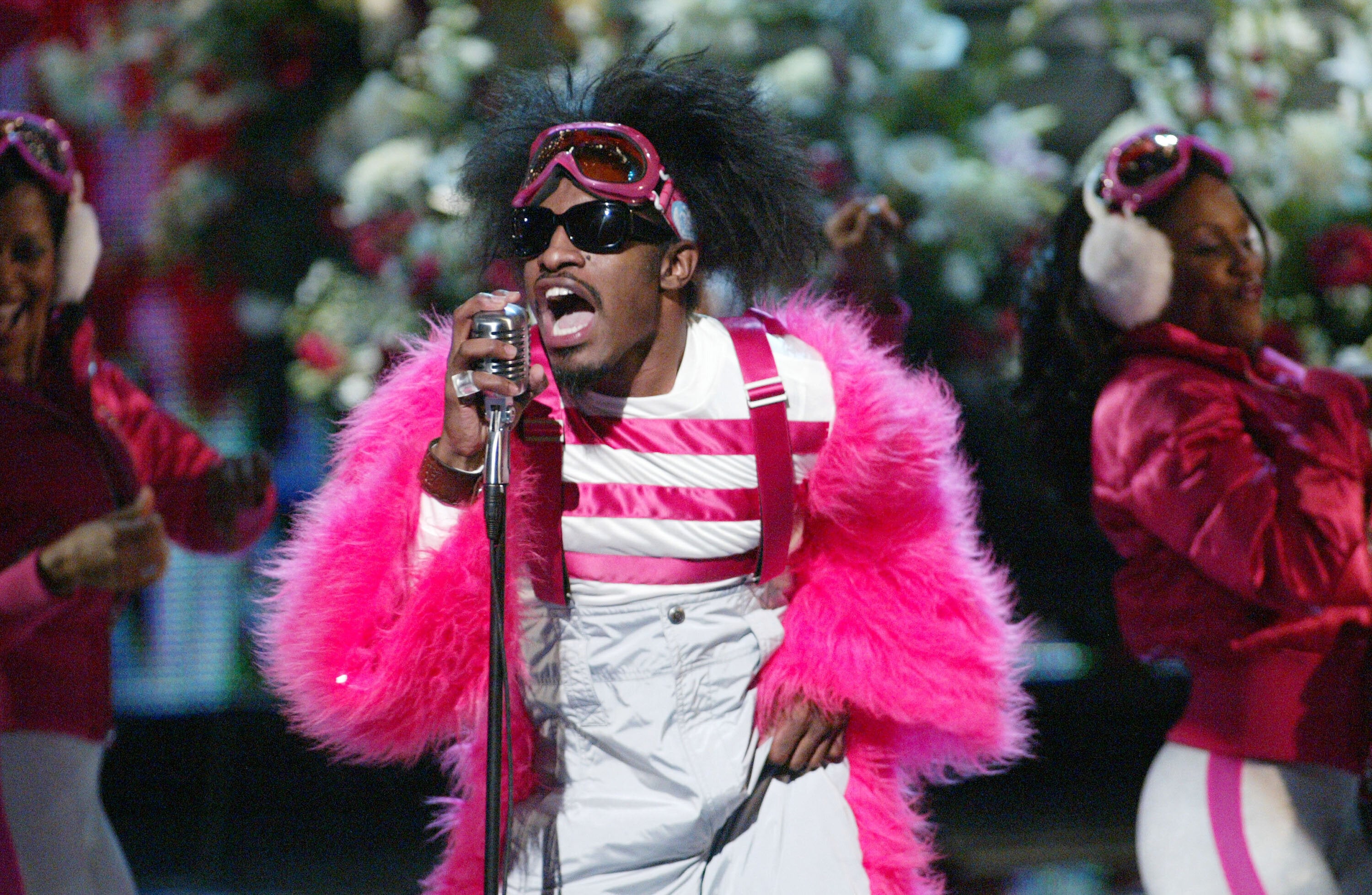 Hip-hop has always been a bastion of toxic masculinity. Just ask any woman who dared to enter the male hip-hop fraternity just how difficult the climb has been. As such, the archetype for male rappers has always been overly aggressive, womanizing and misogynistic. By default and design, anything that didn't fall into these dusty baskets ultimately became classified as feminine. It was the most archaic and barbaric trait of maleness inherited by men who didn't ask for it but followed it because it was familiar. And the line between what constitutes being a man is so drugged out on machismo that even that line keeps getting blurry.
The new generation is tired of trying to defend or define themselves by old, played-out, toxic masculine roles. When Lil Yachty talked about his sexuality, he noted that a lot of women probably assume he's gay because he isn't always interested in sex with them. It didn't help his cause that he also does the universally unaccepted unmanly task of painting his nails and wearing what he wants, often including beads at the ends of his braids. And he doesn't care. Not even a little bit.
"In 2020, Lil' Yachty clapped back at homophobic Twitter fans who criticized him for wearing a wig, dress, makeup, jewelry, and heels to humorously portray a female talk show host named Boprah in his video music entitled, 'Oprah's Bank Account,'" Queerty reports. "Some commenters called the rapper gay or bisexual, others called him homophobic slurs, and yet another accused him of influencing young minds with inappropriate behavior."
The publication added: "Finally, the rapper responded by writing, 'Bitch, it's just supposed to be entertaining… it ain't even that deep. Y'all N*gga's so in denial with y'all masculinity shit like this bother y'all... Relax.'"
It's been so perplexing that old head and habitual line stepper in youth rappers' business that Wack 100 (The Game's manager) took to Instagram to ask his followers what's up with rappers painting their nails.
"I've been getting this question about the youngsters wearing fingernail polish," he started. "Me personally, I don't wear fingernail polish. I'm from a different era," Wack 100 said. "I'm a '70s baby. I wear one earring, not two. That's just our thing. So I say, 'Shit, I gotta ask the youngsters.' Cause I know a lot of youngsters — Trippie Redd, NBA [YoungBoy], Lil Uzi [Vert] … I know these men, these men are not feminine, these men are not gay, they're very masculine, they're very stand-up individuals."
To which Trippie Redd, wearer of black nail polish, responded: "It's a way of expressing ur feelings. Being true to yourself and self-care."
In a defiant act of self-care and blatant FU to the old regime, a few rappers, including Yachty, Tyler, the Creator and Machine Gun Kelly, have launched their own gender-inclusive nail polish lines.
But none of this self-actualization reached rapper The Game, who took to Instagram just a few months ago to claim that "the rapture is coming" after Lil Pump posted a selfie wearing a V-neck T-shirt, cropped leather jacket and painted nails.
What's always been baffling about this trend: Why are old rappers so threatened by young rapper's fashion choices? How does Drake or Lil Yatchy's nail polish affect anything in The Game's day-to-day life? What does it say about the overly aggressive rappers who take time out of their busy schedules gang-banging on wax and hating women to call out a man on IG?
What's more dangerous is that the language of bashing rapper's fashion choices and the constant intimidation creates an even more difficult space for openly queer rappers to exist.
DaBaby has prided himself in being the self-elected leader of the homophobia in the hip-hop movement. During Rolling Loud Miami in 2021, and for absolutely no reason than a-homophobe-had-a-microphone, the tiny rapper with the outsized male ego decided to shout to the crowd:
"If you didn't show up today with HIV, AIDS, or any of them deadly sexually transmitted diseases that'll make you die in two to three weeks, then put your cellphone lighter up," he told attendees, Billboard reports. "...Fellas, if you ain't sucking d**k in the parking lot, put your cellphone lighter up."
This is even more shocking when you consider that this horribly ignorant rant came from a grown man who once walked around in an adult baby diaper to promote his career. If anyone should be understanding of alternative lifestyles, it would presumably be the small man who named himself after a newborn and walked around like a grown-ass baby. But that isn't the framework upon which hip-hop was built, which means that even veteran rappers like T.I. supported DaBaby's hatred.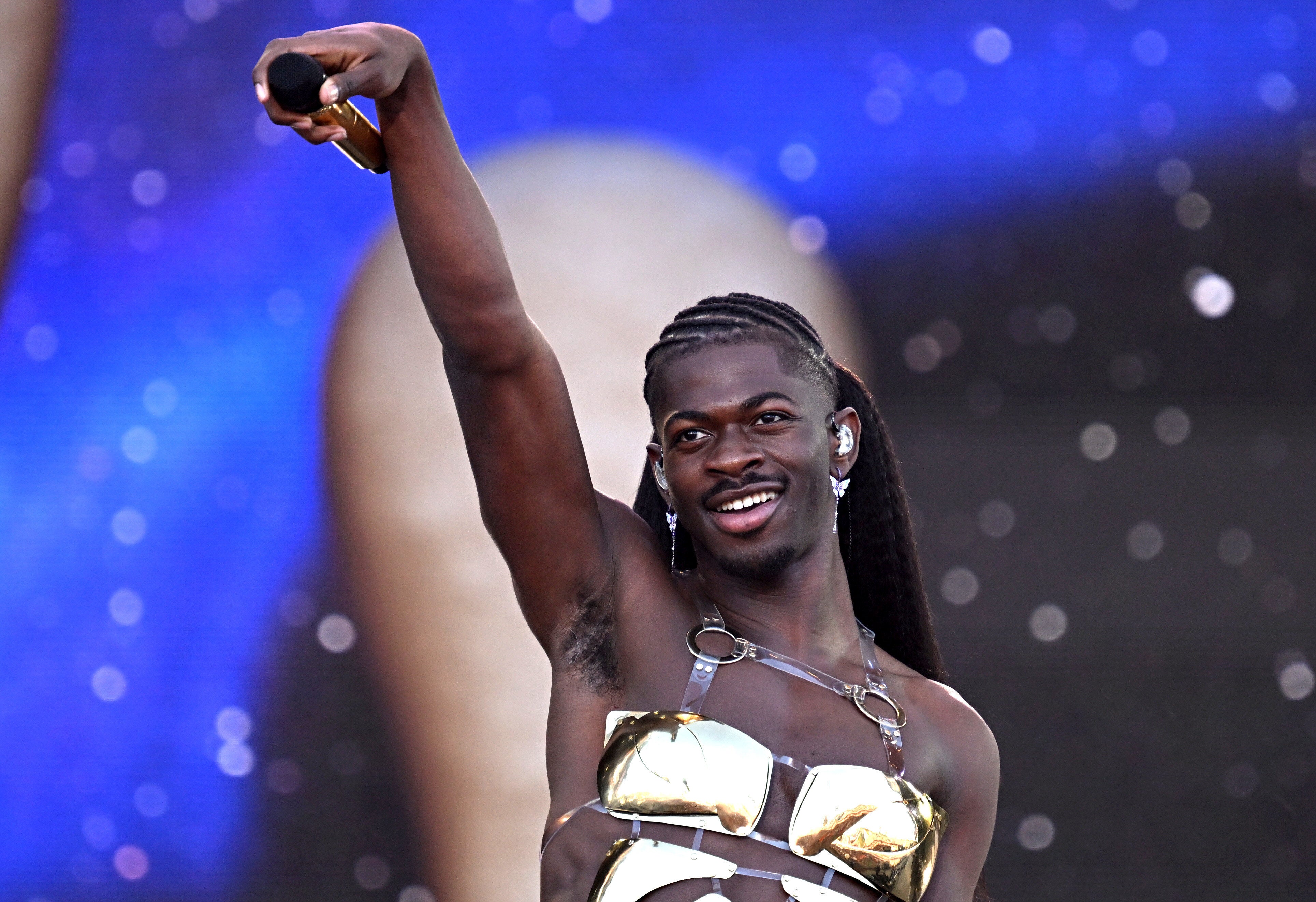 While Lil Nas X was not the first openly LGBTQ+ rapper (shoutouts to Mykki Blanco, Cakes da Killa, Zebra Katz, Big Freedia, Frank Ocean, Tyler, the Creator and many others), he is the most successful. He speaks truth to his life and is unapologetic towards his love interest and sexuality, a tenant on which the foundation of hip-hop was built.
And for every Lil Nas X who is unafraid to live out loud, some folks still struggle with their sexuality and how that may or may not affect their music. Last year, a sex tape of rapper Isaiah Rashad was leaked on social media. Until then, Rashad had never publicly spoken or rapped about his sexuality. The illegal tape leak could've destroyed Rashad as he spoke about being suicidal after learning that millions had seen an intimate act he shared with men. And then an amazing thing happened. A groundswell of encouragement began rising in support of Rashad. Fans didn't care who he loved because they loved him. They loved his music, his expression, and who he slept with was his business.
In his first public appearance since the tape was leaked, Rashad walked out to his adoring fans and said: "I see all the messages and all that shit, all the positivity," he said, his voice shaking slightly. "Y'all kept me alive these last couple of months, so we're going to keep this motherfucker running."
And what can be more hip-hop than this?