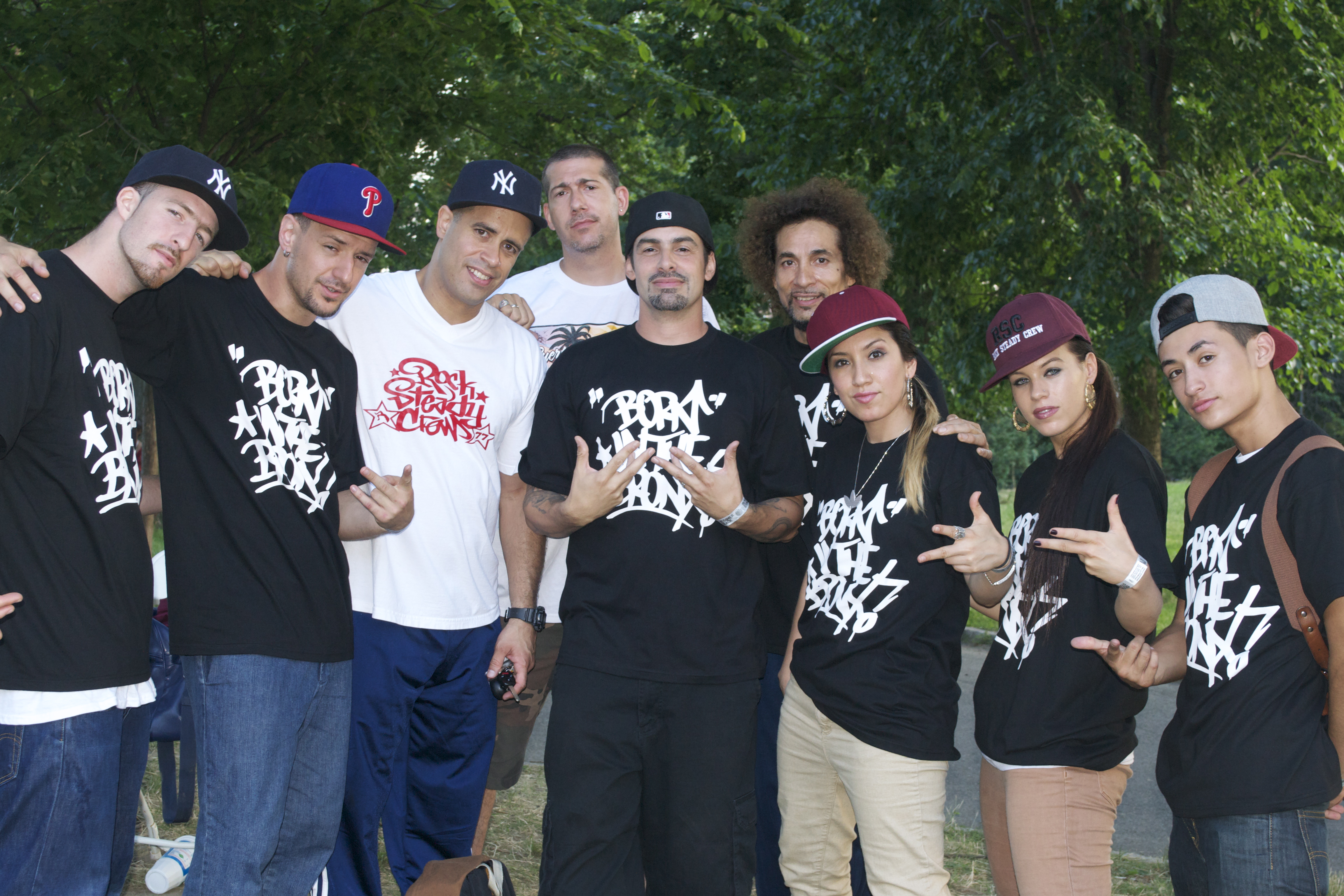 For much of the urban youth, both past and present, hip-hop is more than just music; it's an expression of arts and culture, originating in the early '70s. Technically, hip-hop is four components that consist of music, DJ'ing, graffiti art and b-boying.

B-boying gets its influence from earlier ethnic African cultures such as Afro-Brazilian, -Cuban and -Caribbean, as well as elements of tap dance and salsa. Early pop culture influences of pre-day, hip-hop dance were inspired by musicians like James Brown and his song, "Get on the Good Foot." The song inspired a dance phenomenon called "The Good Foot." This dance style started a tradition of dance battles in places like Harlem World in New York City, and at parties and street corners in urban cities.
According to Michael Holman, the first journalist to use the word "hip-hop" in print, the best way to describe The Good Foot is: "Imagine a majorette marching in a parade taking steps raised high at the knee, but keeping it in the air for a beat before dropping it down and simultaneously raising the other leg, like a stop-action drum majorette on beat." The Good Foot style of competition dance was an early element of b-boying, which consisted of mostly floor work, known as top-rock, up-rock, spinning and freezes.

The terms "b-boy","b-boying" and "breakin" were created by Kool Herc, a DJ spinning at block parties in the Bronx back in the '70s. Herc began to isolate the instrumental portion of the record, which emphasized the drum beat -- the "break" -- then switch from one break to another. "B-boy" means "break boy" because they dance to the break of the music beat. Later, by repeating this break part done by DJ Kool Herc, "break beats" were born, and the "breaking" style of dance.

The most influential b-boy dance group in hip-hop past, present and worldwide is the Rock Steady Crew (RSC). B-boys Jimmy D and Jimmy Lee from The Bronx started the Rock Steady Crew in 1977. Rock Steady added a lot of acrobatic moves like headspins, backspins, and hand glides. The New York Times referred to Rock Steady as "the foremost breakdancing group in the world today". The crew currently has members worldwide in places like Brazil, South Korea and Japan.
Here are 10 things to know about the Rock Steady Crew:

1) The group was initially formed in the Bronx, New York City in 1977 by b-boys Jimmy D and Jimmy Lee. The Manhattan branch was created by Crazy Legs. Crazy Legs is currently the president of the Rock Steady Crew.

2) The name Rock Steady Crew was created after a dance called "The Rock."

3) Rock Steady Crew was featured in hip-hop movies such as "Wild Style" and "Beat Street."

4) In 1981, New York City's Lincoln Center hosted a breaking battle between Dynamic Rockers and Rock Steady Crew. The event was written about in The Daily News and National Geographic.

5) Members of The Rock Steady Crew appeared in the movie "Flashdance" starring Jennifer Beale.

6) The term "breakdancing" originated from UK media - not hip-hop culture. So the Rock Steady Crew prefers that people refer to the dance as b-boying/b-girling or breaking.

7) In 1982, their manager Ruza "Kool Lady" Blue organized The Roxy Tour, which featured Rock Steady Crew, Afrika Bambaataa, Cold Crush Brothers, Double-Dutch Girls, and Fab 5 Freddy. This tour traveled to Europe, which spread hip-hop culture to many countries.

8) Rock Steady Crew performed on the Jerry Lewis telethon and has even danced for the Queen of England.

9) Rock Steady Crew released the album "Ready For Battle" on Virgin Records , which featured songs like "Hey You" and "Up Rock". Their music sold over one million copies.

10) July 26th is the official "Rock Steady Crew Day" in New York City.

Rock Steady Crew has two upcoming events in New York City's Central Park, as part of the SummerStage concert series. On July 28th they will celebrate their 36 anniversary with fans from all over the world. On July 31st Rock Steady Crew will premiere "RSC Ghetto Made." This will be Crazy Legs' last performance.

Stay tuned for my follow-up article on the event, featuring interviews from top hip-hop artists, DJs and fans, as they pay homage to the Rock Steady Crew.

City Parks Foundation's 2013 season of SummerStage brings free performances to 17 parks throughout the five boroughs. For more information, please visit: City Parks Foundation
Calling all HuffPost superfans!
Sign up for membership to become a founding member and help shape HuffPost's next chapter