It's time to dig up your John Lennon glasses, tie-dyed t-shirts and all the fringe you can find. Hippies are making a comeback -- in the art world, of all places.
The Boston Museum of Fine Arts is honoring all things far out and covered in beads with "Hippie Chic," a exhibition on the grassroots fashion that revolutionized the Woodstock generation.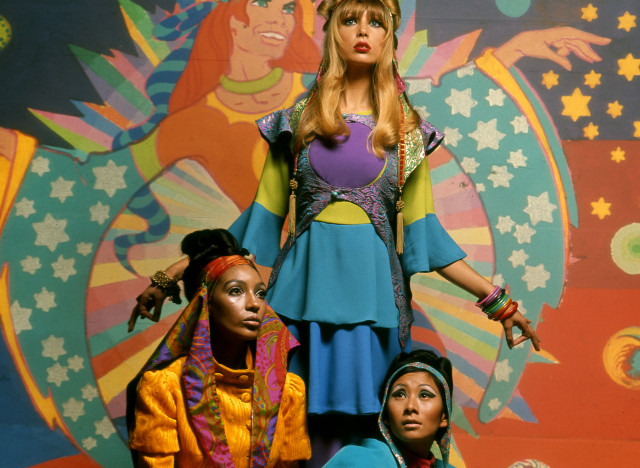 We're not so thrilled with the recent trend of fashion-centric art exhibitions (Japanese Futuristic in Seattle, Punk and Impressionism at the Met) -- especially when the depicted movements are anti-establishment at their core. (Also, there is something sort of creepy about seeing afros on mannequins, don't you think?)
But while the punk exhibition relied too much on couture and not enough on the chaos its root, "Hippie Chic" more effectively explores the movement's grassroots beginnings.
Visually, the exhibition is a hallucinogenic time capsule back to the days of free love and long hair, with colorful frocks and patchwork prints that look like they were woven in a dream. The hippie generation's signature mix of nature, fantasy and rock-n-roll rings true, even despite the mannequins. At the very least, it's a show you and your Dead Head uncle can bond over.
"Hippie Chic" juxtaposes niche designers like Betsey Johnson and "Granny Takes a Trip" with svelte vets like Yves Saint Laurent. Shag rugs, spinning lights and rotating platforms adorn the gallery, along with a vintage jukebox spinning The Beatles, The Dead, The Doors and more. The exhibition runs until November 11.
Trip out to the hippie stylings in the slideshow below:
PHOTO GALLERY
Hippie Chic
Calling all HuffPost superfans!
Sign up for membership to become a founding member and help shape HuffPost's next chapter