Hipster Barbie -- whose official Instagram name is Socality Barbie -- is taking the Internet by storm. Tapping into our social media habits like no other, she nails our "fake" Instagram lives to a tee with every perfectly posed photo. Barbie even hashtags things the way we do (#blessed, #vscocam and #liveauthentic), while arranging artsy shots we all know we're guilty of taking.
And those "quote" captions? So. On. Point. Barbie, can we be you?
When The Huffington Post spoke with Socality Barbie, the creator refused to reveal her identity beyond saying she was a woman and "Just some nobody who lives in Portland, Oregon -- only close friends and family know the identity." In "real" life, the creator says she photographs weddings and started Socality Barbie about three months ago.
"I created SB purely for my and my friends enjoyment. It was a light-hearted and fun way to poke fun at all the people who used the 'Socality' and 'LiveAuthentic' hashtags. People were taking the same pictures in the same places and using the same 'inspirational' captions," said the creator. "How can you be authentic and inspiration when you follow the crowned? I thought using a mass-produced doll would be the best way to make that point."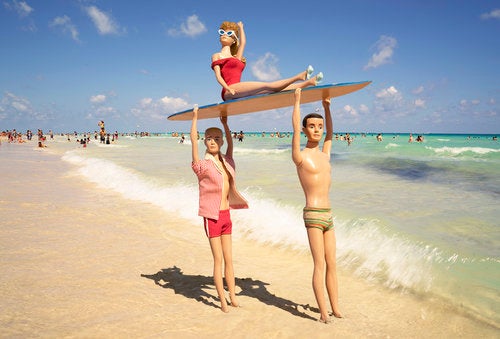 Barbie Photos
Related