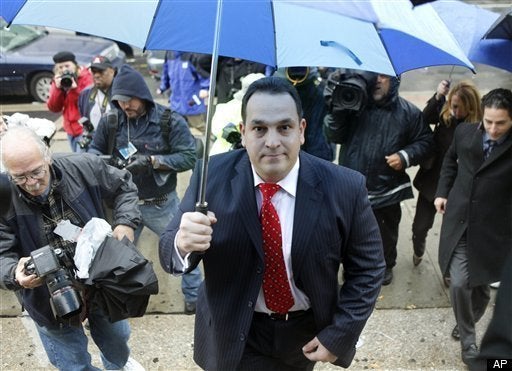 The Hiram Monserrate haters have another reason to grumble.
The disgraced ex-State Senator's wife claims Monserrate is trying to cut the amount of child support he pays for his autistic son.
"He's trying to use his son's child support to write off his other debts," Janet Monserrate said. "He has no attachment to anyone; he only cares about his ego."
In 2008, the Queens Democrat was charged with slashing his girlfriend Karla Giraldo in the face with a broken glass. He was acquitted of two felony charges, but was convicted of a lesser assault charge for dragging Giraldo down the hallway of their building after the alleged attack.
The State Legislature expelled Monserrate in February of last year.
Last month, Monserrate told a family court judge he's had to live on a $26,000 police pension since he was kicked out of the State Senate.
Monserrate asked the judge to lower his child support payment, which she agreed to consider at a later hearing.
The ex-senator currently pays $1,100 a month in child support, and Janet Monserrate said that amount would be cut to $400 if the payment modification is granted.
Monserrate also claimed his bad back was keeping him from gaining employment.
"He's not looking for employment," Janet Monserrate said. "This is a man who cares mainly about what people think. He won't work in a Home Depot, he won't work at a supermarket, he won't work two, three jobs to pay child support."
Monserrate was recently charged with misusing $100,000 in tax dollars when he was a city councilman.
Court records show Monserrate owns a $130,000 apartment with a $74,000 mortgage, and owes $14,000 in credit card bills, $10,000 for a car lease, $8,000 in student loans and $22,000 in taxes.
Related
Popular in the Community