Honesty is always important. So up-front you need to know I am not a healthnut; I have no credentials in nutrition or personal training; am a very average guy who loves to eat, gains weight easily, and doesn't particularly like to go to the gym. Despite this what I have learned and come to accept over the years is like it or not working out regularly and eating better will help me live a longer and healthier life.
With Thanksgiving over we are smack in the middle of the holiday season. Parties galore with too much food and drink everywhere. It's the time when our clothes fit too tight and we chance looks in a mirror and think "I need to go to the gym, but hell what's a few extra pounds, so why not wait till I make my annual New Year's resolution to get fit and healthier next year." Take it from me; the very average guy who doesn't like the gym and loves to eat; don't put off getting started for another day because it never gets easier.
Nine years ago a friend introduced me to his personal fitness trainer. Prior to that I was the client every gym owner loved. I would sign up and pay my money at the beginning of the year, go for a few weeks, and then conveniently forget where the gym was. In April or May as summer approached I would start again, go for another few weeks when facing the prospect of the beach and a bathing suit, and then again give it up. I went on every fad diet there is. Then this friend who once held the same view of gyms and exercise I did convinced me to try a few sessions with his trainer. I was a little afraid of the cost and whether it would be worth giving something else up to hire him. But I took the plunge and never looked back.
One of the good things about this trainer was he worked at a gym close to my home so one of the excuses to not go wasn't there. The other thing that helped in the beginning was the knowledge if I just skipped a session I had to pay for it anyway. After all I was booking his time. That spurred me to get to the gym at the appointed hour.
So I plunked down my money for twenty sessions, figuring in for a dime, in for a dollar, thinking I was paying to have someone stand next to me saying over and over "you're doing great, just one more squat or lift, don't stop yet!" I soon learned it's so much more. Nine years later and I now go twice a week to meet with my trainer Nildo Silva. Aside from being a great guy he has a graduate specialization in exercise physiology, numerous certifications and during the years we have been training together has also become a Certified Massage Therapist (CMT). His training and experience enabled him to work with my physical therapist after both my knee replacements to help me continue to lead an active life. I still hate to diet, and still don't really like going to the gym, but the feeling of accomplishment after every session is nice and my body really misses it when I don't go.
I learned a number of things over the years about trainers. I was lucky to find the perfect trainer for me from the beginning. I also found for me the small personal training gym was a better option than some of the other more all-purpose and fantastic gyms in the area such as VIDA. Each person needs to find what is right for them. While VIDA has better equipment, a spa and hair salon, and a roof-top pool at many of their locations, FIT, which is just a training gym, is the better option for me. Some of the other clients at FIT also have memberships at VIDA. In fact my trainer is a massage therapist at the VIDA spa.
I learned how important it is to not only have a trainer you can respect, who you can enjoy spending an hour with each time you are with them, but who has the credentials to be able to develop a personal training plan based on your body and your personal goals. We all go to the gym for different reasons but a good outcome for all is a healthier and longer life. The right trainer can help you get that six-pack if that is what you want; train you for a marathon; work with your physical therapist to help you rehab after an injury; or as you get older just help strengthen your core and keep your body limber allowing you to continue to live independently and accomplish the basics of daily life.
FIT is just one example of a small personal training gym. It's owned by Michael Everts who taught me about what he looks for in the trainers he hires. Michael himself has two Master's Degrees; one in Kinesiology and the other n Exercise Science and Rehabilitation Science. He is certified by some of the leading certification organizations in the country and demands similar high standards of all his trainers.
Recently I had the pleasure of meeting one of his new hires, Bradley Higgins. Now from my perspective it doesn't hurt that Brad, an Aussie, has great accent, and is incredibly good-looking and truly charming. But as I found out when chatting with him what got him the job were his awesome credentials. Brad brings to the clients he trains a Master's in exercise sport science, with a specialty in strength and conditioning and 10 years' experience training clients in Australia and Canada. For five years he worked as the Master Coach at the Australian Institute of Fitness (AIF), Melbourne, teaching other trainers. He is also an athlete having played rugby and golf. All this giving him the wide range of knowledge and the ability to customize a training program for each individual he works with. So Brad has joined some of the other trainers at my gym including Ryan Scarano who works with me every Saturday.
Meeting all the new trainers at the gym is one of the benefits of training at a small personal training gym. If your trainer happens to be on vacation or you need to miss a session there is always another qualified trainer who knows you and can work with you. There is a nice family feeling and comradery among clients and trainers.
Having a personal fitness trainer may not be for everyone, for me it was the beginning of living a healthier life. As I have gotten older it is becoming even more important to me and the sacrifices I make in other areas of my life to continue affording the cost are paying great dividends.
So when you are at the next holiday party, salivating over the luscious food and plentiful drinks, I urge you to consider not waiting to start a healthier life until the New Year. Make the commitment today and join a gym of your choice or better yet hire a personal fitness trainer. Take it from me it is worth every dollar. After all the body you have, even with the replacements like hips and knees now available, is the only one you will ever have and if you treat it right it will last you a long, long time.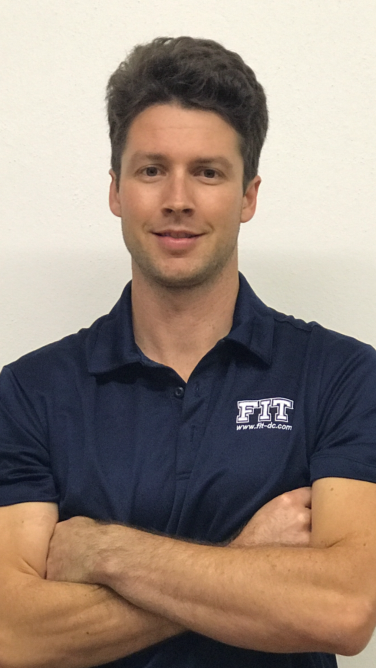 Related
Popular in the Community