Lamar Hunt Jr. is the Founder & President of Loretto Companies balancing real estate investment and charitable ventures; while coming from a lineage of well-known businessman and sports entrepreneurs. His "cool factor" is being the owner of the Missouri Mavericks, an East Coast Hockey League team. In addition to being a member of the founding family of the NFL's Kansas City Chiefs and operators of the MLS's FC Dallas, his education and devotion to his Catholic religion guide his vast philanthropic activities. Two of his passions in life are classical music and promoting healthy family relationships in the community.
Expressing his creativity as a flutist in the Kansas City Symphony for nine seasons, he is also a Licensed Professional Counselor (LPC) in both Kansas and Missouri. Hunt worked with neglected and abused teenagers, homeless men with addiction problems, and families in crisis. He is frequently in demand as a public speaker regarding effective interpersonal relationships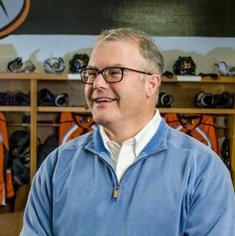 With so much personal care and involvement in his companies, I asked him about his hiring decisions:
To what degree do you keep your focus on the pulse of hiring for your ventures?
"As a general principle, and not focusing on myself or a family member as "one in charge", everyone is a leader within any functional organization. Everyone is leading all the time, sometimes in immediate, dramatic, and obvious ways, more often in subtle, hard-to-measure ways, but leading nonetheless. Thus there is a trust among family members that at different times and in different ways each of us wills step forward and contribute in the hiring process."
How important is it to keep personally connected to the process of adding new personnel to your team?

"Personally, I cannot do most of the jobs that people are hired to do within our organizations so we have to depend on various folks within the organization to hire those who are eager to explore new ideas and approaches rather than just shrink defensively from what lurks around the corner. What is important is who we are as people, what do we value, what principles anchor us, and facing the world with a consistent outlook."
Do you have any hard and fast rules that are followed in your own selection of team members or those who will be working close with you?

"Leaders thrive by understanding who they are and what they value. Only those who know what they want can pursue it energetically and inspire others to do so as well. If team members do not have shared values and a belief and passion for the mission, then they probably will not be a good fit for the organization. An example might be hiring someone to work for a professional sports team but the potential employee having little passion or interest in the game (I.e. the product) itself."
Do you have an anecdote or philosophy to share that comes to mind that would sum up your thoughts about hiring?

"One thought I have about hiring is to be patient with the process. Some people think hiring is just another wearisome thing to check off a list of things to do but since you are hiring someone you will interface with on a regular basis, you better get it right. Many people can do the job you are hiring for but not everyone is the right fit. If you are going to place someone in a key role it better be a good fit for the position. The typical problems I have seen are people who are miscast for the jobs they are expected to do."

Best line-of-questioning you've used interviewing?

"Successes or small victories are quite common in any job. Conversely, by asking a question that centers around failures or plans that did not work out and what they have learned about themselves from it, you can observe the humility of the person you are dealing with. It is difficult for anyone to admit mistakes but it is a reality of life. Being able to admit faults or miscalculations is a sign of a balanced and realistic person."

Any shocking or surprising interview stories?

"I have actually seen someone lose their cool in an interview and 'go-off' on everyone in the room (horrifying). Also I have also noticed, surprisingly, that many young people struggle with the written word or expressing themselves verbally."
To which, of course, I suggest studying the fundamentals of getting hired. After making similar observations, I realized the necessity for educating on interviewing from the other side of the desk. So, I included a bonus chapter in my book The Naked Interview: Hiring Without Regret.
What has driven you in building such success?
"What drives me towards success is seeing others get opportunities and succeeding at them. I really desire to let the employees build it and I add value where I can and am able to. The four pillars of leadership are:
Self-Awareness (the habit of continuous self-reflection and learning);
Ingenuity (living with one foot raised and ready to respond to emerging opportunities);
Love (creating an environment energized by loyalty, affection, and mutual support); and
Heroism (endeavor to conceive great resolve and elicit equally great desires)."
And, he is a success in the importance of family as Lamar is married to his lovely wife, Rita, and between them, they are the proud parents of nine children and six grandchildren.