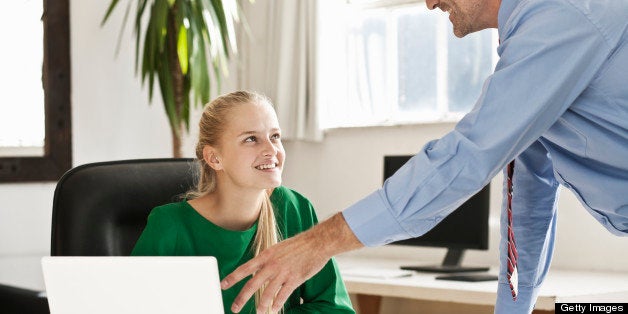 Does your company have plans to hire talented students? With summer internship season right around the corner, companies of all sizes are on the hunt for well-matched students. But there's a lot to consider before posting a listing for your internship opportunity.
Bringing on an intern requires a lot more than just signing your name on the dotted line of an internship contract. How will you compensate your interns? Will you be in compliance with their college's internship credit requirements? Are you familiar with U.S. Department of Labor Wage and Hour Division guidelines? You don't need to be a human resources expert to hire an intern, but any uncertainty on the laws and regulations surrounding internships could land you and your company in hot water.
Take it from a few companies who had to learn the hard way. Fox Searchlight Pictures faced lawsuits from two former unpaid interns after they went unpaid and conducted menial work that replaced the duties of entry-level hires. Similarly, a previous editorial intern filed a lawsuit against Charlie Rose, after feeling her time spent at the television talk show violated labor laws because she didn't receive training and was unpaid.
Internships are a mutually beneficial relationship for both employers and students. Before you hire your next interns, here are five things you need to know:
1. The Fair Labor Standards Act (FLSA). This act was passed in 1938 and set forth many labor regulations we've come to know today including a federal minimum wage, the eight-hour workday, 40-hour workweek and overtime pay. The FLSA covers all employees engaged in handling, selling or working on goods for interstate commerce, which means this act covers most local businesses.
Are you thinking about how much to pay your interns? The current federal minimum wage is $7.25 per hour. It's not legal for a company to reduce this wage through deductions for such items as cash or merchandise shortages, employer-required uniforms or tools of the trade. Your state or city may have a higher minimum wage set. Be sure you're in compliance if you choose to provide a paid internship. As for overtime pay, it must be at least one and one-half times the regular pay rate. If your interns are clocking more than 40 hours a week, by law you must pay them overtime. Employers who don't can be fined up to $10,000 for first time violations.
2. Wage and Hour Division Guidelines. In April of 2010, the U.S. Department of Labor's Wage and Hour Division released a new set of guidelines for unpaid internships due to the widespread abuse by private companies. These guidelines have received criticism from many intern employers for being too vague, therefore it's necessary dig into these guidelines a little deeper to understand whether your internship program is compliant with the law.
For example, the first guideline roughly states that your internship should be similar to training provided in an educational environment. This criterion leads many employers to believe that offering college credit makes an unpaid internship legal. While the phrase "educational environment" is open to interpretation, this isn't the case. The Department of Labor defines training as providing interns with skills that can be can be used in multiple employment settings. Providing interns with weekly workshops, software training, etc, are ways to increase your compliance with this rule.
Guess work shouldn't be involved when complying to the laws set for your internship program. It's best to err on the side of caution for each of these guidelines.
3. Federal and State Work Study Programs. If you're wondering what this program is and how it works, you're not alone. These programs were created to help students with financial need get hired for internships and other types of part-time work. Basically, work study programs can subsidize your intern salary costs. Federal and state legislators currently allocate millions of dollars for various programs each year, which is then passed on to businesses employing students eligible for financial aid. Work study programs can save employers anywhere from 25 to 100 percent on intern salaries by hiring work-study students.
Before you jump out of your seat, it's important to understand that work study programs are currently divided into Federal and State funded programs. These two programs often gain funding through universities. No program is quite like the other, in that each has different eligibility requirements and reimbursements. Setting up a work study program is a challenging process due to its variation by location and institution. It's best to first find out if your company is eligible to receive reimbursement. If so, then you must hire a student who meets the financial need criteria. Utilizing a work study program isn't suited for every company or organization, but it's something worth looking into.
4. Intern Compensation. Probably one of the hottest topics in the realm of internships, the paid internship vs. unpaid internship debate is still going strong. Even with the many lawsuits and U.S. Department of Labor guidelines, companies are still choosing to provide unpaid internships for students. In fact, unpaid are even on the rise in recent years.
NACE research shows that 63 percent of paid interns got a job offer versus 41 percent of unpaid interns. I find intern compensation to be a crucial factor in helping your internship program attract talented interns. Employers should keep in mind that pay doesn't make up for an internship experience lacking educational value. Your internship program should thrive on providing students access to networking opportunities with top-level employees and hands-on industry experience. Money is a great incentive for boosting morale, but how much should you be paying?
If you're looking to attract the top 25 percent of students, consider paying communication, public relations and marketing interns at least minimum wage. If you're interested in the top 5 percent of students, looking upward to $12-15 an hour. If you're hiring a computer science or graduate business students, consider at least $12 and increase to at roughly $20 for attracting brighter talent.
Money isn't the only way to compensate your interns. Even if you can afford to pay your interns, it's still important to focus on providing them with events and workshops, hard skills training, expensed meals, transportation and anything else relative to your company culture. Remember, you get what you give. If you're looking for outstanding interns, you must first provide them with outstanding compensation.
5. School Credit. As stated above in regard to federal internship guidelines, simply offering college credit doesn't make it OK to not pay your interns. It's best to leave college credit as something for your interns to figure out after getting a position with you. Students will take care of this by visiting their career center and filling out the necessary paperwork. Each school differs on requirements for internship credit, but they're usually fairly lax. Adapt your internship to these requirements only if it's necessary and on a case-by-case basis.

Know your federal and state laws before you hire an intern. While your company may be looking to gain some buzz around your excellent internship program, an illegal scandal isn't the kind of newsworthy attention your company is aiming for. It's better to be safe than sorry when it comes to your internship program. Be sure your company is strictly adhering to labor regulations now in order to avoid any legal issues in the future.
What is one form of alternative compensation you provide for your interns?
Ashley Mosley is Community Engagement Manager of InternMatch, an online platform connecting the best intern candidates and employers. Connect with Ashley and InternMatch on Facebook, LinkedIn and Twitter.
REAL LIFE. REAL NEWS. REAL VOICES.
Help us tell more of the stories that matter from voices that too often remain unheard.