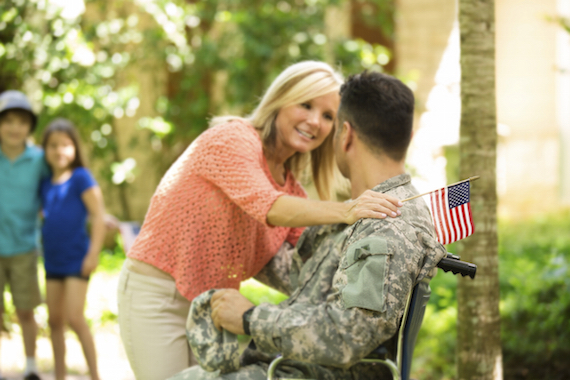 Last month, I spoke at the Supporting Military Caregivers at Work and at Home Conference featuring the Honorable Elizabeth Dole (in conjunction with the "Hiring Our Heroes" initiative by the U.S. Chamber of Commerce Foundation). During the conference, the overwhelming response by the attendees can be summed up by one recruiter who said,
"As a company, we've been focusing on hiring veterans, but we never thought about the needs of their caregivers."
Made up primarily of recruiters from Chicago-area businesses, the audience was empathetic to the challenges facing caregivers of veterans who are disabled. Often needing consistent in-home medical care and/or supervision, or regular trips to the VA, the lives of the spouses, parents, brothers and sisters are stressful. And it makes it hard to work.
"When my husband returned with third-degree burns to 50 percent of his body, I never thought I'd work again," said Allison Hughes, Vice President of Operations, Emerio Group, LLC and wife of a veteran who was critically wounded in Afghanistan. Her husband has since made a full recovery, but caregiving stress was all consuming for a few years.
Donna Ballard's experience is different. Her partner has not made a full recovery. "The life of a military caregiver is not the same as someone who is caring for an aging parent or a child. There is a finite amount of time that you'll be caring for that individual. But, for military caregivers, life can be changed forever," said Donna Ballard, Coordinator, Lutheran Social Services of Illinois (LSSI) Legacy Corps for Veterans and Military Families.
Perfect People: Please Apply
Much attention has been paid over the last 30 years on the needs of mothers, and more recently, fathers. Employers have made accommodations in work schedules, started employee resource groups for working parents, and beefed up their benefits with backup child care and expanded parental leave.
While some of those approaches can support military caregivers, flexibility is what is most critical for them. "Working from home has been life-changing. And being able to flex my day so that I can interrupt my work and get breakfast for my husband and kids, or take my husband to a mid-day doctor's appointment, and get back online later in the day is the only way I can make work work," said Blair Hughes, Employment Coordinator, Hiring Our Heroes.
But finding employers who structure work like this is difficult. This was reflected by the corporate recruiters who attended.
"Military caregivers are a hard sell," said one recruiter. "Hiring managers want the perfect person, one who can work when they want them to work. But that's not realistic. Who doesn't have drama or issues that may divide their time and attention?
"It's hard enough to shift the mindsets of hiring managers to be open to the accommodations needed by some veterans. Since my company has made a commitment to hiring them, they know they have to make it work. But hire military caregivers? There's no corporate commitment to them."
That was precisely the reason Elizabeth Dole came to the event. Through the Elizabeth Dole Foundation, she has focused her energies on supporting our nation's "hidden heroes," military and veteran caregivers. She has described the challenge as "an urgent societal issue that deserves a national response." She calls on employers (and others) to help, saying, "It is a mistake to believe the government should or will shoulder this responsibility alone."
Right Message, Wrong Audience
While I both moderated the panel and conducted a workshop on how to build a flexible workplace to meet the needs of military caregivers, all I could really do was teach recruiters how to negotiate accommodations for military caregiver job candidates.
That's because--apart from Nichole Barnes Marshall, Global Head of Diversity and Inclusion, Aon plc., who sat on the panel--few talent leaders attended the event. Recruiters don't influence workplace culture. It's hard enough for them to influence hiring managers to be more open-minded about the candidates they present.
Ultimately, the solution is for employers to implement new ways of working in their organizations. Period. Not because certain contingencies of our labor force need accommodation (this thinking is so 1980). Globalization, technology, and the rapidly changing business landscape require organizations to be nimble--and that comes from a mobile, responsive, flexible workforce (and workplace), not from butts in seats.
And managers have to let go of their ridiculous dreams of workers whose lives are not complicated. All of our lives are complicated whether we're caregivers or not. Let's stop thinking there are any workers left in the labor force that can afford to be (or desire to be) perfect in the eyes of their employer. And let's stop wanting to know the reasons behind their complex lives. It's none of our business.
The sooner employers recognize that every employee needs autonomy and flexibility in their approach to work, the sooner we'll win the race for talent and be more competitive in this fast-paced, demanding world.
As president of Life Meets Work, Kyra Cavanaugh has helped hundreds of companies think differently about how work gets done. She specializes in helping organizations improve performance through remote work, workplace flexibility, collaborative scheduling, and other new ways of working. Learn more about Kyra and her team, and connect with her on LinkedIn.
Calling all HuffPost superfans!
Sign up for membership to become a founding member and help shape HuffPost's next chapter