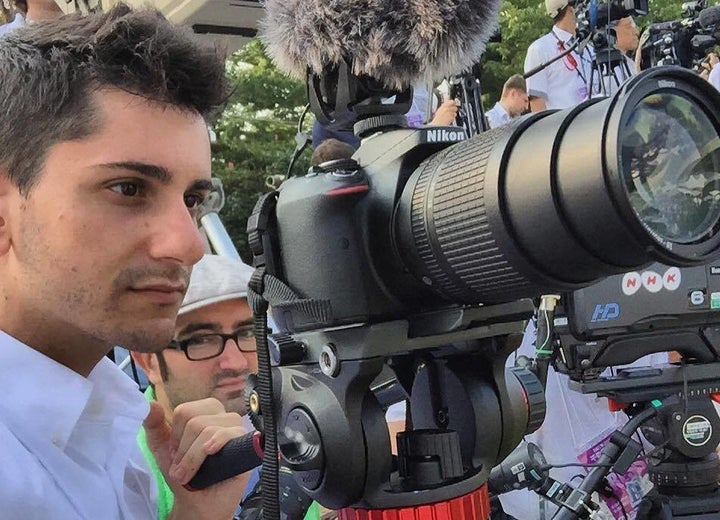 Ari Beser's life has always been defined by his grandfather's participation in World War II. He is the grandson of Jacob Beser, the only U.S. serviceman aboard both propeller planes that dropped the atomic bombs on Hiroshima and Nagasaki in 1945.
In 2011, Beser went to Japan to do research for a book on his grandfather. He started talking to elderly Japanese survivors, learning firsthand how the bombings continued to affect them decades later.
Since then, Beser has set out to tell the stories, primarily through photos or video, of people whose lives have been defined by nuclear technology.
"I have been able to build relationships with the survivors, not just listen to their stories," he told HuffPost Japan. 
Last year, Beser published The Nuclear Family, which is part memoir, part historical text. On his Facebook page, "Hibakusha: The Nuclear Family," he regularly posts photos and videos of the survivors he meets. ("Hibakusha" is a term used in Japan to refer to survivors of the bombings in Hiroshima and Nagasaki.)
HuffPost Japan spoke to Beser about the work he's doing.  
Has visiting Japan changed your perspective on World War II?
Definitely. It changed when I came to Hiroshima and interviewed the survivors. I originally came to Japan in 2011 to write a book about my grandfather and my other grandfather's friend (a Hiroshima survivor). I contacted her family since she had already passed away.
I asked if they would work with me, but they said no. "We could be your friends, but we don't want to talk about this."
I thought it was going to be easy. I thought I would meet the family and write about my grandfather's friend, write about my other grandfather, and just spend time with them. But they said: "No, you need to meet the survivors." I've been on this long journey since then, trying to meet as many survivors as I possibly can.
I contacted the Hiroshima Peace Memorial Museum and they connected me with a few people -- mostly survivors who speak English. One survivor, Keiko Ogura, translated all the interviews I did with the other survivors I met [who didn't speak English].
So, eventually, I met the family of Yuji Sasaki, who is the nephew of Sadako Sasaki, the girl who was two years old when the atomic bomb was dropped on Hiroshima and who [tried to fold] the thousand paper cranes before her death. I met her family. They invited me over, and [that's where] I met President Truman's grandson. It was 2012, and he was the first Truman family member to come to Japan. We met so many different survivors that summer. They all asked us to tell their story.
How has your storytelling been received by the survivors?
The survivors asked me to tell their stories and I promised that I would write a book. Now I'm in Japan on a Fulbright-National Geographic fellowship. I have been documenting the 70th anniversary of the atomic bomb, all the way to the fifth anniversary [of the] disaster in Fukushima. So I have tried to give voice to and document the social impact of nuclear technology.
There are thousands of nuclear refugees who can't go home because of nuclear power failures, and the survivors of the atomic bombs are dying every day. We have to really make sure we are listening to what they are saying. So that's basically what I'm doing now.
I feel that you are telling your stories as a human story, looking beyond national identities.
I tried not to look at it as what Americans did to Japanese, but what people are capable of doing to each other.
It's such a politicized issue, and I am just so amazed you approach it this way.
That's what we need to do! We are humans on the planet and we are getting closer and closer together -- and so borders may be important, legally speaking, but they mean so little.
On a personal level, not on a political level, there's nothing stopping me from coming to Hiroshima as the crewman's grandson -- an American listening to the survivors.
That's a difficult thing to do sometimes, but there's nothing stopping a Japanese grandchild of a Japanese soldier from going to the National Museum of Singapore, and learning what happened in Singapore. There's nothing stopping the grandson of an American soldier from listening to the victims of Agent Orange in Vietnam. You know there are peace organizations that exist in these cities. [We need to] go to Nanjing and listen to what happened, or go to the Philippines and listen to the stories of the survivors.
We need to get together, just learn from each other, and it doesn't need to be about what your country did to another country or what my country did to your country.
Tell me more about your conversations with survivors of the atomic bomb.
Everybody has a different story. Everyone saw different terrible things that day. You might remember it differently and you might react to it differently.
Survivors were not angry with me because of my grandfather. Everyone respected me because I came to listen to them and transmit their messages. I have seen anger toward the bomb and I have seen people being angry toward the Japanese military for forcing people to keep fighting, so those are the things they have expressed to me.
I was walking with Ogura-san, one of the survivors at the peace park in Hiroshima today, and I asked her a question: "Do you care that I am the grandson?"
"You are the grandson but you are an American. I would love to talk to any American who will listen to my story," she had said earlier.
But today, she said: "It is so meaningful that your grandfather was above the cloud and I was underneath it. And it's just amazing what can happen in my lifetime. I feel like your mother, and now, that's incredible for me."
I have been able to build relationships with the survivors, not just listen to their stories. One of my friends, a survivor from Korea, even listed me as an uncle on Facebook.
I think it's challenging to really get close to people and try to get younger people to care about [Hiroshima and Nagasaki]. But it's not hopeless. Four of the survivors I met have passed away in the last five years, since I started doing this. So that's clear that this is so necessary.
They passed away, so they cannot tell the story themselves. But I can tell it, because I know their story. That's so important for their history.
Calling all HuffPost superfans!
Sign up for membership to become a founding member and help shape HuffPost's next chapter
BEFORE YOU GO
PHOTO GALLERY
Hiroshima Remembered, 70 Years On