On Aug. 5, the day before the 70th anniversary of the Hiroshima nuclear bombing, I stood in the blazing sun outside the rows and rows of multi-level condominiums that make up the Hiroshima Municipal Apartments, waiting to meet blast survivor Sachiko Masuno.
Upon ringing the doorbell of one of the condos, an elegant woman answered the door and greeted me with a smile. "Please, come in!" It was Masuno herself, so energetic that it was hard to believe she was 86 years old. I joined her inside, where she told me the details of her story.
Masuno is from Awayamura, now called Miyoshi City, in Hiroshima Prefecture. In 1945, the year the bomb was dropped, she was 15 and a student at the Hiroshima Dentetsu Domestic Science Girls' School. Because many of the male cable car drivers had gone off to war, the school was opened to train female drivers. Masuno had longed to become a driver since she was a child and took the chance to sign up with her cousin Toyoko. She started out as a conductor and was able to achieve her dream of becoming a driver the next year, thanks to the labor shortage.
"Controlling the trolley all on my own was such fun. I felt as though the whole world was mine," Masuno reminisced.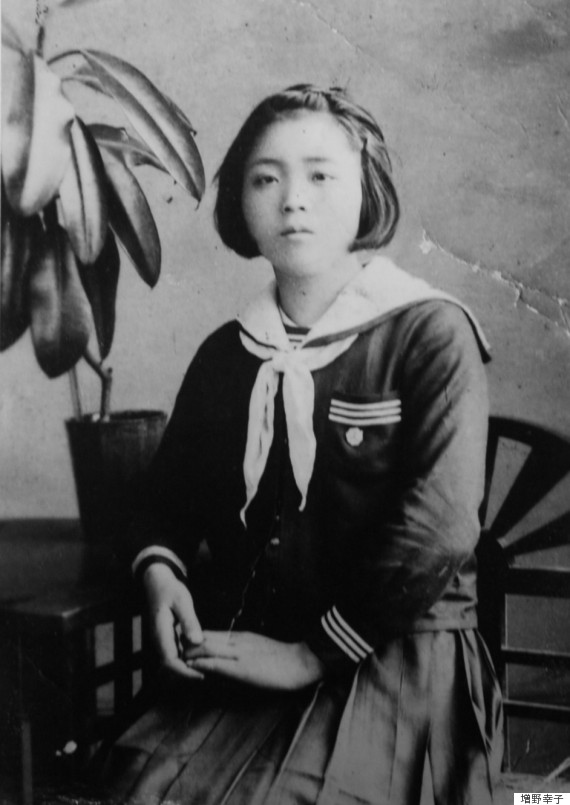 Photo of Sachiko Masuno in 1944 at 14 years old, just about to enter the Hiroshima Dentetsu Domestic Science Girls' School.
Just before the war's end, she stopped taking classes, and was driving the trolley day and night. On Aug. 6, Masuno wrapped up her driving duties later than usual, after 2 a.m., because of an air raid blackout. Unable to sleep, she got up at 5 a.m. and was about to get ready for work when a sudden pain struck her in the stomach (she was later diagnosed with appendicitis). For the first time ever, she decided to skip work and went back to sleep.
Three hours later, at 8:15 a.m., Masuno felt a searing heat in the soles of her feet. Just as she was turning over in her sleep, things began falling all around her. When she opened her eyes, still half-asleep, she saw that the dormitory ceiling was gone. Above her, debris drifted through a pitch-black sky. As she made her way to the public square, dressed only in her undergarments, she heard people yelling that a bomb had been dropped.
Suddenly becoming aware again of a sensation of heat in her feet, Masuno looked down to discover that her soles were burned and blistered. Feeling panicked, and looking for a way to cool the burns, she walked in the direction of the Kyobashi River. When she reached a nearby road, what she saw terrified her.
"'They're monsters!' I thought. I didn't think the bomb could have done that to them," she recalled."They didn't look like people anymore. Their faces were completely black, and skin was peeling from their hands. 'It's hot, it's hot,' they said."
Despite her shock, she made it to the river where she cooled her feet in the water. Black smoke was all around her and she could barely see. She was too close to the point of impact to see the mushroom cloud above. All she could make out, beyond the smoke, was the spreading fire. She saw badly burned people walking into the river -- many of them never came out.
At some point, Masuno became aware of the sensation of warm liquid running down her back. She asked someone nearby to look to see what it was. "My God, your back is covered in blood!" she remembered the person saying. She would later find out that her back had been pierced by 114 shards of glass from the dormitory window. To this day, she stills feels the pain when she turns in bed as a few pieces remain lodged in her back.
Masuno's feet were covered in blood as it rushed down her body. She became frantic, and turned in the direction of her hometown screaming, "Mother, help me!"
As Masuno arrived back at the destroyed dormitory, she looked on in a daze. She recalled that a teacher told her, "Ms. Konishi, you can't go anywhere like that! You must put clothes on." Masuno rushed to find her uniform. She pulled on a pair of pants -- but she couldn't put a shirt on because her back was in too much pain -- and joined a group of 30 to 40 other people who were evacuating. At that point, Masuno was reunited with her cousin Toyoko, who had just returned to the dorm. Her face was covered in blood from a head injury she got when the trolley she had been driving was hit by the blast.
"'Sacchan, you're alive. I'm glad,' Toyoko said, and we embraced and cried together. 'But you've been hurt pretty bad,' she told me. 'Hang in there. I'll take you to where it's safe.' It's thanks to her that I'm here today."
The cousins stopped at a hospital to get first-aid treatment for Masuno. Medical staff removed the glass with tweezers and used triangular gauze to dress her wounds. They stayed at Kanda Shrine in the southern part of Hiroshima city until that evening. Then they relocated to their sister school, Jissen Girls' School, 10 kilometers away because one of their teachers warned them it was too dangerous to stay.
The journey to Jissen was usually about two hours on foot, but it took the cousins eight hours as they walked barefoot through the burned fields.
"I walked with one leg, leaning on Toyoko's shoulder. My feet ached from the burns and my back prickled, and after five minutes I couldn't walk anymore. I screamed at her over and over, 'Toyo, I can't go any farther. I don't care if I die, but you've got to save yourself!' and sank down by the piles of bodies in the street. But Toyo scolded me, saying, 'Pull yourself together! You've got to keep trying,' and kept dragging me forward. If Toyoko hadn't been there, I wouldn't have lived. I remember when I would sink down, those who were still alive would say 'Please give me water,' and I would say 'I haven't got any, either.'"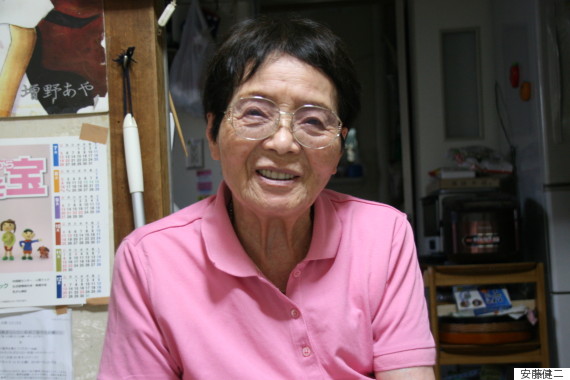 Sachiko Masuno on Aug. 5, 2015.
They reached Jissen Girls' School in the dead of night. Masuno was laid down in the auditorium. She was weak and in pain. Then, on Aug. 14, her family came for her and took her back to their hometown. Japan surrendered the next day. Masuno's family cried with joy and relief that the war was over.
Masuno spent two months at home, where she made a steady recovery, thanks to her mother's attentive care and ongoing medical treatment. In October she returned to Hiroshima in the hopes of getting back to work. But when she arrived she was told that her school had closed in September. After making some inquiries she found a conductor job in the area.
Even though Masuno was working again, it was difficult for her to come to terms with her injuries. She recalled working at Toyoboseki factory, now called Toyobo, three years after the end of the war. There were over 1,000 women from the countryside living in the female dormitories. None of them knew the details of what had happened in Hiroshima, but many of them were suspicious of her.
"When I went to the public baths at the dormitory, the scars on my back drew attention. 'What happened to you?' they asked. When I told them I was hurt when the atomic bomb was dropped on Hiroshima, someone next to me said, 'Atomic bomb? Quick, get away, you'll get radiation poisoning from her!' and with that, the 20 people who had been in the bath all left at once. Alone in the bath, I started to cry. Later, standing in the dressing room and looking at my scar-covered back, I remember earnestly telling myself: 'It's not my fault that my back is like this. I got hurt by the atomic bomb, but I didn't do anything wrong.'
Despite the emotional and physical scars Masuno suffered, she wants to share her story. I asked her whether she feels any reluctance talking about the difficult experience she went through.
"I have no problem talking about long ago. I think the more people come to know about it, the better," she said, smiling. "I'm happy that Toyoko's talented grandchild is making a manga about it."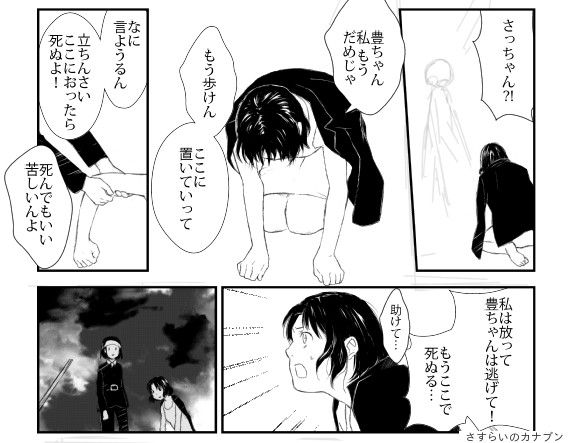 From Wandering Beetle's web-manga "The Girl Who Lived Through Hiroshima."
Toyoko's granddaughter, who publishes under the pseudonym Sasuraino Kanabun, or Wandering Beetle, wrote about her grandmother's experience during the Hiroshima disaster in a manga called "A Story of a Girl Who Survived the Atomic Bomb." She is currently working on a second, "The Girl Who Lived Through Hiroshima," which focuses on Masuno.
"Last November I lost my husband, but up until then we would invite Toyoko twice a year and we would go to the Kimita hot springs in Miyoshi City together," Masuno said. "It was my husband who would invite her, saying, 'You owe your life to her.'
"Toyoko and I don't talk much about the time of the bombing. They aren't good memories," she added. "We just get excited after not seeing one another in a while, and say things like 'How are you?' and 'This is how we've been.'"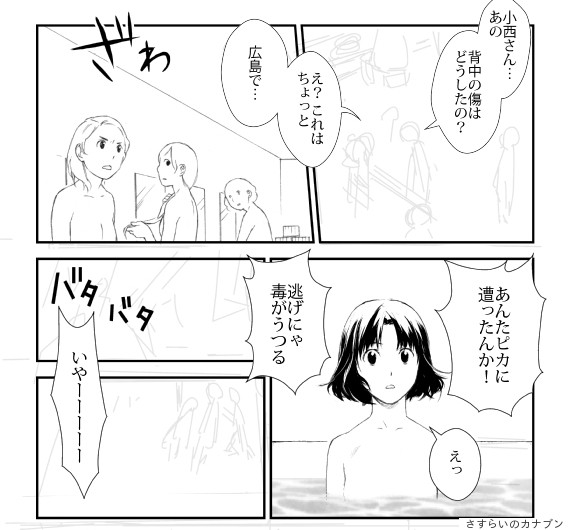 From Wandering Beetle's web-manga "The Girl Who Lived Through Hiroshima."
Popular in the Community