Co-authored by Nathan Lean, Author of the Islamophobia Industry.
Next month, Ayaan Hirsi Ali, a controversial voice calling for Islamic reform, is scheduled to appear at a Washington, DC event hosted by one of the nation's most active anti-Muslim groups. The Somali-born author and activist will deliver the keynote address at the annual conference of ACT for America, a non-profit advocacy group that lobbies across the country for bans on Sharia, and promotes the profile of its founder, Brigitte Gabriel, who has said, among other things, that practicing Muslims cannot be loyal American citizens. The two-day event brings together a host of commentators, bloggers, and ex-military personnel with histories of inflammatory statements about Islam and Muslims, and features a legislative session on Capitol Hill with scheduled speeches by fourteen members of Congress.
Islamophobia in Action
ACT for America is a grassroots organization founded in 2007 that boasts nearly 300,000 members and 890 chapters across the country. Intent on educating the public and elected officials "to impact national security policy," ACT has been a central player in the movement to generate fears about Islamic Sharia law. Their members introduced David Yerushalmi's anti-foreign law bill in several state legislatures, an effort accompanied by a public outreach blitz about the "threat" of Sharia to America.
Steered by Guy Rodgers, the former Christian Coalition and Republican strategist, ACT courts numerous elected officials at state and national levels, most notably Peter King, who appeared on ACT!'s internet television show before hosting a series of hearings on radicalization that singled out Muslims in 2011. The face and founder of the organization, Brigitte Gabriel, has generated controversies over Muslims serving in government and campaigned against the Islamic "indoctrination" in middle and high school history textbooks.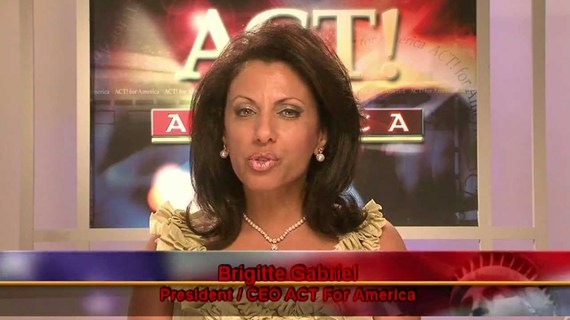 Gabriel, who has authored books with titles like Because They Hate, confirms and validates the anti-Muslim rhetoric of more widely-known voices like Pamela Geller and Robert Spencer. Though she lacks expertise on issues like terrorism, she is often called upon by Fox News to provide "expert" analysis of the latest terrorist attack. Using a pseudonym instead of her Arabic given name, Gabriel draws large crowds at speaking engagements, where she describes "losing her country of birth to radical Islam during the Lebanese Civil War."
Reforming Islam?
The keynote speaker at ACT's upcoming conference is Ayaan Hirsi Ali, a prominent voice on Islam and a self-proclaimed reformer. Hirsi Ali's harsh views on Islam are well documented. She has called it a "nihilistic cult of death" that should be defeated "in all forms," including by military means, while paradoxically offering in her latest book, Heretic, what she sees as the necessary steps to reform that followers of Islam should adopt.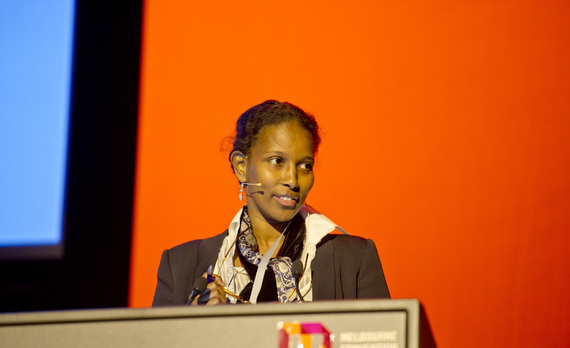 Like Gabriel, Hirsi Ali doesn't speak from a place of formal expertise on Islam, but rather from personal experience. Her story of persecution in the Middle East is not unlike Gabriel's, and forms the basis of the arguments made in her books and presentations. Having secured a post at Harvard University, she has done dozens of interviews in mainstream media outlets and attracted sizeable donations to her foundation. Yet her message has failed to attract many in the American Muslim community, who believe she misrepresents Islam. Instead it finds support among the religion's fiercest critics and gains traction within groups like ACT, which primarily direct their rhetoric at policymakers, conservative Christians, and right-leaning activists. Hirsi Ali's upcoming appearance at the group's conference shows that it's really not Islam she desires to change, as much as the public's perception of it.
Other Scheduled Speakers
Several others slated to speak at the conference are already known for spreading misinformation and fear about Muslims. Like Gabriel, they represent themselves as "experts" on various topics related to Islam and national security, though many lack the credentials typically expected of seasoned authorities. Deborah Weiss, an attorney from Virginia who runs an obscure website called "Vigilance Now," is described as an expert on "Islamic stealth tactics." Similarly, Patrick Poole, a blogger whose Twitter avatar is an image of the character "Achmed the Dead Terrorist," is described on the event website as an "internationally recognized subject matter expert on domestic terrorism," though his educational background on the subject in unclear. Erick Stakelbeck, also slated to speak, is a commentator on Islam and the Middle East on the Christian Broadcast Network. Author of a book entitled, The Terrorist Next Door: How the Government is Deceiving You About the Islamist Threat, he previously worked for the Investigative Project on Terrorism, a group founded by journalist Steven Emerson who, most recently, birthed the myth of European "no-go zones."
Fourteen members of Congress will also speak at the ACT conference, including Reps. Louie Gohmert and Steve King, who previously hosted Geert Wilders, a Dutch politician who has advocated a ban on the Qur'an.
This piece was originally published at the Bridge Initiative. To learn more about Islamophobia, follow the Bridge Initiative on Twitter (@bridgeinit) and Facebook (Facebook.com/gubridgeinit).
Calling all HuffPost superfans!
Sign up for membership to become a founding member and help shape HuffPost's next chapter