Craig Kauffman, one of the legendary Ferus Gallery artists known as The Cool School, died peacefully on May 9th at his home in Angeles City, Philippines. He was 78 years old.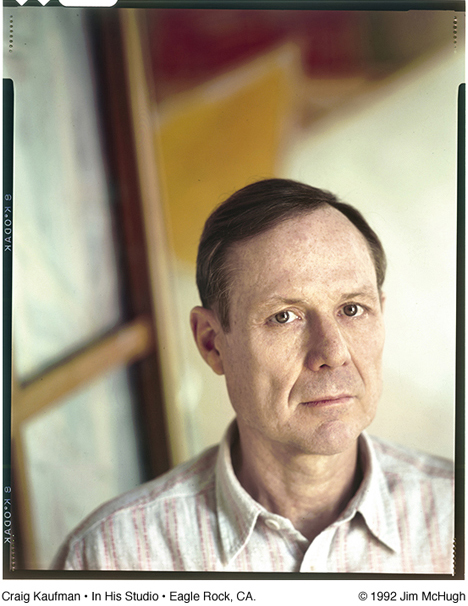 A year after earning my graduate degree I met Craig. We began living together in the early 1980's with live/work spaces in both Los Angeles and in Manhattan's then fashionable SoHo district. I was very new to the career of art.
As an artist who was featured on the covers of Art in America and Art Forum, Craig's world was extraordinary and my introduction to his world was just as extraordinary. Living in New York during the era of Jean Michel Basquiat, Keith Haring, Susan Rothenberg and Julian Schnabel was thrilling, eye-popping and educational to say the least. Craig offered me a peak behind the curtain of the real art world--the privilege of the corp elite--that I will never forget.
What is more resonant however, are day-to-day memories of my life with Craig. We made several trips across the U.S. and Canada by car--actually by truck--hauling all our possessions from L.A. to New York in a Toyota pickup that had a camper shell. One year on our eastward trek, we made a sojourn to "Camp Kienholtz," the unforgettable property in Hope, Idaho that belonged to artists Ed and Nancy Reddin Kienholz. These cross-country meanderings were some of the best trips of my life.
Craig was an oddball, a different sort of character with esoteric interests--from high-heeled shoes to antique Japanese ceramics--and that's what I found compelling about him and his work.
Most days, Craig drew in the studio. I best recall that he drew in an indirect manner by cutting pieces of paper whose edges described the form of the depicted subject. He would then butter the edge of the paper with ink and glue down the cutouts on a single sheet of paper or on synthetic, stretched silk. This method seemed to give an immediate structure on which he would then continue to work with paint, ink and brush.
His process seemed curiously awkward but that is precisely what he intended and, despite the clunky forms, the finished work was beautifully elegant. Approaching the work in an indirect manner created a tension that could not be achieved any other way.
By 1985 Craig and I had gone our separate ways. I moved back to L.A. permanently and he began visiting the Philippines regularly until his relocation there a few years later.
Upon receiving notice of Craig's death I reflected on our history together, giving me cause to look through personal papers and photos. I discovered copies of letters Craig had written to me when he first moved to the Philippines--the originals are in the custody of the Smithsonian's Archives of American Art. In a letter from 1989 Craig wrote:
"What you said about fame is very interesting. Close to that, I read an article on politics and museums in the U.S. in the Herald Tribune. Everyone has discovered art and museums. If it wasn't bad enough with artists using art for their own and narrow causes, museums have to deal with politics choosing their exhibitions. When artists get out of touch with their inner source, they loose any chance to do something original or meaningful in the large sense. To try for anything less than a global vision is totally inappropriate now. The only advocacy one can have and not be out of touch, is for humanity in general, either the dark side or the enlightened side."
One thing can be said about a true artist--they simply follow their interests in spite of market demands or the going party-line. Craig Kauffman was a true artist and I feel privileged to have known him for the time he was here.
Popular in the Community