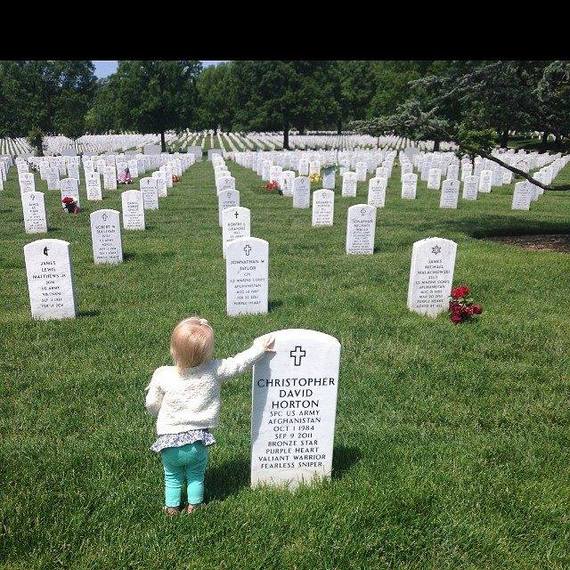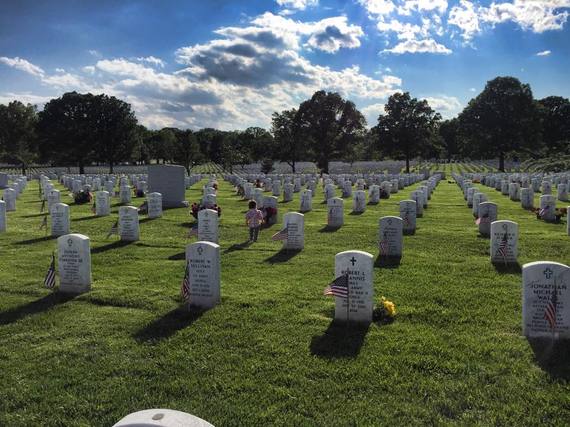 Yesterday as I walked through the freshly cut green grass and weaved my way through the rows of graves at Arlington National Cemetery to pay respects to my valiant warrior, I couldn't quite figure out why I was more emotional than normal. I wasn't sure whether it was the rows of fresh graves in Section 60 that represented all who have died since Chris was killed, or whether or not it was the Memorial Day weekend emotion creeping up on me. The emotion in section 60-where about ten percent of the service members who were killed in Iraq and Afghanistan are laid to rest- is always high, but the thing that affects me the most when I visit is the realization that my husband was only 26 when he was killed in Afghanistan in 2011, and now, I have outlived him.
Every time I visit Arlington I never know how I'll react. Some visits are harder than others- some days the cost Chris paid hits me like a two by four to the head and almost knocks me to my feet. Some days the air is heavy and I can't breathe.... and some days I have no emotion. This visit was different because my family was with me, and my beautiful one year old nephew Christian was visiting Chris's grave for the first time since he could walk. Last year at the same time we had brought Christian who was only two months old, and my sweet little two year old niece Shae. Chris never had the privilege to meet them. He will never be able to watch them learn to ride their bikes, teach them of his love of country, or take them fishing. Christian and Shae will never meet their uncle Chris here on this earth, because he loved them enough to give his tomorrows for their todays. He chose to answer the call to use his skills and talents to serve and protect our nation so they could be safe and free.
As we arrived at Chris's grave and watched little Christian walk up to his headstone that was eye level with him and place his tiny fingers on the white marble, just as Shae did a year ago, the tears just poured down my face.The thoughts that ran through my head are too many to put into words, but the knowledge that Chris and so many others who lay beside him at Arlington have given their all for future generations to enjoy freedom leaves me paralyzed with respect, gratitude, and reverence.

When I look into little Shae's bright blue eyes I mourn that she will never know her uncle, but I know she will love him for defending her so she too could taste the beauty of freedom and the American dream. Even though Chris and I never had the blessing of children, his legacy will live on. He will live on in them; he will live on in us. All of their legacies will live on in all of us- and their spirit of courage, sacrifice and honor will too. America is a blessed nation having never known foreign war on her own land, and our people- other than those who have served-have the rare blessing of not even having any comprehension of the atrocities that occur during war.

As we reflect on this Memorial Day and remember those who have given their last full measure of devotion since our country's inception, and as we struggle with the current climate of our country, do not forget the blessing of living in the freest nation in the world. As times get hard and the American dream seems harder to obtain, do not lose heart, do not give up. Give all you have and continue to fight. Remember the blood, sweat and tears that have gone into the opportunities and freedoms that we have today. Some nights I lay in bed overwhelmed that so many would love me enough to give up their dreams, hopes, passions and life so I could be safe and live free. Some days I contemplate if I am living my life worthy of my husband's sacrifice. Worthy of all of their sacrifices....
In one of the most divided times in our nation's history, if we can come together and all remember why we are free, and the love and sacrifice that so many have invested in us, their spirit of sacrifice can truly change this nation. They gave all they had to give- the greatest gift of all- to you and I. Please don't forget them - they didn't forget you. They gave their tomorrows for our today. Chris gave his last full measure so you, I, Shae and Christian could be free.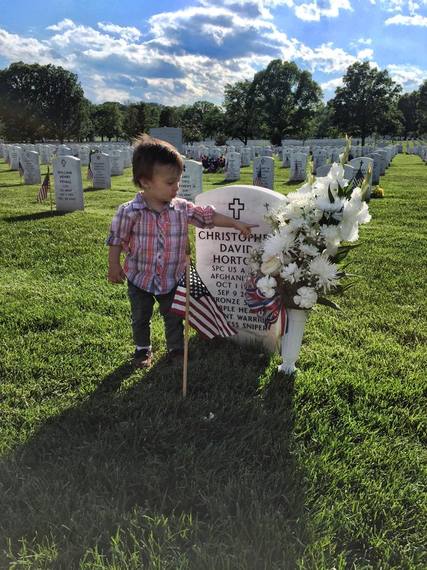 REAL LIFE. REAL NEWS. REAL VOICES.
Help us tell more of the stories that matter from voices that too often remain unheard.