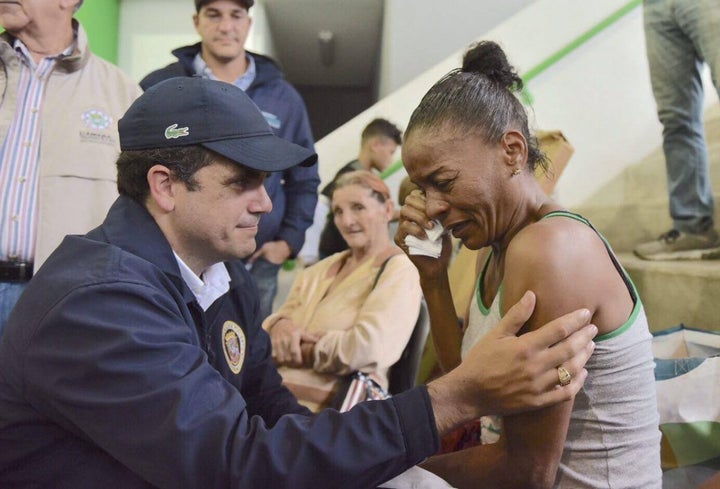 The largest gathering of Hispanic business leaders in America, hosted by The United States Hispanic Chamber of Commerce (USHCC), is not only elevating the economic power of Hispanics in America but also their power in unity and giving in support of their community.
Irma's devastation of Puerto Rico, which has left thousands homeless and millions without power, inspired USHCC members to harness the power of America's fastest growing small business segment to make a difference in the lives of others, many of them friends and relatives of those attending the convention.
Leveraging an impressive attendance of Hispanic business owners, corporate executives and members of more than 200 local Hispanic chambers of commerce, board members and leaders like Nina Vaca, Pinnacle Group's Chairman and Chief Executive Officer, Raymond Arroyo, Managing Director and head of the Diversity Practice at Reffett Associates, Monika Mantilla, CEO Altura Capital and Managing Partner SBCC, were inspired to make a difference by sparking a movement in support of United For Puerto Rico.
United for Puerto Rico is an initiative brought forth by the First Lady of Puerto Rico, Beatriz Rosselló, in collaboration with the private sector, with the purpose of providing aid and support to those affected in Puerto Rico by the passage of Hurricane Irma and Hurricane María. 100% of the proceeds will go to helping the victims affected.
Governor of Puerto Rico, Ricardo Rosello, commended the efforts of the USHCC and its members for their support and donations.

During the USHCC closing gala and facilitated by the USHCC Foundation, a text to donate campaign was launched for attendees to make an instant contribution which quickly resulted in over $35,000 collected in just a few minutes. The final donation is still being tallied as members and corporate partners continue to pledge to support the campaign.
Governor Rosello expressed his gratitude as well with the following letter:
Thank you to the United States Hispanic Chamber of Commerce, to Javier Palomarez and to the entire board of USHCC and the USHCC Foundation, to the Hispanic Federation and so many other Hispanic organizations and Corporations in USHCC network for your caring and commitment to help us rebuild. Thank you for your support. Puerto Rico will reemerge stronger and better with your support!
As a member of the USHCC I am honored to be part of this effort to demonstrate that our voice and power transcends demographic growth and business contributions, but also translates into impact in support of our Latino familia; especially when it is needed most.
Related
Popular in the Community