In the wake of the November election and the collapse of efforts to repeal the Affordable Care Act, enacting single-payer health care ― one government insurer for all Americans ― has been steadily gaining steam as a priority for progressive activists.
The Congressional Hispanic Caucus' political action committee, Bold PAC, has sought to capitalize on the energy behind the so-called "Medicare for all" push with at least eight fundraising emails in the past few months that suggest contributing to the PAC will help advance single-payer legislation.
The emails frequently invoke Sen. Bernie Sanders (I-Vt.), who is planning to introduce single-payer legislation in the coming weeks, after he mainstreamed the ambitious policy with his 2016 presidential bid.
The strategy is paying off: In a non-election year, the Bold PAC has already raised nearly $3.9 million ― including over $820,000 in contributions under $200. In the first quarter of 2017, it brought in over $2 million, breaking its previous fundraising record for a three-month period.
By contrast, the PAC raised about $6.1 million in the entire 2015-2016 election cycle ― a period when it had the benefit of national attention on a presidential race in which the Democratic nominee, Hillary Clinton, was highly favored to win.
The trouble is, just half of the 30 full voting members of the Congress Hispanic Caucus have publicly endorsed single-payer health care. (The caucus has 31 members including Northern Mariana Islands Delegate Gregorio Sablan, but he does not have the authority to vote on legislation that makes it to the House floor.)
Of the 28 CHC members with full voting rights in the House, 15 are among the 117 co-sponsors of single-payer legislation introduced by Rep. John Conyers (D-Mich.).
The 13 CHC members in the House who have not signed onto the bill include Rep. Tony Cardenas (D-Calif.), chair of Bold PAC and a member of House Democratic leadership; Rep. Ben Ray Lujan (D-N.M.), chairman of the Democratic Congressional Campaign Committee; and Rep. Joaquin Castro (D-Texas), a nationally prominent former Texas state lawmaker, whose twin brother Julian Castro served as Secretary of Housing and Urban Development in the Barack Obama administration.
Sens. Catherine Cortez Masto (D-Nev.) and Robert Menendez (D-N.J.), the two senators in the Congressional Hispanic Caucus, have not revealed whether they plan to support Sanders' single-payer legislation or otherwise indicated it is a policy they support.
Menendez's office pointed to his past support for a public health insurance option. Cortez Masto's office did not immediately respond to a request for confirmation of her current positions.
"I would urge [Bold PAC] to have every member of the PAC be a co-sponsor of the legislation introduced by John Conyers or Bernie Sanders. Anything less is not a legitimate commitment."
Reps. Cardenas, Pete Aguilar (D-Calif.), Lou Correa (D-Calif.), Jim Costa (D-Calif.), Salud Carbajal (D-Calif.), Raul Ruiz (D-Calif.) and Ruben Kihuen (D-Nev.), all of whom are CHC members who have not co-sponsored the Conyers bill, received major contributions from Bold PAC in the 2015-2016 cycle.
A number of other House Democrats who have yet to sign onto Conyers' bill were recipients of Bold PAC largesse last cycle as well, including Democratic Reps. Kyrsten Sinema (Ariz.), Brad Schneider (Ill.), Sean Patrick Maloney (N.Y.), Stephanie Murphy (Fla.), Charlie Crist (Fla.), Josh Gottheimer (N.J.) and Cheri Bustos (Ill.).
A spokesperson for Bold PAC said the decision to fundraise off of the "Medicare for all" push is not intended to reflect the positions of all CHC members, or candidates it endorses.
"The passage of Trumpcare would be a disaster and Medicare for All is one solution that many of our Members support," the spokesperson said in a statement.
"Minority communities are more likely to lack access to affordable healthcare, which is why CHC Bold PAC is committed to ensuring that healthcare is available for every American ― not just for a privileged few," the statement continued. "CHC BOLD PAC will fight with the progressive community to protect the American people from Trumpcare with everything we have."
The spokesperson would not say whether the PAC is even planning to urge its members or candidates it endorses to sign on to single-payer legislation.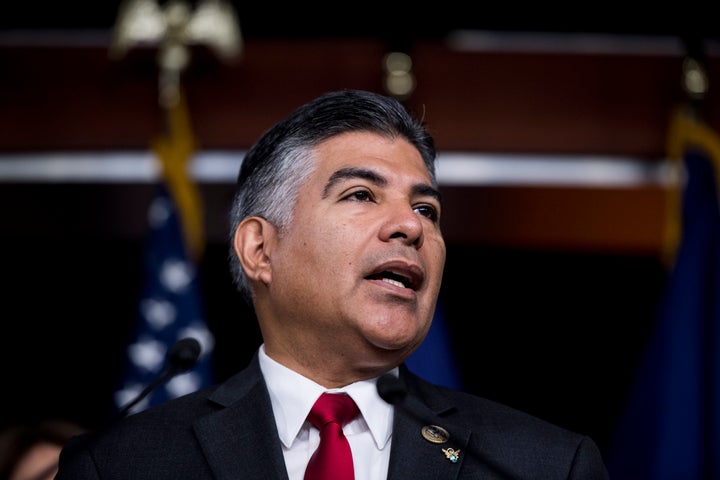 But given the strident tone of the fundraising emails, rank-and-file Democrats might not be aware of the subtleties in the PAC's single-payer stance.
In an Aug. 6 email with the subject line "MISSING your support of Bernie's new bill! (sign right now >>)," Bold PAC employed the urgency of a political candidate facing a deadline to solicit petition signatures in support of Sanders' yet-to-be-announced "Medicare for all" bill. Using issue-based petitions and surveys to raise money is a common digital fundraising tactic.
"HUGE UPDATE: Bernie Sanders is 'absolutely' introducing Medicare for All bill. YES!!! We need 50,000 signatures immediately ― or Republicans will CRUSH our chances of passing Bernie's landmark plan," the email stated alongside a photo of Sanders and a link labeled "support Medicare for all" that led to a landing page with the petition.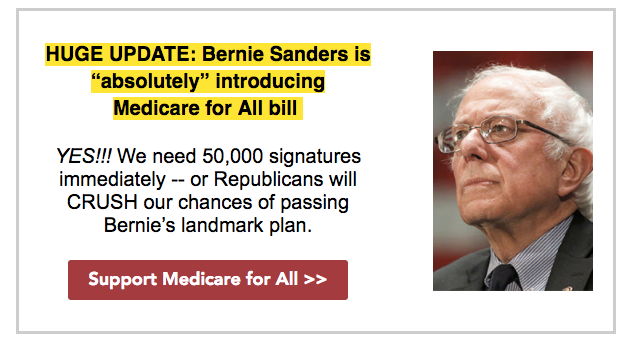 A follow-up email on Aug. 10 with the subject line "Medicare for All (Your Feedback Needed ― URGENT)" warns against the dire consequences of not completing a survey about single-payer health care.
"Bernie Sanders is officially introducing a Medicare for All plan to guarantee every American the right and access to affordable, quality healthcare. This is groundbreaking! But Republicans are still determined to DESTROY our healthcare system, no matter who suffers. So we need to find out where you stand NOW," Bold PAC admonishes the recipients.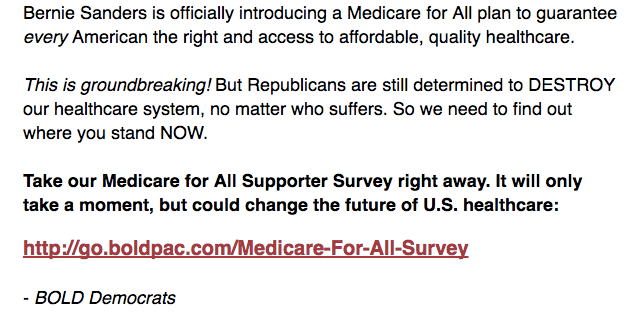 Two other similar email solicitations invoke liberal economist Robert Reich and comic Jon Stewart, both of whom support single-payer.
If readers sign the petitions or complete the surveys, they are led to other webpages that solicit donations that supposedly go toward the "Medicare for all" fight.
Bold PAC even has a special "Medicare for All fund" donation webpage it has set up on the Democratic fundraising site Act Blue where supporters can "chip in $5 or $10 right now to support Medicare for All."
A senior aide to a progressive House Democrat, speaking on condition of anonymity, argued that Bold PAC's behavior was outside the norm in terms of its disregard for "authenticity."
"In general, representing your actual positions helps avoid the messiness associated with taking conflicting positions," the aide said.
To complicate matters further, Bold PAC has received major funding from pharmaceutical and health insurance companies that ardently oppose modest health care reforms, let alone single-payer legislation. The drug makers Amgen, AstraZeneca, Pfizer, Johnson & Johnson and Merck each donated $10,000 to Bold PAC in the 2015-2016 cycle, as did health insurers Anthem and Humana. Eli Lilly, another pharmaceutical company, also contributed $7,500.
"They're telling their grassroots supporters that they want to get profit out of heath care," the House Democratic aide said. "At the same time, they're taking corporate PAC money from the industries most opposed to Medicare for All ― Pharma and the health insurance industry. It's disingenuous at best and malicious at worst."
But Kenneth Pennington, who was digital director for Bernie Sanders' presidential campaign, said fundraising on an issue that does not enjoy consensus among a PAC's members is "not uncommon."
"I can only imagine they'd raise even more if 100% of the membership backed the Conyers bill," he said.
Michael Lighty, director of public policy for the National Nurses United, a labor union that is one of the most prominent single-payer proponents, characterized the fundraising campaign as a reflection of politicians' growing recognition that the Democratic base supports single-payer ― even as they remain wary of backing it themselves.
Nearly three-quarters of Democrats ― 73 percent ― support replacing the Affordable Care Act with a "federally funded healthcare program providing insurance for all Americans," according to a May 2016 Gallup poll.
In a poll commissioned by the NNU in California, 69 percent of California's Latino voters supported the state-level single-payer bill that NNU is fighting to pass.
"I would urge [Bold PAC] to have every member of the PAC be a co-sponsor of the legislation introduced by John Conyers or Bernie Sanders. Anything less is not a legitimate commitment," Lighty said.
Fundraising off of single-payer without taking a firm stance in favor of it risks being seen as exploitative, he posited.
"Unless they take a substantive position it could be viewed that way and that's what they should want to avoid," Lighty said.
The campaign for single-payer "is not about a symbolic political fundraising strategy. This is about providing health care for people who are dying and suffering," he added.
Before You Go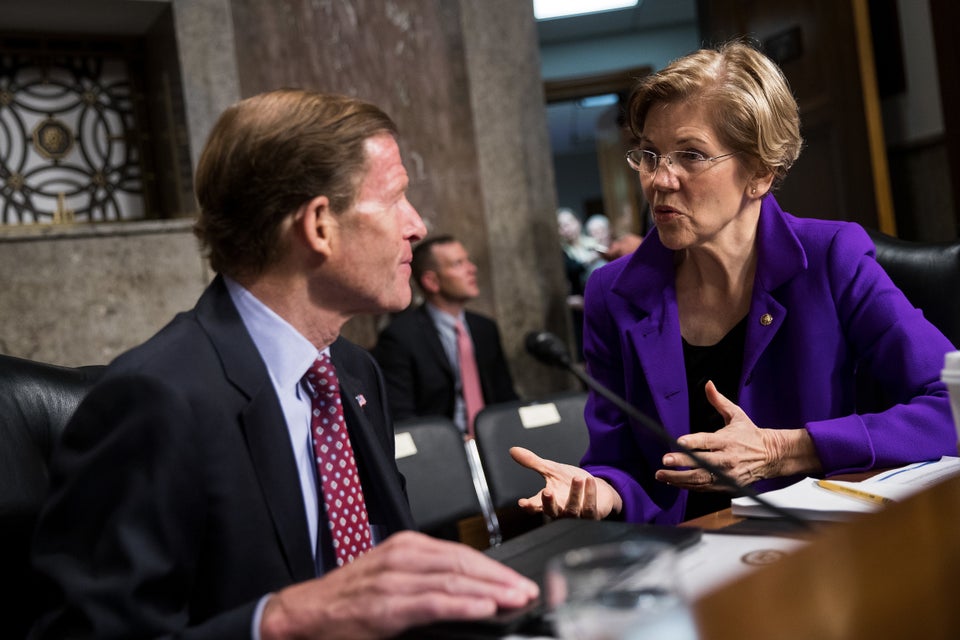 2017 Scenes From Congress & Capitol Hill
Popular in the Community