This article is a part of Faith Shift, a Huffington Post series on how changes in demographics, culture, politics and theology are transforming religion in America. Find out more about it here. Previous articles have covered Muslims, Jews and Mormons and Buddhists.
WEST KENDALL, Fla. -- For 19 years, Vanessa Pardo dutifully followed her parents to church on Sunday mornings, reciting prayers to padre nuestro and studying la Biblia, trying to figure out how the parables of Jesus applied to her life as a member of Iglesia de Cristo en Sunset, a booming Spanish-speaking congregation in this South Florida suburb.
While other kids her age drifted away from the faiths of their childhoods, Pardo was sure she believed in God. But as the daughter of Colombian and Nicaraguan immigrants, she wasn't sure she fully understood him in Spanish, her second language -- and a distant one at that.
So when the Protestant congregation instituted a controversial effort last year that included encouraging youth like Pardo to switch to worshipping separately in English, it immediately piqued her interest. She just had to break the news to her parents.
"It was never a faith of my own, it was 'oh, my parents' religion' or 'my family faith' and I never saw the personal connection between me and God," Pardo, now 20, said last Sunday after a service at Sunset Church of Christ, an English congregation that shares a building with the church of her childhood but has for much of its history operated separately from it. "I told them I wanted to go, but I told them I wanted to go in my own tongue and culture. Not theirs."
As the nation's Hispanic population has grown to 50 million, so too has the Spanish-language church, one of the largest segments of U.S. Christianity. But compared to previous decades, when the growth in the Hispanic population came from immigration, and when many of the nation's biggest Spanish-speaking congregations blossomed, the growth of Hispanics in the last decade has been led by second-generation and third-generation Hispanics, such as Pardo and her peers. The latest national census showed that native-born Hispanics, who tend to prefer English, now account for nearly two-thirds of the group.
While it's become common wisdom that English-speaking churches will shrink as younger generations, who are typically less religious, become the majority, the Spanish church -- known across denominations for its religious fervor -- is battling to keep its youth in the faith. It's having to budge on one of its biggest points of pride and identity, its language, to hold on to them.
Of the thousands of Spanish-only churches in the U.S. that formed decades ago to serve growing communities of immigrants from Latin America and the Caribbean, several began in recent years to expand beyond their traditional culture and tongue as a means of survival, meeting varying levels of resistance and success.
The change is happening throughout Hispanic churches and neighborhoods, from the Mexican-American communities of Texas and California to the Puerto Rican enclaves of New York and in South Florida, where a mix of Cubans, Colombians, Venezuelans and Central Americans make up many of the region's Spanish-language congregations.
Oftentimes, members and pastors are torn: Do they hold on to language and heritage, losing members and relevance? Or do they adapt?
At Sunset, a dual-language, dual-congregation church building that for many years was effectively two churches sharing property, elders, ministers and lay members are grappling with such change.
Like many churches in South Florida, Sunset has long attracted English and Spanish speakers. For 20 years, it's had a Spanish congregation, whose membership has continually grown because of new immigrants becoming more active and younger over the years compared to the English side, which traces itself to a small house church established 101 years ago. While it's going through its own transition today, Sunset is a result of an earlier merger of two churches, one which established Spanish services in 1968 to cater to a growing Cuban immigrant population.
Generally, the church's English side is made of a mix of non-Hispanic whites, blacks and a smattering of members with other ethnic backgrounds. A few Hispanics attend the English services, too, but most end up on the Spanish side. Sometimes, it's out of necessity because they speak little or no English. Many other times, it's because they want to raise their kids not only in the same faith they were raised in, but the same faith in the same language. Together, the congregations have 500 members.
Ministers say that if the youth aren't encouraged and given the option by clergy and their parents to attend church in English, they'll leave for more English friendly Hispanic churches, such as mega-churches that have proliferated in part because of their targeted appeals to specific age, language and cultural-based groups.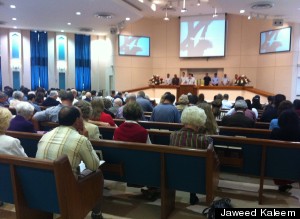 Members of Sunset's English congregation pray before receiving communion during a recent Sunday worship.
"When you walk into Sunset, you have to pick one: English or Spanish. The way our ministries are set up, you can't really (have families) do both," said Jim Holway, a bilingual pastor and professional church planter -- someone who starts new churches. Holway, 53, landed at Sunset seven years ago to use it as a base to coach pastors of new Hispanic churches and congregations in the region and in Central America, but he quickly realized the bulk of his attention was needed at Sunset itself. "I started attending the church and kept on seeing these kids who were becoming teens and disappearing. Where were they going? Sometimes, it was to a church that offered them services in English. Other times, they would just drop out of church completely."
Holway, who was raised in Virginia but spent his adult life learning Spanish as a missionary in Argentina, is one of a core group of ministers spearheading an effort to transform Sunset into a successful multilingual church, where kids can speak and worship in English, parents can speak and worship in Spanish, and, he hopes, "each can grow in Christ and get along."
Ministers, struggling with the changing demographics of their congregations, have attempted a variety of means to attack the language divide. Older, monolingual pastors who separately ministered to different congregations are gone. New, younger bilingual ones have come in. The church has instituted a quarterly bilingual worship service, where hymns and prayers are alternatively said in English and Spanish ("It's exhausting and confusing to people who only speak one language," said Holway). Elders have considered having services in English for everyone, where live Spanish translation is done via headset, ("People think that is unfair to the Hispanics, and if it's in Spanish, the English speakers would be bothered," he said).
The congregations have some aspects in common. Iglesia de Cristo en Sunset uses a Spanish version of the same worship study book throughout the year as Sunset Church of Christ, and both congregations sing their Sunday praise a capella. But there are differences. In the English congregation, a recent Sunday's worship was full of a mix of Negro spirituals and 19th century Protestant hymns, while the Spanish side plucked lyrics from the Cantos del Camino, a popular hymn book that draws from a mix of traditional Christian songs from Spanish-speaking countries. During a 20-minute intermission between classes and worship, when both congregations found themselves in the hallway, and church ministers had set up donuts and coffee to entice the groups to mingle. A few of the Spanish side's members drank Cuban espresso in one corner, while English members across the room chatted over coffee.
Recently, ministers have considered a plan to scrap the church's Sunday schedule, which currently allows both worship groups and their Bible classes to meet at different times and effectively avoid each other. Classes and worship -- now spread over a five-hour period on Sunday mornings -- would happen at the same time under the new plan. That way, ministers say, families would be more likely to send kids to English classes and services while parents go to Spanish ones without extra trips to the church or any lag time spent in the halls.
All that is, of course, if the membership goes along with it. Many younger members, those in their teens through their 40s, are on board. But for those in their 50s and above, the situation is far from settled.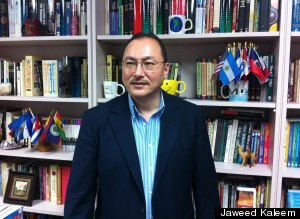 Holway, who is half white and half Korean, was adopted and raised in the U.S., and became bilingual as a Churches of Christ missionary in Argentina. In addition to South America, he has ministered to English speakers in Tennessee, and said his experiences have taught him the importance of language when teaching youth about Christianity.
Last January, after years of studying membership patterns, plate collection statistics and participation in youth and Bible study meetings, church leaders pulled their congregations together to explain the new Sunset. They played YouTube videos that had been produced in both languages, and went over a PowerPoint presentation projected onto the auditorium screen usually reserved for hymn lyrics. Called "One Church, Two Languages," it made a two-prong argument. First, South Florida and the nation are melting pots, it said, and churches need to adapt. And in a denomination whose hallmarks include strict, literal readings of the Bible, it said the coming changes were part of God's plan.
It quoted Acts 6:1-4, which describes conflicts between Jesus' Hebrew-speaking and poor Greek-speaking disciples, in which the Greek speakers said their wives were being discriminated against in the food lines. The apostles called a meeting of the disciples, telling them that it would be immoral to stop feeding the poor or favor one group over another. The presentation likened the English and Spanish speakers to Hebrews and Greeks. It referenced Galatians 3:28: "In Christ's family there can be no division into Jew and non-Jew, slave and free, male and female. Among us you are all equal. That is, we are all in a common relationship with Jesus Christ."
Below, in bold letters, it said: "There is neither LATINO nor ANGLO. No hay LATINO ni ANGLO."
In theory, everyone got it. In practice, not as much. Some Spanish speakers were suspicious the church would turn completely toward English, losing any relevance to cultures from their native countries. Some English speakers weren't comfortable with the style of the Spanish congregation, where kisses and hugs take the place of handshakes, and where worship can be a little less formal and a bit more social.
"It may seem like small potatoes. But these are the kinds of things that altogether make a church work," said Jeff Hinson, a church elder, during a recent gathering of Sunset's leadership team. "Some parents want kids to still maintain their identity, and we think they should, but we are not sure church is where that should happen. For us, it's better taught in the home."
"There's some resistance to that among parents," including among those who want their kids to be able to teach the faith in Spanish to newly immigrated children, such as those they would meet in school, he said. "That's good, but how much do we do that anyway? Look back 20 years, how many of our kids still come?
Carlos Carbajal, a 30-year-old ministry coordinator who moved from Honduras a year-and-a-half ago to focus on helping the congregations unite, replied: "It's like everyone has their ideal of what the best church is. But we have to fit it all together."
Sunset leaders presented a video to the congregations last year to explain efforts to change the church.
There are roughly 338,000 Christian congregations in the U.S., according to the Hartford Institute for Religion Research. Researchers say it's more difficult to count the number of Spanish-speaking congregations, but in the National Congregations Study, Duke University sociology professor Mark Chaves calculated that 16 percent of U.S. Christians were part of churches that had services in either only Spanish or both Spanish and English.
According to a recent Pew survey, most are part of Catholic churches, which tend to have separate ministers and Bible study groups divided by language. A sizable minority are among Protestants, though their share is increasing as more Hispanics, traditionally a Catholic group, continue to join evangelical, pentecostal and independent congregations. The Pew survey found that 77-percent of foreign-born Hispanics attended predominantly Hispanic churches, while 48 percent of native-born Hispanics do the same. Researchers such as Rodriguez expect the latter figure to decrease.
As it is among Hispanic communities in the majority of the U.S., the occasional clash between languages and cultures at Sunset is often one of preference, not one of ability. Most Hispanics immigrants either already speak English or learn to speak it. It's hard to get a job with no English skills, after all. Of the 12.6 percent of the U.S. population that speaks Spanish, about 55 percent said they spoke English "very well" and 45 percent said they spoke it "less than very well," according to the American Community Survey, an annual count by the U.S. Census.
"Among linguists, it's sometimes called the three-generation hypothesis. The first generation speaks the language of their country and by far prefers that. The second generation is often bilingual but prefers English. And the third-generation usually speaks only English," said Tom Boswell, a professor at the University of Miami who studies migration patterns. "And that's where some of these struggles come in. Some families think that Spanish church will ensure that their kids and grandkids grow up in their language and culture, but that may not always work."
That same three-generation pattern applies in places such as South Florida, where Hispanics are in the majority, said Andrew Lynch, a bilingualism expert and Spanish professor at the University of Miami. But the trend may be harder to notice because "the cross-generational shift to English is largely masked by the constant influx of first-generation," Lynch said.
If it's harder to notice, it's also more difficult to address.
On the recent Sunday when Pardo attended English services, typical announcements of the season preceded worship: There was an upcoming Christmas party, an advertisement for a "Christians in Action" youth group event, and a quick reflection on the meaning of Advent, among other words. But one piece of news stuck out. The layman at the podium said a guest speaker, a professor named Dan Rodriguez, was coming in late January to talk to the congregation about the church's "top priority:" its kids and its future.
When he's not teaching, Rodriguez, an associate professor of religion and Hispanic studies at Pepperdine University in Los Angeles, spends his time traveling the country to help Hispanic congregations and churches develop membership plans for the next generation of Hispanics that will fill their pews. Two weeks ago, he was speaking at a Southern Baptist church in Raleigh, N.C., and sometime after his visit to Sunset, he'll be offering advice at a Lutheran ministers conference in San Antonio, Texas.
"We will always have Hispanic churches and immigrant churches," Rodriguez, who authored the book "A Future for the Latino Church: Models For Multilingual, Multi-generational Hispanic Congregations," said in an interview. "But there are huge waves of change coming. And it's not just in Hispanic churches. This is happening in Korean congregations, too, and among other faiths. But it's the most stark among Hispanics, if because of nothing else than sheer numbers."
"Sometimes, I go to these churches, and I hear the pastor say, 'El diablo hablo ingles' -- the devil speaks English," said Rodriguez, a former Churches of Christ missionary who met Holway at a missionary conference in Honduras. "They don't mean it so literally, but there is a fear out there of change."
In many ways, the shift is an extension of what happened in the Catholic Church, Rodriguez added. No matter where one went, Catholic Mass was once only in Latin. But then-controversial mid-century Vatican II reforms allowed local languages, such as English and Spanish, to be used in services. The church grew as a result. Today, Latin Masses are offered on occasion for those who prefer a more traditional style.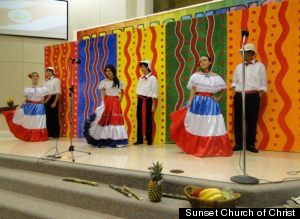 Last year, the Spanish and English congregations celebrated the Day of Americas in a joint bilingual gathering for the first time. The festival included performances to traditional Spanish-language songs.
Decades after such changes in the Catholic Church, Rodriguez's book documented more than a dozen Spanish congregations -- many that were megachurches -- that have been successfully incorporated English into services and strategized to hold on to their youth and future leaders.
In his presentations, he points to some of nation's most prominent churches that have transitioned their ministries, such as Chicago's New Life Covenant Church. A Spanish-speaking Pentecostal congregation that had 125 members a dozen years ago when its name was Templo Cristiano Palestina, it today boasts 5,000 members among English and Spanish congregations. In reaching out to English-speaking Hispanics, it started offering programs such as school tutoring, and branched out to more established suburbs where native-born Hispanics could be found.
"They become very English-oriented in some ways, but they didn't lose their Spanish side. Of six services on Sundays, four are in English. But the Spanish congregation now numbers at 500. And they're spreading God's word to more and more people," Rodriguez said. "But among a lot of the churches I speak to, there's still fear."
While there are growing pains at Sunset, there's also a realistic understanding about why changes are necessary. The process has been the hardest during Sunday worship services, but at more strictly social events, there's been success. That includes a recent church barbecue, where members who were part of both congregations and spoke both languages came in equal numbers. It also includes the church's annual Day of the Americas festival, which happens around Columbus Day as a way to celebrate the diversity among church members and includes a parade of national flags and traditional dresses. For the first time last year, the festival was conducted in English in addition to Spanish.
As part of exploring ways to change its congregations and structure, Carlos Carbajal, the ministry coordinator at Sunset, commissioned an informal survey of the congregations. In the poll, he asked 169 members from both congregations if they understood the concept of a more unified but multilingual church, if they agreed with changing service times to help families send kids to classes and services that could better serve them, and if they had comments about the changing face of Sunset.
Nearly everyone understood and agreed with the idea of being a multilingual church. A little under two-thirds said they thought it would help to make services for both language groups happen at the same time. Among those who did not think the move would be a good one, more than half were on the Spanish-speaking side. In the comments box, some wrote that the changes would create "distraction and confusion" and a "division of families." But there were also positive words. There would be "more fellowship," members said, and the "youth can attend where they feel more comfortable." It would be easier for Spanish and English speakers to have lunch together without waiting for one another, they said, and more time in the afternoon for family activities outside of church.
The proposed ideas were hailed by people such as Pardo, one of a small number of church youth who have already switched to the church's English side on their own. People like her and their parents, who already see themselves as being part of the future, multilingual face of Sunset, agreed with the concept. It made sense to them. But some of those who were part of the church's old model, one divided by language and often by ethnicity, said they were turned off.
Joseph Hurtuk, a 38-year-old Colombian American who recently joined Sunset, is one of those who replied and said he didn't see it going in the right direction. To Hurtuk, it's not language barriers that are to blame for young Hispanics who have left church. It's lack of outreach to younger generations.
"We have a strong Latin ministry and a good English one here, why would you mess with that?" he said in an interview after attending the Spanish service last week. "It's good to combine our groups once a month (for bilingual services), and it's great to get to know each other. I don't mind English, I speak it. But my wife prefers Spanish and I don't think the language or timing excuse always works. Parents just need to get more involved in their kids lives if they want to keep them in church."
"At my old church, we would go to college campuses and pass out flyers. Why don't we do that?" he said.
Pardo's mother, Alicia, had also just left the same service. It's good for churches -- and parents -- to change with the times, she said. A women's Bible group teacher, she recently began joining her daughter for 2½ hours of English Bible classes and worship each Sunday morning before she attends Spanish service on her own.
"We appreciate when people try to learn our language and speak it to us. English is not my main language and I am not perfect, but I should do the same for my kids," she said. "It's all the same thing we are here for, it just sounds different" in English and Spanish, she said. "But we both come to glorify Christ."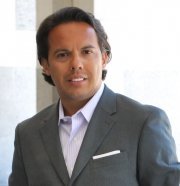 Latino-American Religious Leaders
Support HuffPost
The Stakes Have Never Been Higher
Related
Popular in the Community