Hispanics are on the rise, and growing with them is the evangelical church's influence all over the United States.
Time magazine's new issue "The Latino Reformation: Inside the New Hispanic Churches Transforming Religion in America" discusses this trend's implications on American religious traditions, as well as its political reach capability.
The April 15th cover includes an image of Pastor Wilfredo DeJesus, head of New Life Covenant Church in Chicago, with his hands positioned in prayer. The cover story also features an interview with Rev. Samuel Rodriguez, President of the National Hispanic Christian Leadership Conference on Hispanic evangelicals' cultural power.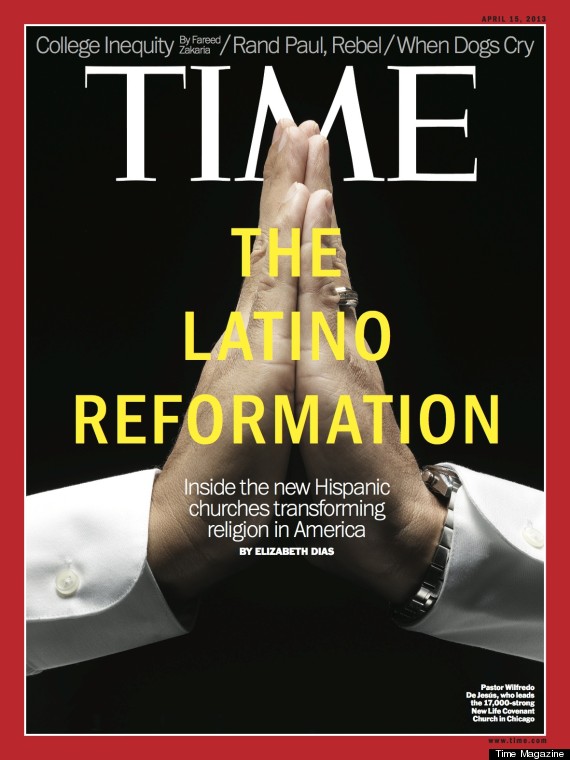 Time's Elizabeth Dias explains she wanted to investigate more about the phenomenon when she started noticing a fast development of Hispanic protestant churches around her neighborhood, and a real interest from the community to attend them.
"One Sunday late last summer, I saw a sign on the side of the road in Adelphi, Md. It was small, wedged between dozens of presidential campaign signs, and it was in Spanish: Iglesia de Dios del Evangelio Completo. Down the road I found another sign: Primera Iglesia Bautista Hispana de Maryland. Soon I started seeing signs for Protestant Latino churches everywhere... And so I decided to visit two of the largest Latino Protestant churches in the area."
In a moment when plenty has been said about the Catholic Church's possible strategy to regain the interest of Latin American audiences by electing an Argentinian Pope, it seems like even more Hispanics are still turning their faith onto new religious paths.
According to Pew Forum on Religion and Public Life while "more than two-thirds of the 52 million-plus Latinos in the U.S. are Catholic, that number could be cut in half by 2030." NHCLC also establishes that 35 percent of Hispanics in America now call themselves "born-again."
This community is also quicker to gather and create social movements in order to improve their life conditions, including issues like immigration status and gender equality.
"The evangélico boom is inextricably linked to the immigrant experience. Evangélicos are socially more conservative than Hispanics generally, but they are quicker to fight for social justice than their white brethren are. They are eager to believe in the miraculous but also much more willing to bend ecclesiastical rules," says Dias in her piece.
Evangelical Christian leaders, have been lobbying for a while to encourage U.S. politicians to support immigration reform this year. Last month, a group of these religious ministers met and prayed with president Barack Obama in an effort to find a solution to the current broken immigration system.
BEFORE YOU GO
PHOTO GALLERY
Latino-American Religious Leaders