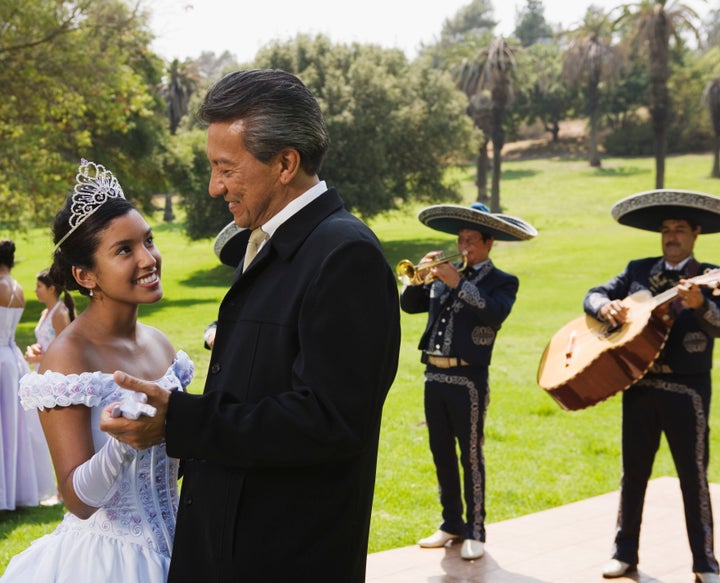 Las Vegas, Nevada – Quinceañeras, the coming-of-age celebration for Latinas turning 15, are big business in Las Vegas.
The elaborate cultural ceremonies more than doubled in the City of Lights from 2004 to 2007, from nearly 1,500 ceremonies a year to 3,500 a year, according to Rafael Aguayo, founder of Las Vegas-based Quinceañeras Magazine.
"In 2004, there were very few quinceañeras here," Aguayo said. "But seven years later, we see bigger numbers and bigger budgets."
That number dropped to around 2,500 in 2010. But with the state's growing Latino population, which according to the 2010 Census jumped from 16.7 percent in 2000 to 22.3 percent in 2010, the downturn in ceremonies isn't turning away vendors trying to capitalize on the burgeoning quinceañera demographic.
Take for instance a traditional vendor like La Onda, a Latino-owned family operation of Las Vegas banquet halls that averages 90 quinceañeras a year and charges families anywhere from $2,500 to $5,000 for their services.
At a recent ceremony, there was a live mariachi band, catered food, and a lucky 15-year old Latina decked out in a blue Cinderella-type dress.
"(Planning the quinces) was pretty hard, but we did it," said 15-year old Nancy Bustamante.
Eight months ago, the company diversified their quince business by referring clients to a nearby Latino dress boutique (where dresses go for about $800) and the birthday girl would receive 10 to 15 percent off their party dress.
"We figured since people were asking where they can get a good dress at a good price, we were like 'let's get together with a boutique,'" said La Onda manager Marcel Vides.
Then, there are non-traditional businesses like Bridal Elegant, which opened its doors in February. While their primary market is wedding dresses, you can't help but notice the two bright, blue quinceañeras dresses prominently displayed in the front window display.
"It's a big market here, " said store manager Rachel Steffensen, who charges anywhere from $400 to $850 a dress.
The market already makes up 10 to 15 percent of the store's business and Steffensen believes that percentage will increase as the Latino population keeps growing.
"When you're growing up and you have a culture behind you, you want to do something traditional," said Steffensen. "I think a quinceañeras is the most traditional part of that culture that you can hold on to."
Another Las Vegas business, Alligator Soup, has been around for 30 years and typically produces wedding and party invitations. They've always marketed to the quinceañera demographic, but after attending a recent quinceañeras expo in Las Vegas, their business has picked up as of late.
"I did set up two appointments this week from the quinceañera show and a third came in yesterday by word of mouth," said Alligator Soup manager Helen Edell, who charges 80 cents and up per invitation. "We did her sister's (quince) many years ago and (now) it's time for her daughter's."
Like Steffensen, she says that as the Latino population swells in Nevada, the market for quince products will increase as well.
"Our Hispanic community is growing and we're looking to tap into it," said Edell.
Vides said that it's a good thing when stores like Bridal Elegant and Alligator Soup, who've carved a niche in the wedding industry, sell quince products. She said it speaks to the growing influence of the Latino culture.
"I think it's pretty cool," said Vides," because it's not just opening (quince products) in the Latino community, it's opening it up everywhere."
And as for the lucky girl celebrating her quince at La Onda, you're not hearing any complaints on her end.
"It was an amazing, fun, outgoing party," said Bustamante.
Pete Griffin is a Junior Reporter for FoxNews.com based in Las Vegas, Nevada

Popular in the Community