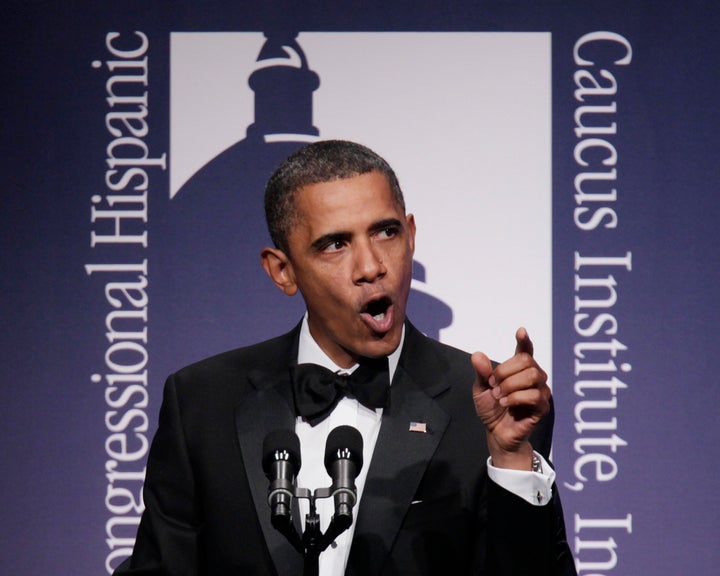 WASHINGTON -- Hispanic lawmakers are growing increasingly frustrated with President Barack Obama for not using his executive authority to change immigration policy, an issue with next to no prospects in Congress for at least another two years.
A Wednesday meeting between Obama and the Congressional Hispanic Caucus (CHC) "started off testy," according to one lawmaker in attendance, as members vented that the president had not adequately used his power to advance an issue he routinely supports.
"We've run out of time. We're not going to get any legislation out of the House or even the Senate. We need some administrative relief," said this lawmaker, adding, "we go back home and get shit on all the time" for not getting anywhere on immigration policy.
CHC Members say there are several areas where Obama has the authority to take action in the absence of comprehensive immigration reform. These include expediting VISAs, focusing deportation efforts on criminal apprehension and changing rules that keep illegal immigrants out of the country for up to 10 years if they ever leave the U.S.
Rep. Luis Gutierrez (D-Ill.), who chairs CHC's Immigration Task Force, said he has the same message for Obama that he has been taking to the thousands of people who show up to the rallies he has been hosting nationwide on the need for reforming the immigration system.
"You have the authority," Gutierrez said. "We want you to take the administrative action that you can take."
The Illinois Democrat said many in the Hispanic community have been "expressing a real desire for Obama to be the kind of champion he articulated" that he would be when he ran for president in 2008.
Obama has had a rocky relationship with Latinos since taking office. The biggest blow was his failure to deliver on a campaign promise to pass comprehensive immigration reform during his first year in office. Latinos were also angry when Obama didn't mention immigration reform once in his 2010 State of the Union address. But he won back some of their trust in December when he threw his weight behind trying to pass the DREAM ACT. The bill, which would provide a path to citizenship for illegal immigrants brought to the country as children if they attend college or join the military, narrowly failed passage, but Obama's public lobbying on the issue didn't go unnoticed.
The president has gone out of his way in recent weeks to tout his support for immigration reform: He held three high-profile meetings with business and faith leaders, law enforcement officials and Hispanic "influentials" including actresses Eva Longoria and Rosario Dawson. He hosted a Cinco de Mayo reception on Thursday, where he told a room full of prominent Hispanic politicians -- among them, Labor Secretary Hilda Solis, Interior Secretary Ken Salazar and CHC Chairman Charlie Gonzalez -- that immigration reform is a priority. And next Tuesday, he is giving a speech in El Paso, Texas, on immigration reform, followed by remarks Thursday at the National Hispanic Prayer Breakfast.
Obama also mentioned the issue when giving the Miami Dade College Commencement last week. "I strongly believe we should fix our broken immigration system," he said to applause. "It will be difficult and it will take time. I know some here wish that I could just bypass Congress and change the law myself. But that's not how democracy works."
But some lawmakers dispute that Obama's hands are tied. Twenty-two Democratic senators sent him a letter last month urging him to use his executive authority to prevent the deportation of immigrants who would be eligible for the DREAM Act. The letter follows similar correspondence the CHC sent earlier this year.
"As you said in your State of the Union Address, 'let's stop expelling talented, responsible young people who could be staffing our research labs or starting a new business,'" reads the letter, which includes the signature of Senate Majority Leader Harry Reid (D-Nev.). "Your administration could establish and publicize a process for DREAM Act students to apply for deferred action … Your administration could also require reporting and tracking of DREAM Act cases."
A source that attended the White House-CHC meeting said Sen. Robert Menendez (D-N.J.) went after Obama on the issue of executive authority and urged him to treat immigration reform as a civil rights issue instead of a political matter. But the president responded that he didn't think he had the authority to make the kinds of changes they wanted. A Menendez spokesperson was not available for comment.
"He didn't think it would stand up in court," said Rep. Dennis Cardoza (D-Calif.). "His message was basically, if you're going to overturn or change immigration policies substantially, it's in Congress."
Given the current political reality that Congress is unlikely to make any headway on immigration, Obama's message to Hispanic lawmakers was "basically" to keep talking about the need for reform, even though nothing can pass, Cardoza said.
An administration official dismissed the idea that Wednesday's meeting became heated or that members left on a sour note. "This was a positive meeting at which everybody was very engaged because they understand how important fixing the broken immigration system is to meet America's economic and security needs in the 21st century," said the official.
Some CHC Members say they still give Obama credit for keeping immigration reform in the spotlight, even though they speculated his latest moves are more about politics than policy.
Rep. Henry Cuellar (D-Texas), who did not go to Wednesday's meeting, chalked up the president's renewed focus on immigration policy as posturing for his 2012 reelection campaign.
"I hate to be so blunt, but I think that's all it is," Cuellar said. "He's saying, 'Hey, I want to show the Hispanic community that I'm really trying to do immigration reform. The fact that it's not passing isn't because I didn't try.'"
Support HuffPost
The Stakes Have Never Been Higher
Popular in the Community