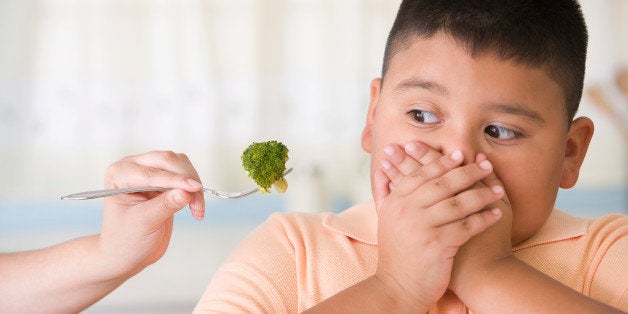 Children who have stressed parents are more likely to be obese, according to research published in the journal Pediatric Obesity. What's more, of those stressed parents, Hispanic mothers and fathers who were stressed saw the greatest impact on their children's body mass index (BMI) compared to any other ethnicity in the study.
"Childhood is a time when we develop interconnected habits related to how we deal with stress, how we eat and how active we are," Ketan Shankardass, Ph.D., said in a statement. "It's a time when we might be doing irreversible damage or damage that is very hard to change later."
According to the research, children with higher parental stress gained weight at a 7 percent higher rate than other children. This lead researchers at St. Michael's Hospital in Toronto to determine children whose parents have high levels of stress have a BMI approximately 2 percent higher than children whose parents have low levels of stress.
Experts indicated not to be fooled by the seemingly low percentages; children are still developing both mental and physical habits and this makes the findings significant. If the weight gain projected during childhood due to stressed parents continues, these children will be more at-risk for obesity issues later in life from habits they learn during childhood.
Why are children of stressed parents more likely to be obese?
The study did not indicate why stressed parents are more likely to have obese children; however, Shankardass speculated stressed parents were less likely concerned with healthy food options and exercise compared to parents with less stress. This coincides with current data from the Mayo Clinic which indicates severe stress, which may lead to chronic depression, can cause a lack of interest in normal activities.
Stressed parents are less likely to take the time to cook healthy meals or closely monitor how children are eating. What's more, stressed parents may not be able to be around children all the time to encourage exercise and activity.
In these circumstances, experts feel it is more important to teach individuals how to manage stress rather than how to change their diets. Even with the proper nutrition information, as long as the stress is present, parents are less likely to teach their children healthy habits.
Hispanic children, who made up more than half of the test subjects, were the most predominantly affected by the stress of their parents, a finding study authors feel may indicate Hispanic children are more likely to experience hypherphasia — excessive hunger or increased appetite — and a sedentary lifestyle.
While much of this health disparity has been attributed to lack of access and knowledge regarding healthy foods, stressed parents may be another factor previously overlooked. Hispanics and other immigrant parents have challenges unique to them including language barriers and the stress of acculturation.
Calling all HuffPost superfans!
Sign up for membership to become a founding member and help shape HuffPost's next chapter
BEFORE YOU GO
PHOTO GALLERY
Facts About Childhood Obesity