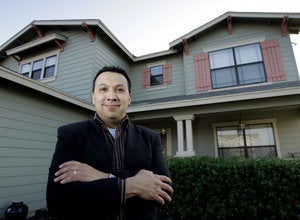 When the national housing market began unraveling, so did the fortunes of many of the new homeowners. National foreclosure statistics don't break out data by ethnicity or race. But there is evidence that Hispanic borrowers have been hard hit. In part, that's because of large Hispanic populations in areas where the housing bubble was pronounced, such as Southern California, Nevada and Florida.
In U.S. counties where Hispanics account for more than 25% of the population, banks have taken back 6.7 homes per 1,000 residents since Jan. 1, 2006, compared with 4.6 per 1,000 residents in all counties, according to a Journal analysis of U.S. Census and RealtyTrac data.
Hispanic lawmakers and community groups have blamed subprime lenders, who specialize in making loans to customers with spotty credit histories. They complain that even solid borrowers were steered to those loans, which carry higher interest rates.
Calling all HuffPost superfans!
Sign up for membership to become a founding member and help shape HuffPost's next chapter
Read more on Wall Street Journal