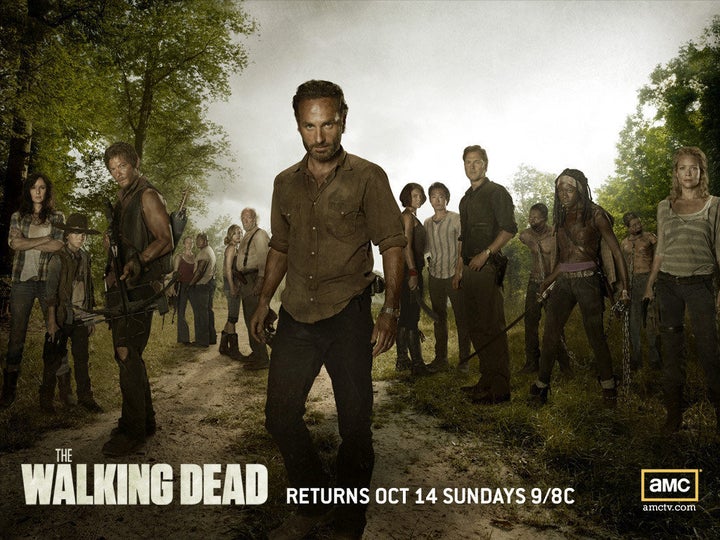 AMC's zombie apocalypse drama "The Walking Dead" closed out its third season with another white-knuckle episode and an astonishing 12.4 million U.S. viewers making it one of the most watched shows in cable history.
Based on a series of graphic novels, this American horror series is drawing huge audiences from everywhere including Hispanics and at the same time has annihilated the traditional line between cable and network television when it comes to viewership.
'The Walking Dead' has huge Hispanic fan base
The season three premier of the flesh-eating phenomenon set a cable record and was the most-watched program of the week among Latino viewers, regardless of language. The second half premier of the same season averaged a total of 942,000 total Hispanic households. Zombie mania isn't only taking U.S. Latinos by storm, it's also commanding Hispanic audiences abroad. Distributed by Fox International Channels "The Walking Dead" has stirred TV viewing appetites for the monstrous special effects and drama across 122 countries in 36 languages. Season three has seen triple digit increases over the second season in Mexico, Colombia, Peru, Chile and Spain.
So why does such a bloody and graphic depiction of the world turned upside down by the undead have such international appeal? Even taking into consideration that Hispanic media consumption in this country is a moving target based on the rate of acculturation, there seems to be more to this Zombie thing when you consider the worldwide multi-cultural attention this cable show is getting. It even beat out History Channel's "The Bible"…. on Easter Sunday! Just as a point of reference, television viewing is normally abysmally low on Easter, but those watching are traditionally captured by stories of the cross.
Why viewers are drawn to 'The Walking Dead'
There's no question that AMC is on a hot roll having gained significant critical acclaim in recent years with shows like "Mad Men" and "Breaking Bad," but there is something about the human drama at the center of all this monster madness that seems to attract a global audience. Talk to anyone with an uneaten brain who watches this show religiously and they will agree: It's not about the zombies.
This show breaks the shackles of human relations based on the same old same old and takes it to a different level. Who among us hasn't thought about the end of the world and how it will happen and who doesn't love a great story about good versus evil in the process? We are both frightened and tantalized by the prospect, so we watch to see what will happen next. We dread and simultaneously dream about the day the world as we know it changes completely and we love the opportunity to be armchair "doomsday preppers."
The magic behind "The Walking Dead" is without a doubt the writing. These are brilliant storytellers who clearly know how to flesh out characters and get us hopelessly hooked. Even executive producer and showrunner Glen Mazarra's sudden departure from the series will probably do little to put a damper on season four, which promises to be another record breaking season.
Scott Gimple, who joined the show during season two and who has authored a number of episodes including "This Sorrowful Life", the nail biter leading up to the season finale, will be taking over. This new season, a deal which was inked in December of 2012, will deliver 16 episodes and is expected to focus more on the struggle to return to civilization.
"We will be getting into more world building, more civilization being brought back," says "The Walking Dead" creator Robert Kirkman. "A little bit more of a bigger sense of community." But promises it's not going to be smooth sailing.
Check out "The Walking Dead" season four teaser here (spoiler alert).
'The Walking Dead' Season 4 preview
Calling all HuffPost superfans!
Sign up for membership to become a founding member and help shape HuffPost's next chapter
BEFORE YOU GO
PHOTO GALLERY
The Walking Dead