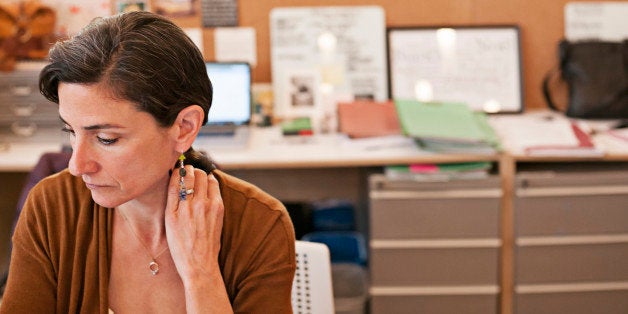 Hispanics and individuals in low income brackets are the least likely to have paid sick time, according to a study from the Institute for Women's Policy Research (IWPR). What's more, the researchers found that while the overall number of sick days in the United States has increased since 2009, but more than 40 million workers still lack access to paid sick days.
According to researchers, lack of sick days is most common for workers in fields that deal closely with the public–jobs that often put individuals at the most risk for germ contraction and spread. Approximately 24 percent of employees in Food Preparation and Serving Related occupations, 31 percent of workers in Personal Care and Service occupations have access to sick days with pay.
According to the researchers, Hispanic individuals are the least likely to have paid sick days compared to all other racial and ethnic groups; 47 percent of Hispanic workers in the United States have access to paid sick days, compared with 64 percent of white workers, 62 percent of black workers, and 66 percent of Asian workers.
The importance of sick days
A lack of paid sick days may not seem like a big deal, but according to the Public Welfare Foundation, how workers are compensated for the time they are ill can make a big difference in how diseases spread through the population. Individuals who are low-income and who often live paycheck to paycheck rarely take time off when they are sick since there is no method of compensation. This means these workers–often those who are preparing food or otherwise in close contact with the public–go to work even when they are ill with a sickness that could easily be spread to others.
What's more, offering paid sick days can decrease the amount of mental stress on a worker, improving their job performance overall. The concern, of course, comes in with employees abusing such privileges–a complication that makes small business employers not want to offer paid time off. For Hispanics, who traditionally come from large families, paid sick days are also seen as an important asset for caring for family members, even if the employee themselves isn't ill.
"When you're hiring part-time retail individuals, it's hard to cultivate a culture where they're really loyal," Karen Davis-Farage, president of a go-kart racing business in Jersey City, New Jersey, told the Wall Street Journal. "If someone says they're sick, are they really sick? Hopefully you get the right behavior."
Some evidence suggests having workers come in when they are sick actually costs a company more than it does if they had taken the day off. Not only are sick workers not as productive when they come to work, they run the risk of infecting those around them, causing more people to need time off all at once.
REAL LIFE. REAL NEWS. REAL VOICES.
Help us tell more of the stories that matter from voices that too often remain unheard.
BEFORE YOU GO
PHOTO GALLERY
Weird Ways To Keep From Getting Sick