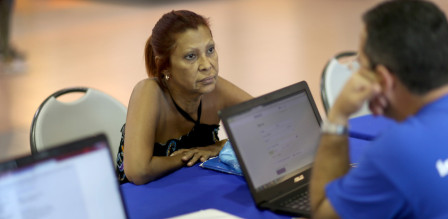 When the Pew Research Center reported this month that almost half of adults in the United States are living with one or more chronic diseases (cancer, diabetes, obesity) it was more than a wake-up call -- it was a fire alarm to say the least. In a country where the constitution guarantees free speech, and "life, liberty and the pursuit of happiness" is contained in our Declaration of Independence, our health and wellness is not an inherent right. Even those who have access to healthcare are not immune -- take for example, actor Tom Hanks, who recently revealed he has Type 2 Diabetes.
So where does this leave the millions of individuals who never had medical coverage before, and now must navigate the healthcare system to ensure they and their families lead healthy lives? What about the 55 million Hispanics, who by 2050 will represent 30 percent of America? How will this demographic shift not only change their lives, but also revolutionize the healthcare business? More concerning is the fact that in the next 12 months, an increasing percentage of Hispanics will become insured, while the ratio of those who are culturally competent enough to best serve them, is declining -- inevitably leading to a significant wave that will rock the healthcare industry.
As the numbers clearly indicate, in states such as California, the Hispanic population indexes well above the national average, yet the percentage of Hispanic physicians is also only five percent. This is not just a Hispanic issue, but a demographic shift that the healthcare system -- whose identity is still in crisis -- is not currently addressing, nor working fast enough to correct. Not because healthcare executives are ignoring it, or don't believe it's important, but rather, there exists a widening gap of intellectual capital about how to best serve Hispanic patients and recruit diverse executives into the boardroom, as well as a lack of strategic know-how to more effectively engage more Hispanics into clinical trials, and improve community outreach efforts to help educate the community to be more preventive in their care. But beyond these issues, the medical community has failed to engage with influential Hispanics to bring them into the fold, so that a more accelerated effort to solve for the disparities is in place.
With the growing need to build synergy between U.S. Hispanic patients and the medical community, especially in states with high Hispanic populations, I was recently asked to facilitate a forum which featured healthcare leaders from City of Hope, Citrus Valley Health Partners, Duarte Unified School District, Pew Hispanic Center and the Texas Medical Association as well as prominent subject matter experts. The conversation centered on the fact that the lack of targeted, culturally-relevant healthcare information, education and outreach to Hispanics is making it more challenging for the healthcare and biomedical fields to create and implement a strategy that holds both the industry and Hispanics themselves accountable towards strengthening the Hispanic talent pipeline to alleviate the tension points that unknowingly continue to grow.
Those tension points are as follows:
•Lack of targeted healthcare information for Hispanics.
•Not enough outreach from the medical to the Hispanic community.
•Hispanics have a higher risk of preventable disease, injury and death.
•Low vaccination rates contributing to preventable diseases in Hispanics.
•Hispanics need to receive health information in a more timely manner.
•The obesity epidemic hit the Hispanic population fast and hard.
So what happens when 30 percent of the U.S. population is ignored and underserved, and its potential is untapped? More than 100 people who attended the forum -- that not only featured a group of illustrious panelists, but also a powerful brainstorming solutions exchange session -- explored what solutions are required for the medical community and executives.
But what do these solutions look like? If you take the situation from a supply chain perspective, it is clear that the process is broken in many areas. Healthcare executives need to focus on three areas:
1. The Missing Link: Executives must understand the greater role that Hispanics play in research, clinical trials, education and outreach to the Hispanic community. Executives need to build relationships with individuals in both the private and public sectors so that they can help develop solutions for the widening gap and existing disparities.
2. Best Practices: The medical community needs to shift from treating Hispanics as a diversity management model, to reinventing the requirements for the business of health in order to recruit Hispanic employees to become leaders, treat them as patients and overall allow them to influence and define the new healthcare business model.
3. Defining the Narrative: Once executives recognize the growing impact Hispanics are having in their organizations, and apply this lens to their best practices (points one and two) then they can begin to tell their story. Now that they have uncovered the intelligence needed to develop the new healthcare business model, they can weave these key messages into the organization's mission and programs to ensure enterprise-wide change.
In the interim, what is the best way to reach the growing number of Hispanics and meet their healthcare needs? The Pew Research Center survey also found that of the number of people who had one or more chronic diseases, 72 percent look for answers online. With information at your fingertips, online content suppliers need to realize the incredible responsibility they have for shaping the future of health and wellness in this country. And when the U.S. is undergoing a demographic shift, in which Hispanics are growing at a faster rate than any other minority group, then information suppliers need to make sure they know and understand their audience in order to provide, not only accurate information, but active solutions to empower them to be their own health advocates.
One of the forum participants, HealthyHispanicLiving.com, is doing exactly that -- filling the need to not only authentically treat Hispanics, but to help them shift from illness to wellness. The goal of their healthcare educational portal for U.S. Hispanics is to help guide healthier Hispanic lives; to assure preventive care engagement and accountability by providing sustainable solutions. "When we first began developing this platform, we were clear that it was about solutions not just the issues," explains Marisa Salcines, Editor-in-Chief of HealthyHispanicLiving.com.
Additionally, the engagement and accountability aspects are crucial, as Hispanics need to share more of who we are as people, and the role culture plays in their lifestyle in order for researchers to discover new treatment and cures -- while also helping the medical community rapidly improve the ways they recruit Hispanic talent and more guide educational institutions to more actively grow the number of Hispanic physicians in this country.
From family to physician, and from research to cures, Hispanics need to play a more meaningful and purposeful role in the healthcare industry as well as other industries. They need to help the industry become more Hispanic-friendly on many levels by acknowledging, among other things, the growing importance of culture and the role it plays in serving patients; the need to be Spanish-language mindful to elevate trust and an overall better experience of care, and the growing demand for new treatment and cures.
The question now is, who is leading the charge on changing the conversation, from viewing Hispanics as a burden, to realizing they are the key to revolutionizing the healthcare business model. We need to move away from seeing Hispanics as a deficit model, to understanding that Hispanics are a benefit, not only in healthcare, but across all industries.
HealthyHispanicLiving.com features healthcare thought-leaders who provide culturally-relevant insights in order to shift the narrative about Hispanics from both the business and treatment perspectives. Adds Salcines: "This conversation is not about representation any more. This is about how Hispanics are changing the healthcare business model, and how this translates into providing real-life solutions to inspire individuals and families to lead healthier lives."
Popular in the Community