A group of historians whose life's work has consisted of studying the men, women and events that shaped America have banded together to speak out against Donald Trump.
Historians including David McCullough, Ken Burns, Robert Caro, Ron Chernow and Vicki Lynn Ruiz have all posted short videos explaining why Trump's campaign is disturbing to a Facebook page called "Historians on Donald Trump."
McCullough contacted Burns to organize the effort after he saw Burns' commencement speech at Stanford this year, which was highly critical of Trump. The page was created Wednesday morning.
McCullough, who received the Pulitzer Prize for books on presidents John Adams and Harry Truman, told The New York Times that he does not usually weigh in on contemporary political issues. But the historian, who said he is registered independent, was so disturbed by the possibility of a Trump presidency that he felt compelled to speak out, he told the outlet.
"Like so many others, I keep asking myself, how in the world can it be that the Republican Party, the party of Abraham Lincoln, is on the verge of nominating the likes of Donald Trump for president of the United States?," McCullough says in his video. McCullough asked why Americans would entrust Trump, someone he said is "clearly unsuited" to be president.
Ruiz, a professor of history at The University of California, Irvine, put Trump's hateful rhetoric toward immigrants in the context of anti-immigrant attitudes of the 20th century. She explained how the Ku Klux Klan targeted Catholics ― who were seen as "foreign agents" ― in the 1920s and how Congress passed the Johnson-Reed Act, which imposed immigration quotas, in 1924.
Ron Chernow, who wrote the biography of Alexander Hamilton that inspired the hit Broadway musical "Hamilton," said the Trump campaign disturbed him more than "any other presidential campaign in our history."
"I'm disturbed by the words missing from the Trump campaign: Liberty, justice, freedom and tolerance," Chernow said. "The only historical movement that Trump alludes to is a shameful one: America First," he said, referring to Trump's foreign policy slogan, which shares its name with an anti-Semitic group from the 1940s.
Robert Caro, who has written extensively on strong-willed public figures like Lyndon Johnson and Robert Moses, called Trump a "demagogue" who appeals to the ugliest parts of human nature.
"History tells us we shouldn't underestimate him," Caro said. History is full of demagogues and sometimes rise to the very heights of power by appealing to things that are unfortunately a part of human nature: racism, which I think is a part of human nature no matter how hard we try, and excessive virulent patriotism that goes by the name xenophobia."
Before You Go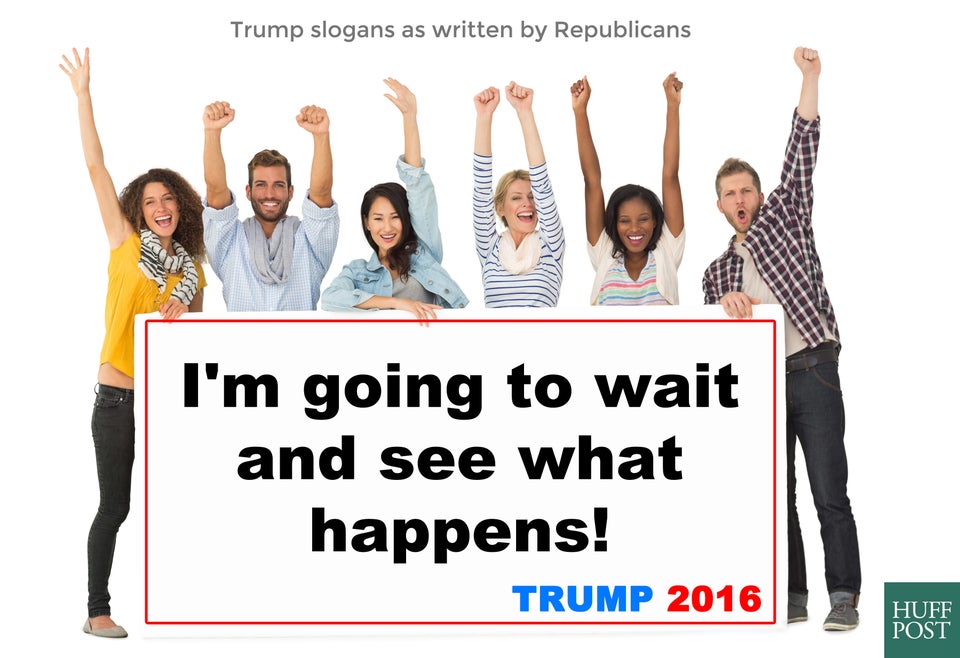 Here Are Enthusiastic Trump Campaign Slogans Using Real Republican Quotes
Popular in the Community