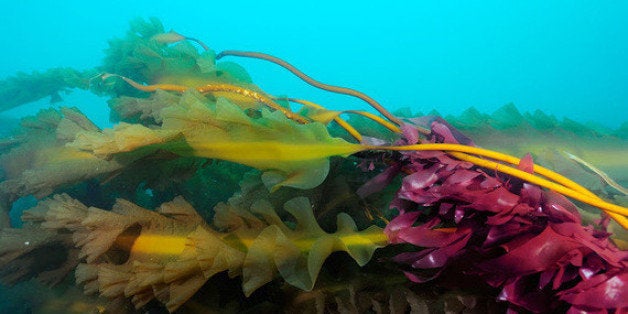 It's easy to think of distinct natural areas on land that matter to us- places like Yellowstone National Park, the Grand Canyon, or a favorite spot along the Appalachian Trail. But most of us don't think of our oceans in the same way; they're a mystery, vast and monolithic.
In fact, not far off New England's coast are two of America's most unique and vital seascapes. They provide refuges for a stunning diversity of ocean wildlife-- from whales and dolphins, to ancient coral gardens, to vast kelp forests. And right now, the Obama administration has the chance to protect them forever.
Southeast of Cape Cod, where the continental shelf drops off into the depths of the Atlantic Ocean, there are canyons as deep as the Grand Canyon and underwater mountains higher than any east of the Rockies. The waters above Coral Canyons and Seamounts teem with ocean wildlife--including tuna, sharks, seabirds, and the endangered sperm and right whales.
Approximately 80 miles southeast of Portland, Maine, the ledge of an underwater mountain range creates a flow of nutrients and oxygen that allow diverse marine life to flourish. Cashes Ledge features the largest and deepest cold-water kelp forest on the Atlantic seaboard--with kelp growing so high that in some places it towers over divers' heads. The area also hosts bluefin tuna, sea turtles, sharks, and also provides seasonal habitat for several types of whales, including the highly endangered North Atlantic right whale.
Yet destructive activities have already taken a toll on these areas, and the specter of deep-sea mining and drilling casts a shadow over what remains.
For more than a century, presidents since Teddy Roosevelt have protected some of America's most treasured landscapes from threats like drilling and mining by designating them as national monuments. Now, the Obama administration is considering safeguarding these amazing seascapes in the same way, by creating the first national marine monument in U.S. Atlantic waters.
Marine biologists, charter boat captains, and conservation groups have long called for the protecting these special places off New England's coast. Earlier this month, the New England Aquarium in Boston hosted an event to educate the public as to just why. More than 600 attendees heard from Scott Kraus, one of the world's foremost whale researchers, and viewed breathtaking images from National Geographic photographer Brian Skerry.
Within days of the forum, the Obama administration announced it would hold its own listening session--an indication they took the request for the new marine monuments seriously.
This week, hundreds more showed up in Providence, R.I. for that town hall, where U.S. Sen. Richard Blumenthal and U.S. House Rep. Rosa DeLauro of Connecticut sent video testimony supporting the proposed monument. Rep. Art Handy, chair of the environment committee in the Rhode Island legislature and champion of all things Narragansett Bay, showed his support in person. Whale watching captains and anglers urged protections for marine life for future generations. Eminent marine biologist and Brown professor Jon Witman presented a letter signed by 250 scientists favoring the marine safeguards. By the time of the session, Americans had already weighed in with 160,000 comments in favor.
But there are detractors. Republican leaders in Congress have made no secret of their disdain of the president's use of the Antiquities Act, which they decry as "unilateral action" -- even though presidents from both parties have long used the law to protect natural features. Maine's Gov. Paul LePage complained in a letter read at hearing of "the bitter fruit that this unchecked power bears."
To overcome these opponents, we need to show the Obama administration that Americans value treasures in the ocean as well as treasures on land. Join us in supporting these marine wonders for future generations.
Popular in the Community