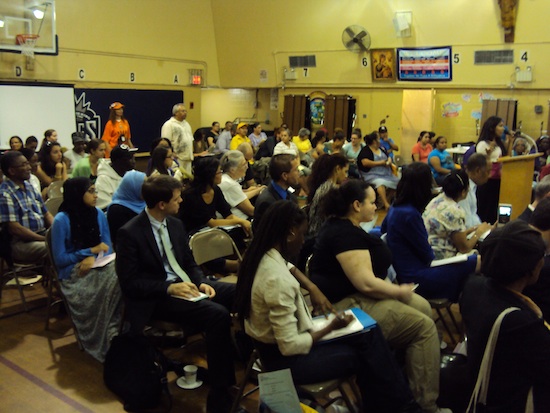 Bronx, NY - On Monday, June 25th, the first-ever "People's Hearing on School Justice in the Bronx" was held to examine school disciplinary procedures -- particularly the overuse of suspensions and arrests in Bronx public schools. Over 100 parents, students, advocates, school staff and elected officials packed the auditorium of Christ the King School and shared their testimonies, spoke to challenges they see and offered recommendations for change.
The People's Hearing was an original idea of the New Settlement Parent Action Committee (PAC), a parent group based in the South Bronx organizing for quality education and school safety, and organized with the support of a number of Bronx-based community groups including Youth on the Move.
"We want youth, parents, educators, community leaders, and everyone who is being affected by discipline policies in our schools to be a part of the solution in developing better alternatives," said Aiesha Vegas, an 18-year old student at Satellite Academy, member of Youth on the Move, and one of the moderators at Monday's hearing.

The Hearing brought Bronx community stakeholders in direct contact with 11 top officials from the Department of Education's Office of School and Youth Development (responsible for the NYC School Discipline Code) and the New York Police Department's School Safety Division, for a rare joint panel appearance to hear the concerns of the public.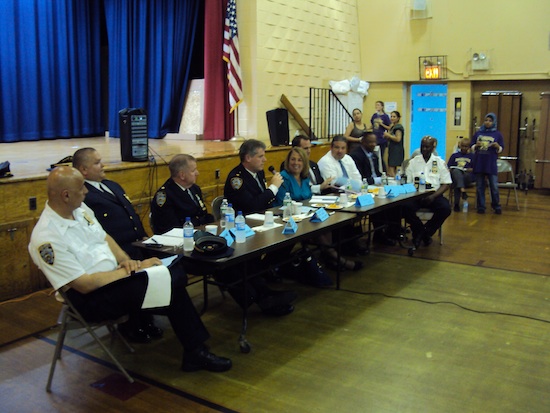 DOE officials in attendance: Chief Executive Officer of the Office of School and Youth Development, Elayna Konstan, Anthony Orzo, Deputy CEO; Vincent Digaetano and Gary Albin, Borough Safety Directors; Norbert Davidson, Director of Gang Prevention, and Joshua Laub, Director of Youth Development Services. From the NYPD School Safety Division: Commanding Officer Brian Conroy, Executive Officer Vincent Coogan, Executive Officer of Bronx West Command Anthony Fonseca, Executive Officer of Bronx East Command Vincent Sica, and Ramon Garcia, Director of School Safety.
Elected officials included Assemblywoman Vanessa Gibson, State Senator Gustavo Rivera, representatives from the Bronx Borough President's Office, as well as the Office of Public Advocate Bill de Blasio.
Issues raised by community members included the arrests of students with behavioral or emotional issues instead of receiving therapeutic interventions; metal detectors that create a criminal environment without a reduction in arrests or violent incidents; arrests of youth as young as 11-years old; the disproportionately higher figures of school safety agents in contrast to school social workers and guidance counselors; a critique of long-term suspensions, such as year-long suspensions for middle school students; and inquiries about the quality and length of school safety agent training.
Assistant Chief Conroy stated "It is important that agents get training in how to deal with students. That's what they're doing 90% of the time. So we have increased the training they get in conflict resolution and how to deal with students. We agree they need further training in those areas, and we want additional training for that purpose."
Esperanza Vazquez, a parent leader with PAC provided testimony about her fifth-grade child's reaction to seeing his friend arrested in class after a fight broke out over a pencil. Speaking through an interpreter, she explained: "My son was afraid and didn't want to go to school. When the police entered the room, he thought that they were all going to be arrested, and so he hid under his chair. An arrest isn't just a problem for one student - an arrest affects all of the students in a class. All of the kids were traumatized."
In response to this testimony and others, on student arrests, Conroy stated:
"We share your concern about students getting arrested. We don't want to see students getting arrested in school. Student on student fighting in school - we would like to see that not lead to arrests. I don't want to see any 11 or 12 year old being arrested inside of a school, it doesn't matter what the case may be. I think with solutions and collaborative efforts, we will reduce the number of arrests in schools. It's gonna take a lot of hard work, a lot of people working together to come up with solutions. But I think we all have the same goal, which is positive -- to reduce the number of students being arrested in school, at the same time making our schools the safest schools in the country."
The statistics on school arrests and summonses are released quarterly. Cumulatively, in just six months of school there have been 606 arrests made of students city-wide -- including the arrests of students as young as 11 years old. This averages to more than 100 arrests of NYC public school students each month. More than 96% of all arrests city-wide involve Black and Latino youth.
The Bronx is now accountable for one out of every three of these school arrests.
City-wide, in just one year (2010-2011) there were 73,441 suspensions of students. Black and Latino students accounted for 89% of these suspensions.
Chief Executive Officer of the Office of School and Youth Development, Elayna Konstan responded to the disproportional impact of suspensions upon youth of color, stating "We're also concerned with that -- specifically, African American males have a higher rate of suspension than any other category, and we're hoping that the proposed changes to the [City-wide] Discipline Code as they are finalized and all the work we are doing in terms of restorative approaches will really help schools have more options rather than suspension." She also made mention of the importance of preventive measures such as collaborative problem-solving, de-escalation techniques and restorative approaches.
The hearing concluded with a commitment from both the Department of Education and the NYPD School Safety Division to have a follow-up meeting this summer with PAC and any other community members present at the Hearing, to decide on action steps towards implementing specific recommendations raised in the Hearing for the coming school year.
Dinu Ahmed is a community organizer with the New Settlement Parent Action Committee.
Related
Popular in the Community