Co-authored by Joyati Das, World Vision International Director of Urban Programs, and Doug Ragan, Chief of UN-Habitat Youth and Livelihoods Unit.
"We are a technology savvy generation and we can be a powerful resource to city authorities. We have skills and information that can support efficiency and sustainability in the city", said 15-year-old representative from World Vision's Mexico program.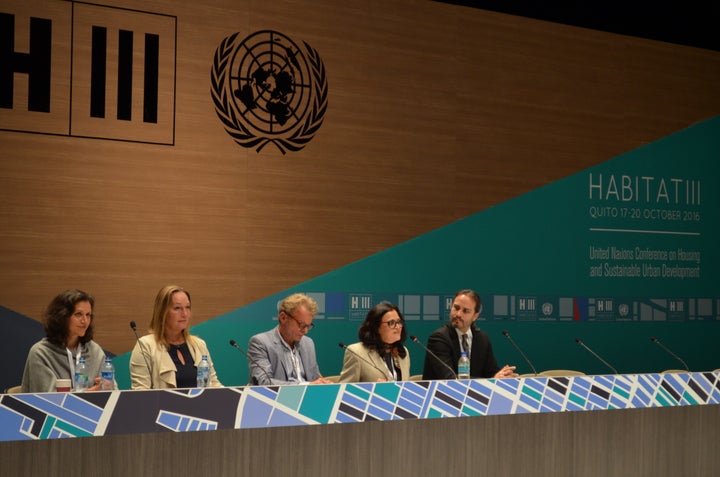 Over 100 children and adolescents from Ecuador, El Salvador, Colombia, Mexico, Peru, Brazil, India and Indonesia, ranging from local, regional and global child- and youth-serving agencies gathered at the UN Conference on Housing and Sustainable Urban Development in Quito, Ecuador to identify issues, priorities and recommendations for the implementation of the New Urban Agenda.
As a historic first, children and adolescent voices were included in the Habitat III process starting with the launch of the Children and Youth Assembly on 15th October during the conference. The Assembly aimed to provide a formal platform for our current citizens and future leaders to propose solutions that can contribute to smart and inclusive cities for children that are just, safe, healthy and prosperous—cities that leave no one behind.
Several activities were organized during the day for children and adolescents to express their views on issues surrounding their rights to healthy and safe public spaces, access to quality education and health services, and protection from violence and their right to genuine participation mechanisms in city planning and budgeting processes.
Among the activities of the day, a training session "Map My city" was organized to discuss the use of technology for improved understanding of city issues by children and youth (aged 14-16) participating in the Assembly. The training session delivered by Spatial Collective presented a case study of mapping by youth in one of the largest slums of Nairobi, Kibera. Children and youth saw how technology can fill in the gaps in information and secondary data used by city authorities. They learnt about the technologies available to capture primary data that could become resource for governments and influence planning and budgeting. Spatial Collective then presented an example of application of mapping software from Pitney Bowes, a software company that leads in location and Spatial intelligence, provided interactive maps that captured data on a realtime basis.
"The collection of primary data is fundamental to addressing urban dynamism and changing context. Information collected on a regular basis could transform the perception of communities about their well-being and predict issues that could be affecting them in the short and long term. This information once collected on a regular basis is a powerful tool for advocacy by young people to propose solutions for services and equity", said Doug Ragan, Chief of Youth Unit, UN Habitat. capture data on a real time basis.
Children and adolescents from cities of El Salvador, Mexico, Ecuador, Colombia, Mexico, Peru, Brazil, India and Indonesia enthusiastically explained the issues in their respective cities, the realities of their contexts, the communities and informal settlements that remain invisible to local government, and the issue of informal authorities such as gangs that make rules. As well, they spoke about waste, lack of playgrounds, green and walkable spaces. They were keen to explore these technologies in their cities.
There was consensus in the room that the governmenta entities responsible for data collection are often poorly resourced, with inconsistent data collection approaches. On the other hand, data collection and input by communities themselves can generate rich and useful information that complements conventional data collection methods and address such knowledge gaps. This is especially true for children and youth being a technology-savvy young generation. Young people said they are eager to contribute to well-being, equity and prosperity in the city. They can be are a key resource and agent of change to drive positive transformation in the city and a critical resource in creating smarter communities and shaping an inclusive and sustainable future. Spatial Collective representatives explained how "you can turn a mobile phone into a very effective data collection tool that helps produce maps of issues in a city. Through mapping technology, we can bring children and youth like you to the same table with governments".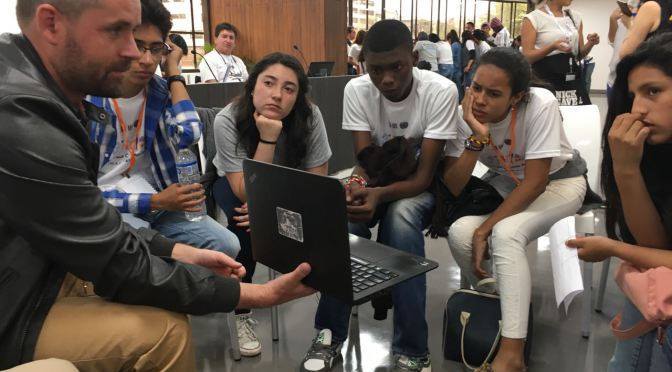 With the problem of data on children's well-being and extreme poverty experienced in urban slum communities being obscured by the relative affluence of their neighboring communities, locally generated information that can inform the direction of policies, programmes and resources is a critical need. This information could benefit key decision makers within local and municipal governments. For cities to be inclusive and smart, all urban dwellers, especially the most vulnerable and marginalised, must be able to participate in and interact with data collection and analysis that contribute to cities that are people-centred and reflect the collective intelligence of its communities.
The "Map My City" session highlighted the importance of public private partnerships and a multi-disciplinary approach to urban solutions applying the principle of complementarity to promote the implementation of the New Urban Agenda. It is increasingly evident that no single actor can unilaterally achieve the type of large-scale transformational change necessary to create cities where children and youth thrive. Technology is critical to transform cities into smart and efficient hubs. Business sectors with the expertise, resources, power, technology, knowledge, influence and innovation need to come on board for sustainable cities of the future.
Joyati Das designed and launched World Vision International's Urban Programs Initiative, a multi-country action research initiative across select World Vision field offices which resulted in World Vision's flagship urban report, Making Sense of the City, 2016. Its success has led to the scaling up of World Vision's Global Urban Program that continues to develop measurable, scalable and effective interventions that are locally led, respond to urban dynamism and provide evidence to strengthen global policies and frameworks. Joyati represents World Vision International as Co-Chair of the Children and Youth Constituent Group for the General Assembly of Partners for Habitat III. She is also on the Advisory Board of the UN Global Cities Institute and an elected Standing Committee Member of UN-Habitat's World Urban Campaign.
Popular in the Community