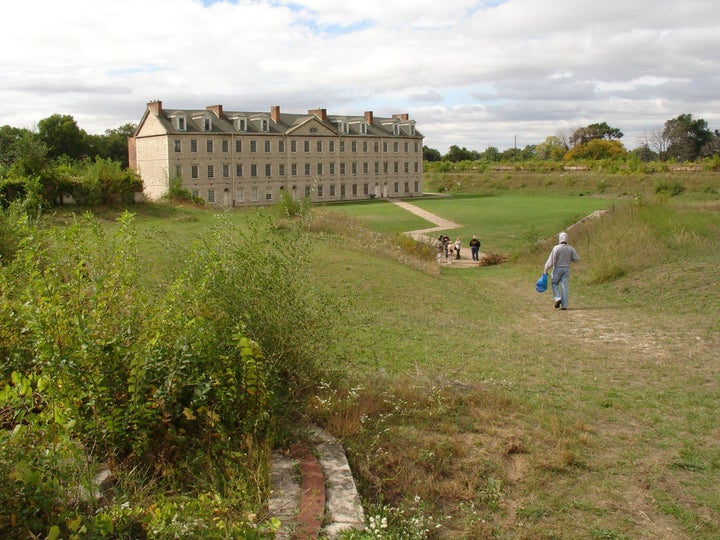 War reenactments, vintage baseball games, present-day soccer games, historical tours, flea markets, ghost hunts -- it's a wonder more people don't visit Historic Fort Wayne and its sprawling grounds on the Detroit River.
Occupied by U.S. military personnel up to the 1970s, Fort Wayne has a long (and mostly peaceful) history. Although the current fort was only built in the 1840s, it's the site of an older military base and also contains a thousand-year-old Native American burial ground. The fort's crumbling buildings are the backdrop to a space that now holds community events as well as historic tours.
As individuals honor and remember military men and women who lost their lives this Memorial Day, the fort has particular significance. HuffPost Detroit spoke with Tom Berlucci, chairman and cofounder of the Historic Fort Wayne Coalition. The organization has collaborated with the City of Detroit Recreation Department to run and maintain the site ever since its reopening in 2002.
A veteran and a long-running Civil War reenactor, Berlucci not only knows the ins and outs of the fort and its history, he has a deep personal connection to the site.
To learn about Fort Wayne's unique history and to see photos from its past glory and in its current state, keep reading.
How did you start the Historic Fort Wayne Coalition?
Back in 2001, I walked on-site and found it in total disarray; grass had grown up to knee, hip-high. The walls inside of the Star Fort you couldn't even see. The site itself was just totally run-down.
We started getting all the [war] reenactors to come help us, and in 2002 I got it to be reopened. We started from two guys basically sitting on a river, and we've had as many as 400 members. This year we have about 150.
Why is it important to preserve the park?
Fort Wayne is a historical, cultural center. It's a diverse, park-like setting and you won't find anything like it anywhere else. Greenfield Village is a collection of historical buildings put in a park. Fort Wayne is real: it has a hospital, a theater building, a recreation center and homes.
She was built in 1851 to keep the peace on the river, to keep peace in Michigan, and she's done that job. No shot was ever fired in anger from the Fort itself. She did her job preserving peace, now it's our job to preserve her.
Though the Fort is located right on the Detroit River, it seems to be one of the city's more obscure treasures. Why is that?

It shut down in the late '80s, reopened in 1991 for one year and then was shut down again. It was closed for a long time so it kind of got forgotten about.
One of the drawbacks I hear continuously about the Fort is its location. You go into this rundown industrial area and that scares a lot of people, and it shouldn't, but it does. But with that being said, you have to understand the location at the time: When the Fort was built it was the narrowest spot on the river and the highest spot above sea level.
Then the great thing [about its location] is I don't know how many sites have great restaurants nearby like we have in Mexicantown.
The fort doesn't have any epic battles in its past, but played a key role in 1812. What are some of the other little-known stories from its history?
During World War II the Fort housed Italian prisoners of war. Most of the cars that were manufactured for war -- the trucks, the tanks, the ambulances produced by the industrial automobile giants of Detroit -- they all went through Fort Wayne. During the '20s Communist "Red Scare," Fort Wayne had about 200 Communist prisoners. And it was even used as housing by the City of Detroit Housing Department.
Why are you so passionate about Historic Fort Wayne?
People ask why I've given 11 years of my life doing what I do. I spend 30-plus hours a week at Fort Wayne [after my day job].
I started there in 1974 as a 14-year-old boy on a cannon crew rennacting the Civil War. My dad and I stood in that fort, and today my son and I stand in that fort, and tomorrow I want him and his son to stand in the fort. I want it preserved for future generations to enjoy. We have a gem in Detroit, and that's Historic Fort Wayne.
As Memorial Day approaches this year, what's the fort's significance for men and women in uniform and those trying to honor them?
Over 14 regiments of 1,000 men and women went through Fort Wayne during the Civil War. 1,418 of them never returned home to Michigan.
I think of my great-great uncle who was a three-year American citizen at the beginning of World War I. He left from Fort Wayne and from there went and fought in Europe where he died of pneumonia and was taken back to his family's farm in Italy.
The American flag they draped over his casket was given to my dad's aunt who was living in Italy. During World War II, the mayor came and got the flag and hung it on the church steeple, the highest point in their town. The German columns advancing stopped when they saw the flag and bypassed the village. So, a soldier from World War I who stomped the Fort grounds saved his town in Italy.
Men said goodbye to their families at the gates at Jefferson. That's the beauty of the site, it's a memorial.
PHOTO GALLERY
Historic Fort Wayne In Detroit
Calling all HuffPost superfans!
Sign up for membership to become a founding member and help shape HuffPost's next chapter
BEFORE YOU GO