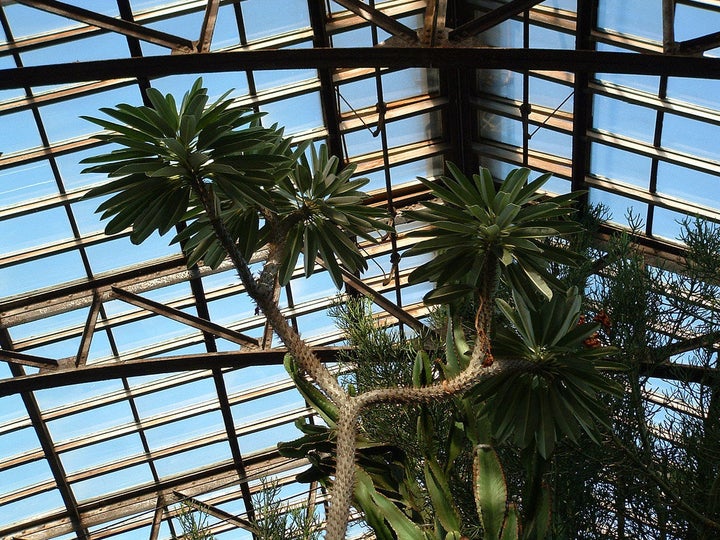 A Chicago Park District spokeswoman told the Chicago Sun-Times the greenhouses' broken glass is the most damage the historic West Side building, located at 300 N. Central Park, has ever sustained. And while a specific dollar amount has yet to be put on the repairs needed, the district is concerned that they may not have the funds to complete such a project in the immediate future. In the mean time, the conservatory will remain closed.
"We may have to ask for donations to get this reopened again," Zvezdana Kubat of the park district told the Sun-Times.
"The pathways, ponds and plants in the Fern Room, Show House, Desert House and propagation houses are covered with broken glass, and shards of glass hang dangerously from the roofs," reads the conservatory's website description of the damage. "Until the roofs are repaired, rain will cause the ponds to overflow, and direct sunlight will destroy and kill the plants that have been so carefully and lovingly conserved for so many years."
As for any weddings or special events slated to be held in the conservatory, which opened in 1908, those events are expected to proceed as scheduled, though likely in alternative spaces within the building. The conservatory is one of the largest in the country and was named to the National Register of Historic Places in 1993.
Hail as large as golf balls, in some parts of the city, poured down on Chicago beginning just after 9 p.m. on Thursday. Among the many cars damaged in the storm were dozens of Chicago Police Department squad cars that had been parked in the Ogden and Harrison Districts. The storm also knocked out power until at least midnight for over 100,000 ComEd customers and stranded overnight Metra train riders for several hours after a tree fell on the line's tracks, according to NBC Chicago.
REAL LIFE. REAL NEWS. REAL VOICES.
Help us tell more of the stories that matter from voices that too often remain unheard.