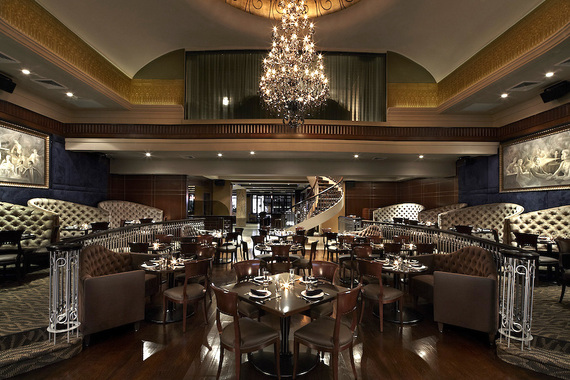 Nothing quite prepares you for entrance into Ibis, a new Turkish restaurant on the site of what was once a 1920s East Side opera house, then a famous and lavish nightclub called Versailles.
The new bar is spacious and well-lighted but beyond it is a room of daunting size with tall tufted booths, a winding staircase, cathedral dome, a railed mezzanine, a splendid wall of back-lighted wines, and a main floor that was once clearly meant for dancing the night away. There is, too, a mural depicting chanteuse Edith Piaf, who performed here in the late 1940s when this was Versailles, which also played host to the Desi Arnaz Orchestra, Bob Hope, Dean Martin, Jerry Lewis and many other top bananas of the 1950s. Back then you could even have your fortune read by Doris the Palmist. The continental food had names like Chicken Maison.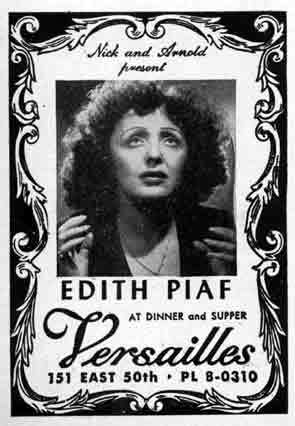 I'm not old enough to remember any of that history, but upon entering, I took in a good sense of what the room must have been like back then, and I'm glad the current owners have maintained some of that art deco swank, right down to the patterned carpets. White tablecloths help complete the nostalgic ambiance.
Without ever having eaten at Versailles, I can still guarantee its stultified cuisine would be no match for Chef Ferhat Aydin's wonderful Turkish cuisine featured at Ibis. Raised in Istanbul, Aydin (below) learned to cook from his grandfather, at whose restaurant he began working at the age of 28, then moving in 2000 to NYC, where he opened Taksim, then to West Palm Beach to open Agora Mediterranean Kitchen in 2012. I am happy to have him back in New York, doing some of the finest food of its type in the city.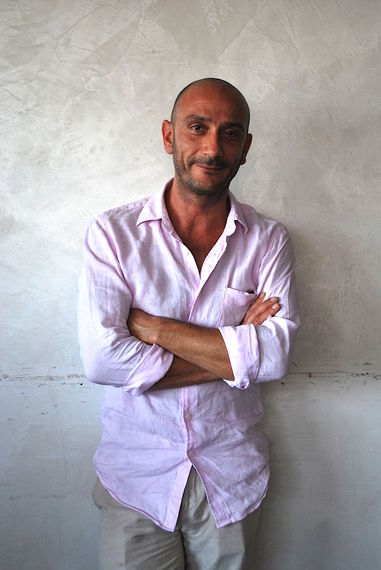 Turkish cuisine is not very different from others around the Eastern Mediterranean, though it can be delightfully spicier--as anyone who has been to the Spice Bazaar in Istanbul will recognize. Our group of four asked our superb and congenial waiter named Kaya to choose an assortment of mezes ($21), and the result was a lavish spread of sun-dried stuffed baby eggplant, rice and tomatoes, aromatically scented with fresh mint ($13 a la carte) ; lightly pan-fried, nice and crispy phyllo rolls of cured beef tenderloin, kashkaval cheese, tomatoes ($12); a traditional hummus , and more--all of it accompanied by some terrific hot lavash bread of just the right texture and pull.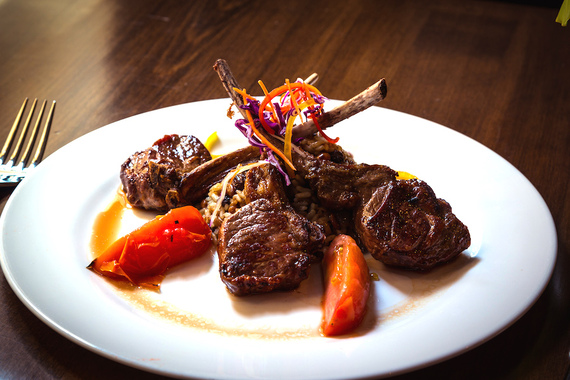 Lamb figures large in Turkish cuisine, and much cooking is done on skewers, so I was very happy with the juicy lamb brochette ($32), as well as with the doner kebab ($28), sliced generously from a rotisserie round of grilled, seasoned lamb, with pita bread, tomato sauce and yogurt. Spicier still was grilled lamb with harissa chile pepper sauce ($27), whose fiery heat was cooled down by creamy yogurt.
Simply grilled succulent lamb chops were set over aromatic rice pilaf dotted with sweet currants and pine nuts ($38). And just to see how the kitchen does beef, I ordered a fine grilled Prime beef tenderloin with lemony potatoes and a whiff of thyme ($38). A fillet of branzino with baby arugula ($28) was as good as many at Italian restaurants around town.
The desserts ($9-$11) stay traditional, with almond pudding, halva with ice cream, and lovely stuffed apricots with clotted cream and pistachio dust. And while the baklava was good, its layers might have been crispier.
Ibis's wine list, if not extensive, is notable for having several Turkish wines of top quality on it--this at a time when in Turkey itself being able to buy alcohol of any kind can be difficult.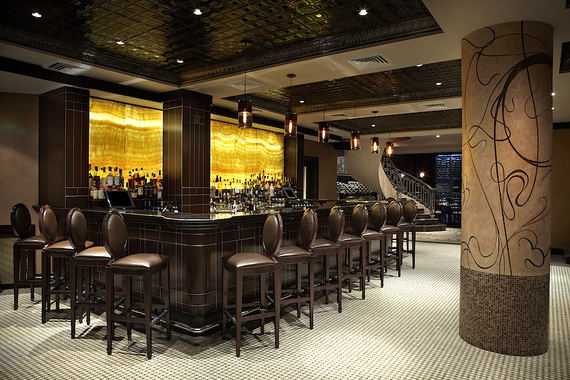 I doubt many people would expect a Turkish restaurant of these dimensions and refinement would be found in a former nightclub where Desi Arnaz led the band, but with or without the musical ghosts of NYC's cabaret history, Ibis would stand out anywhere in Manhattan.
Ibis's front parlor opens at 4 p.m. for cocktails and the main dining room is Mon.-Sat.
Related