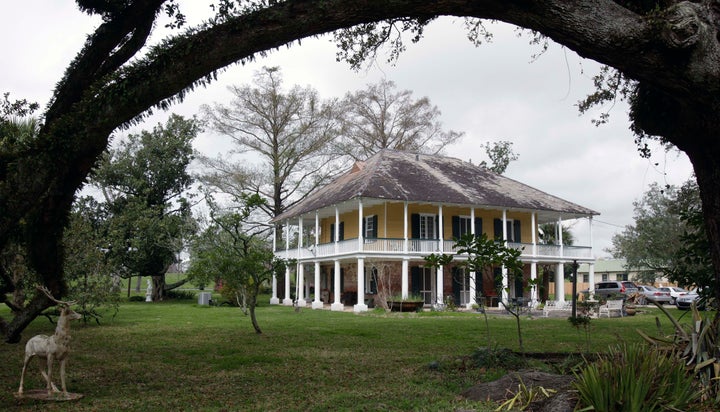 CHARLESTON, S.C., March 3 (Reuters) - The privately owned historic plantations that dot South Carolina's low country don't switch hands often, but a tough economy and generational changes in family ownership have resulted in a crowded market for the rare properties.
Finding buyers for the elite, antebellum plantations that once grew the indigo, rice and cotton that made South Carolina rich can prove quite the challenge.
Asking prices range from just over $3 million to $20 million for plantations of 350 acres to as many as 7,000 acres. Costly maintenance ups the financial pressure for any potential owner.
A plantation "is not for everybody," Charleston real estate broker Helen Geer said. "These places are very, very expensive to take care of, and people are cash-strapped right now."
At least eight plantations currently are for sale. They can be found at the end of gated, long dirt roads overhung by grand, centuries-old live oaks draped in Spanish moss.
Rural neighbors sometimes don't know the places exist, but they are heavy with history from colonial times through the Civil War.
The properties include Seabrook, a former sea island cotton plantation on Edisto Island with a house built in 1810 that once hosted General Lafayette. He attended a family christening and gave his name to the child, Carolina Lafayette Seabrook, whose portrait still hangs in the home.
First Lady Michelle Obama's great-great-grandfather, Jim Robinson, is said in family oral history to have lived on Friendfield Plantation near the city of Georgetown. The property, on sale for $20 million, still has standing slave houses.
Medway, an 18th-century rice plantation for sale in Berkeley County, has been in the same family since 1928, said Bob Hortman, who has managed it for decades.
Surrounded by 6,700 acres of timberland, Medway's pink stuccoed brick house was first built by a Dutchman in 1686, gutted by fire and rebuilt in 1704. Conservation easements prevent it from being developed.
Owner Bokara Legendre, 70, inherited the property from her mother, the late Gertrude Legendre, a noted socialite, African big game hunter and World War Two spy. But Bokara Legendre has houses in New York and California and isn't able to get down to the plantation as often as she would like, Hortman said.
Plus, the place costs "at least $500,000 a year" to maintain, he said.
After its price dropped over time from $25 million to $15 million, the sale of Medway to a foreign buyer is expected to close this month, Hortman said.
Buyers from outside the region have long helped keep plantations afloat, say those familiar with the properties.
Southern plantations that survived the Civil War were almost impossible to maintain without slave labor, and most became derelict to the point of default, Geer said.
"Lord, please send me a rich Yankee," plantation owner Samuel Stoney, whose family owned Medway in the 19th century, once wrote in his diary, Hortman said.
An infusion of "Yankee money" after the Civil War saved and preserved many historic southern plantation houses and land, said real estate broker Chip Hall, who markets large rural properties throughout the South.
In 1867, a dozen Union soldiers who had passed through South Carolina with General William T. Sherman bought 13,000 acres of land to hunt on, paying as little as 3 cents an acres for it, he said. Northern "robber baron types" followed and accrued vast tracts of plantation land for quail and duck hunting.
Modern buyers mostly come from the eastern United States, Geer said.
"South Carolina is certainly not at the level of Connecticut or New York or Los Angeles or Colorado as far as property values are concerned," she said.
"We don't have as many $8 million-plus properties available for sale in this area. But that buyer is always out there."
Plantation buyers include absentee owners interested in timber investment, hunters, and families who just want a retreat, said Max "Macky" Hill III, whose family has owned Middleburg Plantation, built in 1697, for more than 30 years.
"Some are looking for the rarity of a surviving period house as if it were a gigantic piece of antique furniture," Hill said.
"The people who want them truly value land for its own sake. The majority of the rest of the population can't imagine why you would want to own land, much less take care of it."
Other properties now on the market include Davant Plantation, a hunting property with a circa-1770 house and barns that were featured in the movie "Something to Talk About" with Julia Roberts, and Combahee Plantation, which was built by the family of Thomas Heyward, who signed the Declaration of Independence.
Tombee Plantation, a rice plantation on the sea island of St. Helena, has a house built in 1795.
John Parker, who owns an automobile dealership in Asheville, North Carolina, bought Mansfield Plantation in Georgetown County about eight years ago because his family had owned the almost 1,000-acre property in the 19th century, he said.
Parker runs the house as a nine-room bed and breakfast, timbers the land and plants grasses for bobwhite quail.
"I don't look at any of it as a burden," Parker said. "I look at it as a blessing." (Editing by Colleen Jenkins)
REAL LIFE. REAL NEWS. REAL VOICES.
Help us tell more of the stories that matter from voices that too often remain unheard.
BEFORE YOU GO