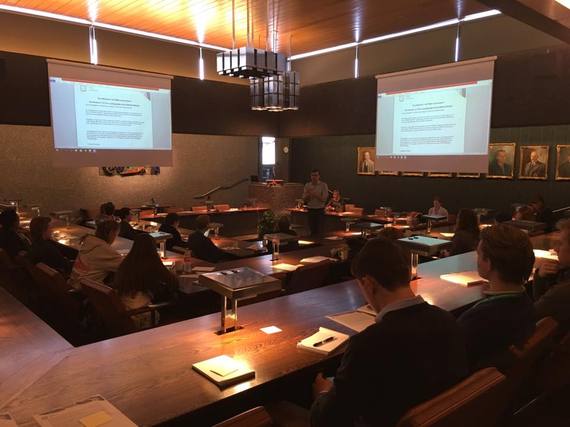 Co-authored by:
Olivia Labonte: UN-Habitat Youth Advisory Board Member for North America
Joao Scarpelini: Youth Advisor to the UN in Somalia

In snowy Asker, a group of young global leaders engaged in sustainable development gathered to discuss the role of young people at the turn of a new age--the beginning of the United Nation's Agenda 2030, a set of global goals that, if fully implemented by 2030, would ensure a better future for all. This past year marked historic landmarks for the global community: the adoption of the Sustainable Development Goals, the Paris Agreement, and the UN Security Council Resolution 2250 on Youth, Peace, and Security (UNSCR 2250). Now, 2016 will build on the progress achieved in 2015 with the upcoming UN Conference on Housing and Sustainable Urban Development (Habitat III) in Quito, Ecuador.
The Asker Conference on Youth and Governance was opened by the Mayor of Asker, Lene Conradi, who reiterated that "youthless development is useless development"--the theme of the first Asker Conference. While the main focus of the Asker Conference is to deliberate youth governance at the local level, the city engaged the international youth community since its inception, with the understanding that international youth decision-making will trickle down and empower young people locally around the world, not just in Norway.
Asker provided a timely opportunity to address the recent adoption of the historic UNSCR 2250. For the first time, the United Nations Security Council recognized the positive role young men and women have in peacebuilding and addressing violent extremism. It called upon the UN to integrate youth participation and empowerment in its programs, and urged Member States to engage young people in all levels of decision-making.
Like most successful campaigns, UNSCR 2250 materialized after a series of meetings that emerged from strong youth advocacy and mobilization within and outside the UN system.
According to a Eurofound report in 2015, young people are most at risk of social exclusion in Europe, even in a country like Norway with its powerful Norwegian Children and Youth Council that operates on a multi-million budget to advocate for youth policy and decision-making. This point was made salient by a guest speaker, Youssouf Assidiq, who is a former member of the extremist Al-umma group in Norway and who engaged in radicalism because of his own experience of social exclusion. Therefore, youth participation is nuanced and the solution isn't straightforward. Finding ways to foster a unified voice of global youth that is nimble enough to be adapted in a relevant way locally is the current challenge for young people.
Having a resolution focusing on the positive and crucial role young people have in peacebuilding coming from the UN Security Council was historic and will become a powerful tool for youth advocates engaged within the UN. For those on the ground, UNSCR 2250 could become a rallying and advocacy tool that could be used to leverage change and accountability.
This resolution on youth in peacebuilding opens a broader discourse on how youth are essential to ensuring a prosperous and inclusive future. Young people shouldn't feel as though they are on the sidelines of society; rather, they can be agents of positive change. Throughout the duration of the Asker conference, several cases and examples were discussed highlighting this precisely. Societal paradigm shifts occur when space for youth is created and respected.