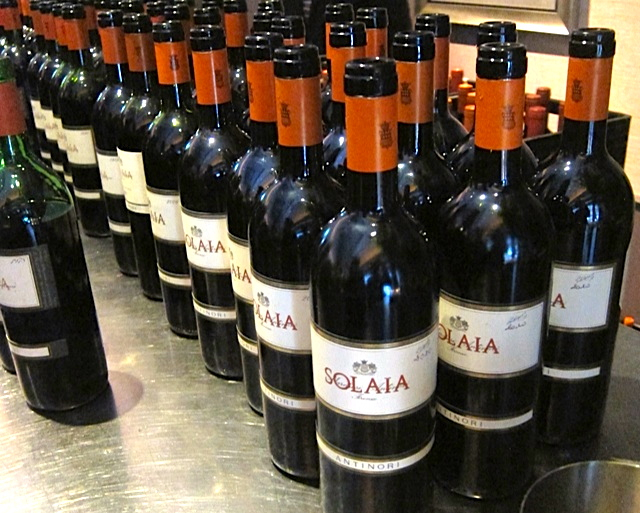 The line-up of Solaias in New York in June
Once upon a time, Tuscan wines sent to the U.S. were mostly Chianti--light, cheery, serviceable, cheap. But in the 1960s and 1970s, Tuscan producers--sensing a coming revolution in international taste--wanted to make wines "better than Chianti." They started using different grape varieties, encouraging smaller yields, started spending money on new oak barrels. With the 1971 launch of Tignanello by the Antinori family, the "super-Tuscan" was born...destined for greater concentration, higher scores, more respect, and much, much higher prices.
Of all the super-Tuscans, no wine today has higher prestige than Solaia, which was created seven years later, in 1978, by the same powerful and visionary house of Antinori. Recent-vintage Tignanello sells for under $100 a bottle; recent-vintage Solaia hovers at around $300 a bottle. But American wine writer Antonio Galloni, former staff writer for mega-critic Robert Parker (Galloni is now independently publishing his own web site), noticed something crucial: to his knowledge, no complete tasting of all Solaias had ever been held, anywhere.
Sprinkle in a little 11 Madison Park magic (one of America's greatest restaurants)...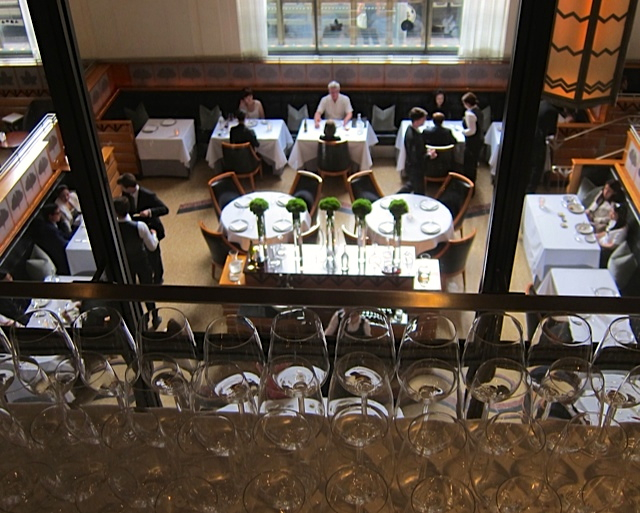 The setting at 11 Madison Park
...a prodigious hunt for all vintages, and an airfare to New York for Piero Antinori (president of Marchese Antinori, the winery started by his ancestors in 1385, 26 generations ago)...and you've got one historic wine tasting.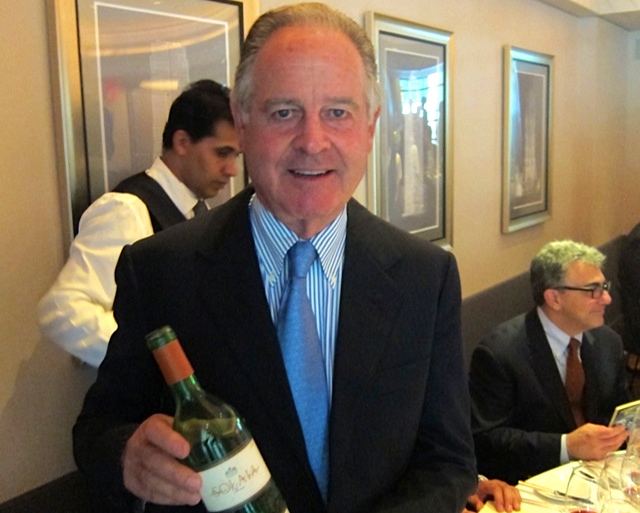 Piero Antinori at the 11 Madison Park tasting
The tasting took place in June, in New York, and began with Antinori himself discussing his baby, Solaia. The first thing he noted was that, indeed, he had never tasted all 29 vintages together (there's only 29 from 1978 to 2010 because Antinori declined to produce it in a few difficult years). "And I'm pretty sure this will be the last time I taste them together!" he said. He wasn't referring to his age, which is a sprightly 74. Part of the reasoning is that the 1979 poured at the event was the only bottle of 1979 anyone knows of; this gathering team got it from the famous Tuscan wine restaurant Pinchiorri, who had one bottle only...but the bottle came from Pinchiorri in Tokyo, because Pinchiorri Florence didn't have any!
"Solaia comes from a small vineyard my family has owned for a long time," Antinori continued. "We didn't plant grapes there because it was very rocky, hard to cultivate...and was already yielding fabulous tomatoes. Ugly, small, but full of flavor." Intriguingly, this tomato plot falls within the larger Tignanello vineyard. In the 1970s, with the regional rush to Cabernet in Tuscany, Piero used the tomato plot for experiments with the French varietal. "We never thought we could produce a great wine with it," Antinori said. "But we knew we didn't want a copy of Bordeaux (where Cabernet Sauvignon is a staple). The first vintages of Solaia were all Cabernet, but by 1982 we were adding Sangiovese grapes from Tignanello to it." Sangiovese, of course, is the great Tuscan workhorse grape that is always the majority grape in Chianti.
So what hath Antinori wrought, and why is he getting $300 a bottle?
As Solaia has evolved, it has become a fairly consistent mix, from vintage to vintage, of Cabernet Sauvignon (always dominant), a little Cabernet Franc, and about 20% Sangiovese.
Because of this varietal composition, and the soil, and the winemaker's hand, Solaia is considerably more elegant than many of the other Super-Tuscans: not brash with fruit, not as tannic, not as oaky, not as alcoholic. It has a sexy leanness to it, a sophisticated refinement, along with beautifully subtle aromas and flavors--especially after 20 or 30 years of aging.
At the tasting, Galloni wisely divided the 27 wines into five groups, to give us a good structure for comparing Solaias. Here are the five groups, and my favorite wines within them:
THE EARLY YEARS (1978, 1979, 1982, 1986)
What can I say? I loved the 1978, the original, even though it's all Cabernet. Minty-leafy nose, almost like an Italian explosion of Bordeaux, with some plummy Amarone ripeness. Majestic, sumptuous, with layers of flavor. This is out of the market, but you may find it occasionally at auction. I'm guessing it will cost you $500 or more, icon that it is.
THE CHALLENGING VINTAGES (1987, 1989, 1991, 1993, 2002, 2003)
Most of these were challenging for the taster, too: too lean, too ripe and hot, etc. But one vintage rose above the rest: the 1991. A cool spring and a rainy October were the challenges, but Antinori must have done everything right. The wine is still a dark garnet-purple (indicative of youth!), with gorgeous balance on the extremely bright, medium-rich palate. Kind of closed at the moment--but I would bet on this baby to age beautifully over the next ten years. Miraculously, because of the "difficult vintage" moniker, it is one of the best Solaia values in the market; a wine shop in San Carlos, CA is selling the 1991 for $145!
EARLY CLASSICS (1985, 1988, 1990, 1994)
These are some of the first Solaias that took the world by storm. I liked the 1985, but strongly disliked the 1988 and 1990. My fave, by far, was the 1994: gorgeous jam and truffle, expansive, long, complex. Should age beautifully--and can be found for $199 a bottle!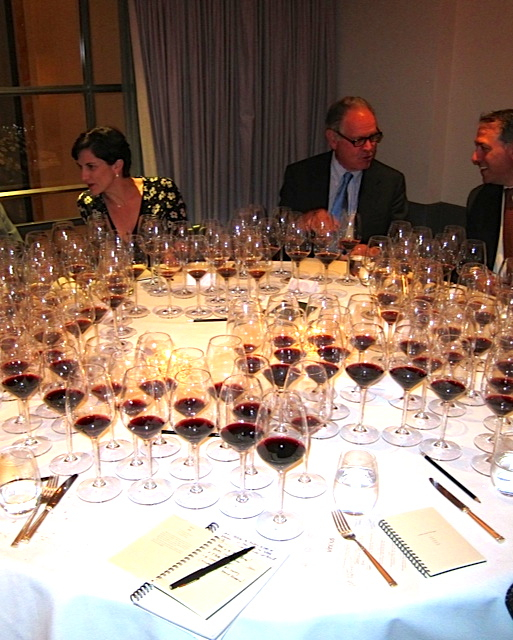 Mid-tasting, with Antinori (in glasses) at the head of the table
UNDERRATED VINTAGES (1996, 1998, 2000, 2005, 2008)
As the wines get younger, they get more expensive: beware the inky 2008 at $300 a bottle! But some of the older wines in this group are still good values. My favorite, the 1996, can be found for around $160 at a few wine stores in California. Still a pretty, bright purple with lovely aromas of nuts and kirsch. Very elegant, very Bordeaux in structure. The match of the night, paired with Chef Daniel Humm's insanely silky guinea hen.
MILESTONES (1995, 1997, 1999, 2001, 2004, 2006, 2007, 2009, 2010)
I must admit, vino-dissident that I am...two of my favorite wines of the night were in this "milestone" group. As for the rest of this bunch, other than the two: over the last eight vintages or so, there is a definite movement towards bigger wines, more fruit, more tannin...and they're getting more expensive too, usually reaching towards $300 a bottle. I'm not a fan; I love the elegance of the older wines. One of the wines I adored in this flight was the 1999, with its toast-and-chocolate nose, spicy finish, rich and well-knit palate, perky acid and soft tannin. And, because it's an older Solaia (paradoxically)...you can find it for under $200. A little pricier and younger--but my favorite of the last decade--is the 2004; it's alive, rich, vibrant, silky, concentrated, with intriguing aromas of apricot pit, apple and red fruits. Will age well.
The sky-high price is a result of many glowing Solaia reviews, and definitely puts the wine out of the price range that most of us respect. But if you do happen to be looking for a vinous treat, and if you follow my advice on the older Solaias...you can, at a good-value price on the Internet, score yourself a beautiful accompaniment to grilled steak with Tuscan olive oil! Most of the wine I drink is under 20 bucks--but the occasional brush with history can be worth the price of admission.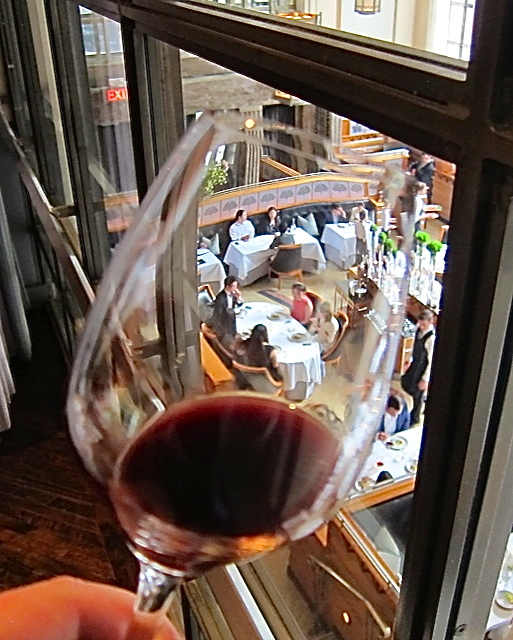 My big winner: the 1999 Solaia