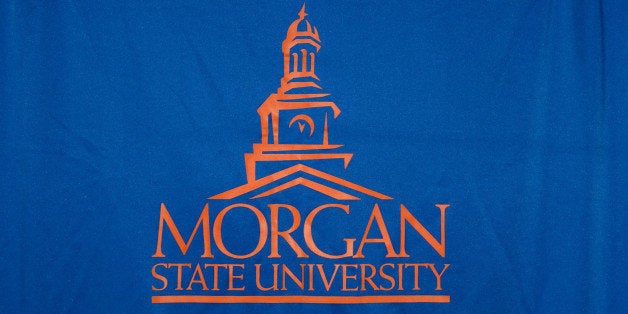 Morgan State University's School of Architecture and Planning is at the center of a redevelopment plan for Baltimore City's northeast corridor. The 'Morgan Community Mile,' announced last April as a renewal project for commercial and residential square mile surrounding the university, has given SA+P architecture students a platform for conceptualizing and designing new facilities for the area, including a new community center, and areas for signage and banners to promote civic pride and identity.
With the backdrop of a sprawling inner harbor skyline, Baltimore is known throughout the region for square blocks of abandoned buildings and undeveloped lots. Morgan State's efforts are largely welcomed by neighbors of the suburban-set university, known as the state's flagship black college.
It's a partnership a long-time in the making, according to Maryanne Akers, Dean of the MSU School of Architecture and Planning.
"We want it to be forever, not just ten years," she told BMoreMedia.com in May.
Historically black colleges and universities, long known for opposition against social injustice and inequality, are again leading the way for progressive opportunities for all Americans. With an emerging global focus on environmental efficiency, HBCUs are bringing creative outreach and research in developing healthier communities for all citizens.
Three of Maryland's four historically black public institutions are creating a national footprint in unique approaches to building sustainable environments with support from industrial and community partners. Bowie State University, Morgan State and the University of Maryland Eastern Shore have prioritized sustainable development in their curriculum and development projects, and have become national models for green job creation and professional development.
In 2011, the University of Maryland Eastern Shore began an ambitious goal of providing renewable energy to Princess Anne, MD. With an eye towards solar and wind-powered resources, the university installed a 17-acre solar farm on the campus that same year, reducing energy costs at the school and providing a learning lab for undergraduate students and faculty researchers.
In September, the university's commercial development division announced plans to construct two wind turbines near the campus, which will provide cheaper energy to more than 500 residential homes in the region. Scheduled for completion in early 2014, research for the turbines also allowed UMES science majors to conduct environmental feasibility studies in advance of construction, introducing undergraduates to aquatic wildlife preservation and ecological assessment.
In December, Bowie State University partnered with government officials from Prince George's County, MD and Lockheed Martin to establish the Educational Innovation Initiative, a training and academic preparation program exposing underserved high school students in the region to professionals and career opportunities in the sciences, engineering and technology.
High school juniors and seniors students gain regular mentoring and insight from undergraduates at Bowie State, along with professional research scientists and engineers at Lockheed Martin to spur interest in fields with a pressing need for diversity and enhanced innovation.
Organizers call the program a necessity for continuing minority access to green jobs, as well as careers in national security and data protection. Traviss Green, a Bowie State alumnus and key organizer for the initiative, calls it an honor to bridge his career as a Lockheed Martin program manager and his desire to assist future S.T.E.M. experts.
"It has been an honor for me to work with my alma mater Bowie State University to develop the Education Innovation Initiative (EI2), which powerfully connects industry, academia and local government to inspire and generate the workforce of tomorrow through career pathways in science, technology, engineering, arts and mathematics for students of all ages."
The green movement is also developing through research opportunities from the federal government. In early December, the Department of Energy's Office of Science announced the launch of a national collaborative research program with minority-serving institutions, which will allow faculty members and students from HBCUs to submit research proposals for a 10-week program at one of 14 national DOE laboratories.
The proposals, which must be address "complex challenges in energy, national security, the environment, and discovery science," are part of a critical need in green development.
"Excellent scientists, technologists, and engineers are the creative engine of the science we support at the Department," according to Jim Glownia, Senior Science and Technology Advisor in DOE's Office of Science. "Investments to enrich the diversity of the pipeline of tomorrow's scientists need to expand and grow, and must be as inclusive as possible to help support not only our workforce needs, but also national needs to sustain U.S. competitiveness."
According to Dr. Glownia, the program provides invaluable experience to researchers in writing proposals which attract federal funding, a critical need for HBCUs as they look bolster their research profile and financing in areas of environmental sustainability and green technology.
"Providing experience-based learning and professional development opportunities, while also advancing the DOE mission, impacts research capacity by improving classroom and laboratory skills at participating faculty home institutions."
"The association with Historically Black Colleges and Universities has been long and successful, and we hope to continue on this path."