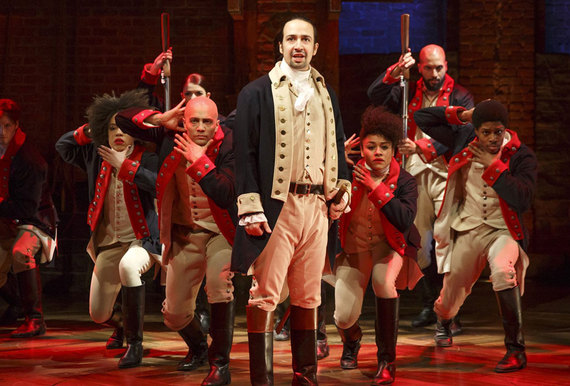 By Maggie Roache
Nazareth
Everyone's talking about it. Whether it be a Broadway geek, a diehard hip-hop fan or just someone who listens to good music of any genre, they all have one thing in common: an obsession withHamilton, a hip-hop musical about the forgotten founding father on the $10 bill. Lin-Manuel Miranda's masterpiece is so perfect that one song took him an entire year to write. SoulCycle even created a class devoted to its music. So what's the big deal? What makes this musical so different from all the other ones?
According to Mark Madama, associate professor of musical theatre at the University of Michigan, it's the music that makes the show stand out the most.
"Everybody is so excited about it," Madama said. "It is something for the students. Now that they are used to this music, it's their music. It's music they listen to when they are walking down the street and all of the sudden, now that is also the music that is in musical theatre. It's not music that is a little foreign to their ears like Rodgers and Hammerstein would be, or even Stephen Sondheim."
It's not just the students that love the music; the cast album itself has been very critically acclaimed. Most recently, "Hamilton" won the Grammy for Best Musical Theater Album. It has also received a lot of recognition in the world of hip-hop. It was the first Broadway cast album to ever hit No. 1 on the Billboard Rap Album chart, and Billboard Magazine gave it a 5-star rating, making it the first album to ever receive a Billboard perfect score. Miranda, the show's writer and star, told GQ in December, "(The show is) a valentine to a lot of things. It's a valentine to history, and to New York, and to immigrants -- but above all, I think it's a valentine to hip-hop, and sort of the founders in that world, equating them with our Founding Fathers."
The idea of a Broadway musical about a founding father with hip-hop music garners enough attention on its own, but one of the most amazing details about this phenomenon is that most of the people obsessed with the show have never even seen it.
Nazareth junior Maddy Schierl has never seen the show live but said she still relates to it deeply.
"There is so much emotion in the music that I feel like I have experienced the show's essence without even having to see it," Schierl said.
For many this will continue to be the case, as the show is sold out until next fall.
But people are finding other ways to fall in love with "Hamilton" whether through the music, short videos on YouTube or even in the classroom. Katja Stonebraker, who teaches AP U.S. history at Cary-Grove, described the musical as "a teacher's dream."
For the last four years, she has shown her classes the video of Miranda performing the opening number of the musical at the White House back in 2009 as inspiration for them to create their own historical raps. Stonebraker plans to expand her use of "Hamilton" in the future because of the compelling perspective it tells his story from.
"You see these old dead guys with powdered wigs and they are these old dead guys that you have to memorize and learn," Stonebraker said. "But I think 'Hamilton' makes history real and again makes it relatable."
In fact, the full title of the show is "Hamilton: An American Musical," and perhaps that is the best way to sum up exactly why it is having such an enormous effect. The musical represents America today, its culture and issues that still resonate even now. It's not the classic telling of American history, but a history with which all Americans can identify.
This article was written by teen reporters from The Mash, a bi-weekly publication distributed to Chicagoland high schools.
Calling all HuffPost superfans!
Sign up for membership to become a founding member and help shape HuffPost's next chapter