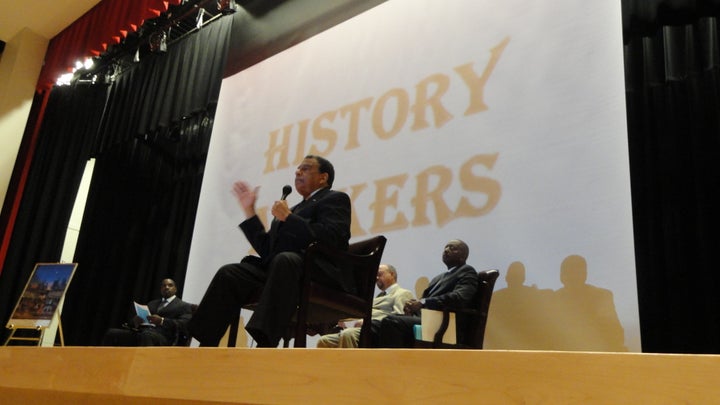 Call it 'Career Day' or just a welcome break from the classroom, but students from Georgia to Los Angeles got an opportunity to hear some top African-American luminaries speak on Friday about the importance of education in urban communities.
The second annual Back to School with the HistoryMakers program, dispatched some 500 trailblazers to schools across the country to recount their own school experiences and the struggles they encountered on their paths to success.
With the goal of reaching classrooms in 107 cities and 34 states, the HistoryMakers called on notables such as Massachusetts Governor Deval Patrick, Senior Advisor to the President of the United States Valerie B. Jarrett, former Ambassador Andrew Young, entertainer and author Common, activist and talk show host the Rev. Al Sharpton, political commentator and talk show host Roland Martin, singer/actress Melba Moore, Broadway choreographer George Faison, poet Nikki Giovanni, actress Marla Gibbs, actress T'Keyah Crystal Keymáh, poet/author Sonia Sanchez and author/filmmaker Antwone Fisher.
In Cascade Heights, Georgia, civil rights icon and U.N. ambassador Andrew Young told a group of sixth-, seventh- and eighth-graders gathered in an auditorium at Jean Childs Young Middle School (named after his first wife) that he "was short, so when there were fights, I knew I was one of the ones who might get beat up," according to Cascade Patch.
In Midtown, Georgia, talent management chief executive Dina Ruth Andrews spoke to students at Henry W. Grady High School about persevering through a tough job market.
WATCH
:
And in Springfield, Illinois, former state senator Alice Palmer told Jefferson Middle School about overcoming hardships when she attended college. During her first stint, she was only 16. "I didn't do that well the first time around because I wasn't emotionally ready," she said. "When I came back, nothing stopped me," The State Journal-Register reports.
The theme for this year's day of service, "Commit," sought to encourage youth to commit to excellence, to learn their history and to achieve beyond what they think is possible.
Since its beginning in 1999, The HistoryMakers has gathered 2,000 personal stories. At 113 years of age, Louisiana Hines of Detroit is the oldest person interviewed by the project, while the youngest is 33-year-old ballerina Ayisha McMillan, from North Carolina. The organization is making their digital collection of more than 8,000 hours of video testimony available, free of charge, to all participating schools, according to PBS.
"They let me know that I can do anything I want. Just believe in yourself, set your goals, try to accomplish them and you can do anything you want in life," Dennisha Frazier, a 17-year-old senior at Dunbar Senior High School in Washington, D.C. told PBS after the presentation.
Calling all HuffPost superfans!
Sign up for membership to become a founding member and help shape HuffPost's next chapter