L ove them or hate them, bathing suits are an essential part of our beach going experience. While there are some discrepancies as to just how long they've been around (two-pieces have been worn since as early as 1400 B.C.) there is no denying their summer staple status.
It's not really surprising then, that multiple people have claimed the rights to inventing the bikini -- both fashion designer Jacques Heim and mechanical engineer Louis Reard say they're the first. They can, however, agree on at least one thing: its birthplace. Both cite the French Riviera as its original home in 1946.
Bathing suits have come a long way since ancient times. They have evolved through a slew of styles -- high waisted, one-piece, string and cut-out, to name a few -- and will bring in an estimated $17.6 billions in 2015 alone. They even have an entire magazine devoted to women wearing them. But when you take a look at some of the most iconic looks over the years, one thing is for sure: they have, and always will be, in style.
Of course, there have been some suits that have simply made a more lasting impression than others.
Behold, some of our favorite swimsuits from the last century and today.
1930s Left: Swimsuit Model, Center:Three Army Girls, Right: Model wearing a Jantzen swimsuit
1940s Left: Two models in Cole swimsuits, Center: Model, Right: Alma Thoms
1950s Left: Esther Williams, Center: model Jackie, Right: Esther Williams
1960s Left: Natalie Wood, Center: Audrey Hepburn, Right: Raquel Welch
1970s Left: Jill St. John, Center: model, Right: Ann-Margret
1980s Left: Nicolette Sheridan, Center: Florence Griffith Joyner, Right: A model wears St. Raphael
1990s Left: The ladies of "Saved By The Bell," Center: Pamela Anderson, Right: Tyra Banks
2000s Left: Halle Berry, Center: Kim Kardashian, Right: Annie Martin & Bridget Hall
2010s Left: A model poses at Miami Swim Week, Center: Kate Upton, Right: Maria Menounous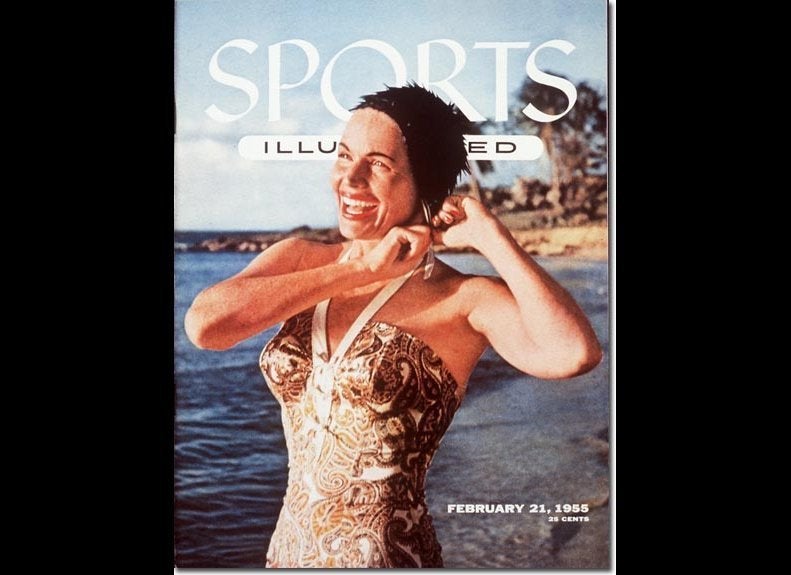 Sports Illustrated Swimsuit Covers Through The Years