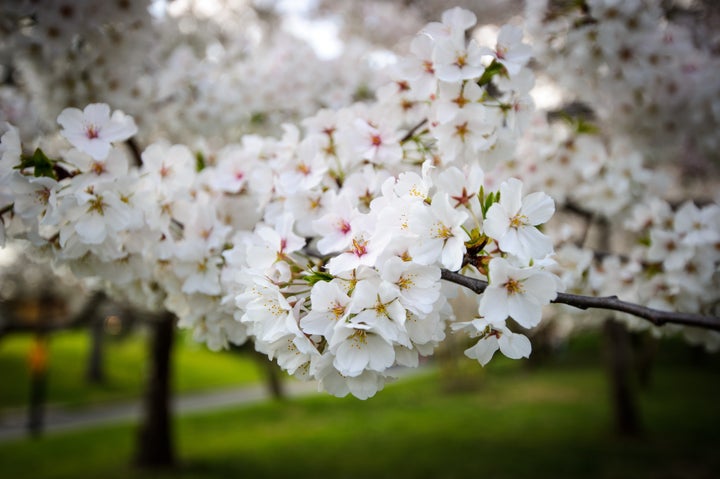 Mayor Yukio Ozaki of Tokyo gave 3,000 cherry trees to Washington, D.C. in 1912, to honor the friendship between the United States and Japan. First Lady Helen Taft and Viscountess Chinda, wife of the Japanese ambassador, planted the first trees on the north bank of the Tidal Basin in West Potomac Park on March 27 of that year.
Three years later, we sent flowering dogwoods to Japan, and in 1927, a group of schoolchildren reenacting the planting of the trees began what became our nation's annual Cherry Blossom Festival. When Japanese Prince Takamatsu brought his bride to see the trees on his honeymoon four years later, crowds gathered to welcome them.
Some of the largest and most beautiful of the trees were cut down by vandals in the middle of the night shortly after Pearl Harbor, and shortly thereafter charges were raised that the trees had been stolen from Korea and China, and ought to be designated Korean cherry trees. The animosity didn't stop the trees from blooming, though, as if they knew all along that the friendship between the two countries would again need the protection of their shade. The war damage in Japan put in peril the parent rootstock of the U.S. trees along the Arakawa River near Tokyo.
Japan's request for U.S. assistance in rejuvenating the grove was answered by a Park Service shipment of budwood from the descendant trees back to Japan in 1952.
This year, the expected peak bloom from March 26 to March 30--when 70% of the blossoms are open -- will be celebrated with luncheons and fireworks, bike rides and kite festivals and parades. You can stroll through the trees and learn about their history from a series of signs. Take a collection of Japanese poetry to read in the shade of the blossoms. Or simply walk in the quiet of the early morning through this beauty that has stood for one hundred and one years. As Japanese poet Kobayashi Issa writes, "In the cherry blossom's shade / there's no such thing / as a stranger."
Popular in the Community