Lori Mosca never set out to be a pioneer.
Growing up before females had the same athletic opportunities as males, she had no choice but to join the boys team in high school. They made it clear she wasn't welcome – and that was before she started beating them and breaking records set by generations of male predecessors.
In college, she lacked varsity options. So she threw herself into recreational sports, earning the campus crown as "female athlete of the year." She later completed the Hawaii Ironman triathlon, a pinnacle in endurance and athleticism, and did it again a decade later to prove her staying power.
Yet this isn't a sports story. It's actually about the past, present and future of women's heart health … a tale that's rooted in Lori striving for her goals regardless of whether there was a clear path to them.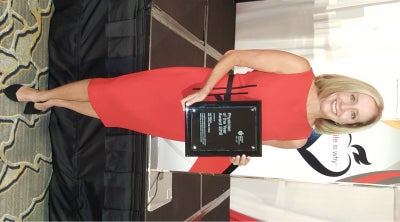 As you may have read in my recent columns, or learned through our various campaigns, February is American Heart Month, and a major emphasis is making sure women know that heart disease is their No. 1 killer – claiming more lives than all forms of cancer combined.
If this sounds like old news to you, it's probably because of the efforts of Go Red For Women, the movement launched in 2004 by my organization, the American Heart Association.
We have since created guidelines, which essentially means providing medical professionals a handbook of do's and don'ts for treating women with heart disease.
In recent years, we've redoubled our efforts into research. By better understanding how heart disease manifests in women, we can devise more ways to beat, treat and prevent it.
Last year, we started a Strategically Focused Research Network on this subject. Laboratories at five institutions are studying different aspects; Columbia University is one such center – under the direction of Lori Mosca, of course.
Lori's passion for heart disease prevention began early one day in 1982.
It all started with her first patient: Her dad.
She lived with her parents while attending SUNY Upstate Medical University in Syracuse and was in her room studying for board exams. Around 2 a.m., he knocked on her door and said his chest felt like it was being squeezed by a vise.
Soon, this medical student was looking over electrocardiogram results. When doctors said her dad was eligible for a clinical trial, he asked her to decide whether he should enroll, beginning a crash course in clinical research and informed consent.
She went into a bathroom and noticed that it looked like an altar. So she kneeled and prayed.
"I wished I didn't have to be here making this decision," she said. "Then I thought, `Could we have prevented this? What could we have done to not be here?'"
Her dad survived and Lori thrived in a new career focus: preventive cardiology.
She earned degrees from Columbia University, completed a residency at Syracuse and a fellowship at Columbia. She then became director of the preventive cardiology program at the University of Michigan before she was recruited to establish the first such program at New York Presbyterian Hospital.
In her clinical practice, women often asked Lori for some sisterly advice: Should we take the same medicines as men? She heard it enough times that she went to check the research … and discovered there wasn't the same level of heart disease research in women as men, making it difficult to make similar evidence-based clinical decisions.
Not to Lori, seeker of new paths.
"I started to get excited," she said, "because there was a void that needed to be filled and I felt like I could help fill it."
Lori presented a plan to study women's heart health at one of the AHA's scientific research meetings in 1991. It was met with about as much enthusiasm as her joining the boys swim team in high school.
Some critics said heart disease wasn't a problem for women. Others said separate studies and guidelines would be distracting. Many people would have given up; not this endurance athlete.
"My strategy was that no matter what was thrown at me, I'd come back with facts," she said. "It was so ironic – I had so much passion, but I had to deal with many thought leaders dispassionately and use nothing but facts and gentle perseverance."
Gathering facts was tough because few existed. A large percentage of research did not include women. When studies did, the numbers of women included were so small it was impossible to draw meaningful conclusions.
So she began gathering them herself.
Her crusade reached the steps of Capitol Hill in 1997.
She and Martha Hill – the only nurse to be president of the American Heart Association – stood on that perch and delivered two pieces of news from their first-of-its-kind study:
Heart disease was the No. 1 killer of women.
Only 1 in 3 women knew it.
They illustrated their point with 500,000 red carnations, one for each woman who'd died of a cardiovascular disease in the past year.
"No matter how many distractions or obstacles I've faced since that day, I'm always driven by the carnations," Lori said. "I want there to be significantly less."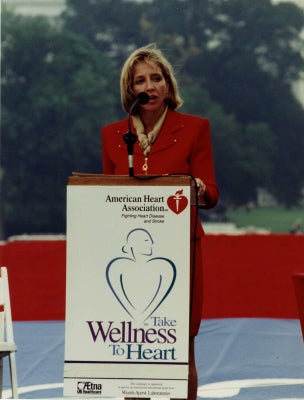 Two years later, Lori led an effort to publish the first guide to preventive cardiology in women.
In 2004, she helped produce evidence-based prevention guidelines for women's heart health, which drew widespread media coverage. It was as if a tidal wave years in the making had finally hit the shore.
"That's what made this a movement," she said. "For the first time, the science and the marketing and the consumer education piece were all in lockstep."
Soon there would be Go Red For Women, the Red Dress Awards and so much more. Including lives saved and improved.
Remember the stats Lori touted on Capitol Hill? Compare them to more recent numbers:
Awareness has nearly doubled to 60 percent.
Coronary deaths rates in women have been cut by nearly 50 percent in the past decade.
But Lori remains concerned because recent statistics show death rates have stopped falling and, in some pockets of women, those numbers are on the rise.
Research is the next frontier in our fight to improve women's heart health, and Lori is once again the point person as one of the leaders for our Go Red For Women Strategically Focused Research Network Center.
She is overseeing work on how sleep affects cardiovascular risk in women. The first results will be presented at a national AHA conference in a few weeks.
"We know that when we are tired we don't feel like exercising and our eating habits change, which can impact hormones, insulin and other factors that we are trying to understand," she said. "Our goal is to raise awareness of lack of sleep as a risk factor for heart disease, just like we raised the awareness of heart disease for women."
For her efforts to raise awareness and advance the cause of heart disease in women, Lori was honored in 2015 as the AHA's Physician of the Year.
As she continues forging new paths through her ongoing work, she's also seizing the opportunity to pass the baton to the next generation. The Go Red Center concept is a unique opportunity to train future leaders in women's health and team science.
"It's like having grandchildren – the people I trained for decades are now training their own fellows in our center," she said, laughing.
Fighting heart disease is truly a family business for Lori. Her husband is a pediatric heart surgeon, her older son is a cardiovascular perfusionist and scientist, and her youngest son is a first-year medical student.
As February – and American Heart Month – wind down, I always remind people that our fight against this massive problem never ends. The AHA began taking aim in 1924 and we're now the nation's oldest and largest organization fighting cardiovascular diseases.
Our focus on women's heart health is critical, and our devotion is enduring.
Do you really think Lori Mosca would allow anything less?
"It's so gratifying to know the work will carry on long after I step aside," she said. "Because this needs to be indefinite. We need to keep fighting."

Popular in the Community