Imagine you're in Jamestown. Historic Jamestown, to be precise, along the James River in Virginia, where Captain John Smith and the Virginia Company Settlers landed in 1607 to found the first permanent English settlement in North America.
Directly in front of you stands the frame of the Jamestown barracks constructed of thin, rugged trees tucked behind the wall of Fort James just steps away from the James River.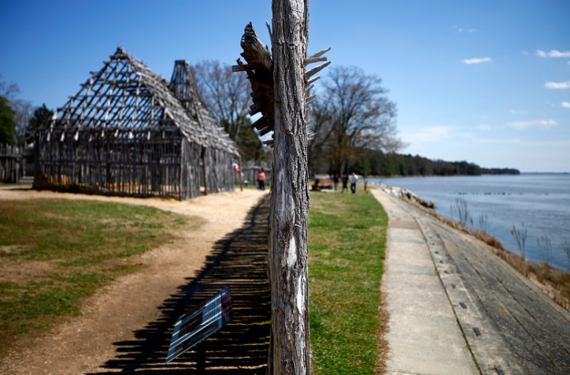 Research based reconstruction brings to life 1600's construction methods at historic Jamestown. Photo Credit: John W. Poole/NPR
Look to your right, and there's the beautiful James River, which today remains evocative of that time 400 years ago. Standing here, you can relive the dramatic and thrilling story of persistence, ingenuity, and American self-belief. You see Captain John Smith trading iron tools, beads, and copper with the Powhatan Indians for food, and you picture Pocahontas, the favored daughter of Chief Powhatan, marrying tobacco grower John Rolfe in 1614.
Brave men, women, and children endured brutal winters, starvation, disease, and battles to lay the foundation for what became our nation today. The first representative assembly in the colonies gathered in the Jamestown church in 1619 -- the beginning of our American democracy. The first Africans in the Americas came to Jamestown. Union, Confederate, British, and Revolutionary soldiers were here, too. This is sacred ground.
But this view that has stood the test of time, carefully preserved for four centuries, could soon change.
Dominion Virginia Power, a privately owned for-profit energy company, wants to build 17 brightly lit transmission towers reaching as high as 295 feet -- nearly the height of the Statue of Liberty -- across the James River at Jamestown.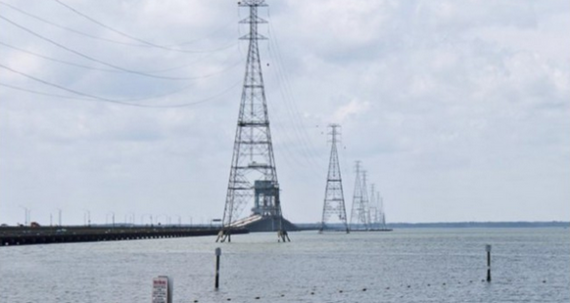 Dominion's new towers at Jamestown would stand nearly 300 feet tall, similar to their enormous towers 15 miles upriver at the James River Bridge in Newport News, VA. Photo Credit: Margaret Fowler/Save the James Alliance
Before Dominion is allowed to build their massive transmission towers, they need approval from the U.S. Army Corps of Engineers. Since there are federally protected wetlands along the James River, the Army Corps, the federal agency that claims "environmental sustainability as a guiding principle," will decide the fate of Dominion's request.
Dominion's outrageous and shameless proposal would irreparably deface American history and culture. Their imposing towers would permanently distort the more than 400 years of history preserved within Jamestown, Carter's Grove National Historical Landmark, the Colonial National Historical Park, the Colonial Parkway, and the Captain John Smith Chesapeake National Historic Trail.
Additionally, Dominion's preferred path -- not so coincidentally the cheapest option -- would risk the recovery of endangered Atlantic sturgeon, and undermine the $1 billion annual regional travel and tourism industry which supports local jobs and tax revenues for the region and the state.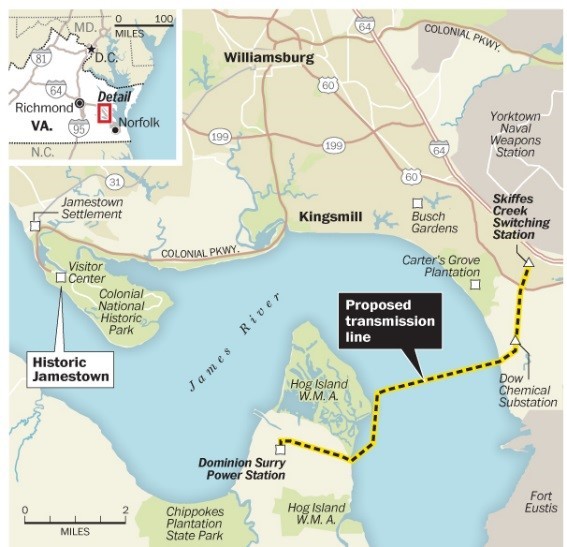 Dominion's proposed route would deface historic Jamestown, the Colonial National Historical Park, Colonial Parkway, and the Captain John Smith Chesapeake National Historic Trail, and threaten the recovery of federally endangered Atlantic sturgeon. Photo Credit: The Washington Post
Despite the Army Corps' tenet of environmental sustainability, they're actually considering approving Dominion's plan without a thorough examination of the environmental, cultural, historical, educational, and economic consequences.
Before moving ahead, the Army Corps -- a federal agency charged with protecting nationally important sites -- should at least require an Environmental Impact Statement (EIS). An EIS would provide a thorough examination of the environmental impacts of a proposed project, require the analysis of reasonable alternatives to the proposed project, and include a public comment period.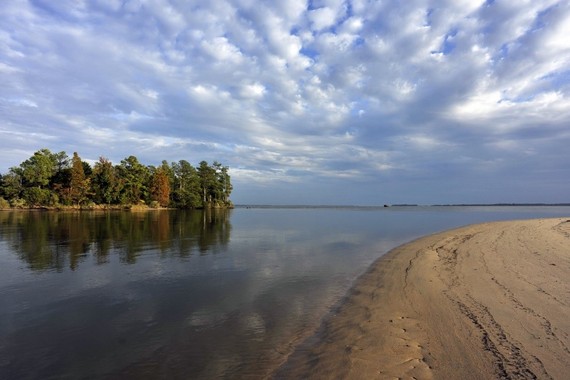 A current view of the James River, remarkably close to how Captain John Smith would have seen it. Photo Credit: Scott Neville for The Washington Post
To be fair, Dominion wants to build new transmission towers to supply energy to a region currently served by two aging coal-powered plants that will be shuttered by 2017 because they emit more than an allowed amount of harmful pollutants. Despite knowing for years that these coal plants would eventually be closed, they've decided to pursue the cheapest and most historically and environmentally destructive route without seriously looking at alternatives.
Dominion has several options which don't require obstructive towers across the James River.
For starters, Dominion could add power lines to already existing transmission towers that cross the James River fifteen miles upriver. Like Gettysburg and Annapolis have done to preserve their historic character, Dominion could also run new power lines underwater. Furthermore, Dominion could (and probably should) make investments in renewable energy technologies that don't rely on stringing wires on poles.
Regardless of Dominion's eagerness to destroy Jamestown and the historical, educational, cultural, recreational, and economic significance attached to this important place, the Army Corps should require an EIS before making an ultimate decision regarding Dominion's ill-conceived proposal.
Think about what's at stake. Put yourself at historic Jamestown along the James River, near the barracks with Captain John Smith and Pocahontas, and where our American forefathers chose life and liberty. The more than 400 years of American culture and history which nearly every student in North America studies should remain protected so future generations can understand who we are and where we came from.
That's why it's critical that you #FindYourVoice right now for historic Jamestown. Tell the Army Corps to require an EIS so that we can continue preserving and sharing the places that tell our American story.
Don't miss what might be your only opportunity to stand up for historic Jamestown.
Calling all HuffPost superfans!
Sign up for membership to become a founding member and help shape HuffPost's next chapter