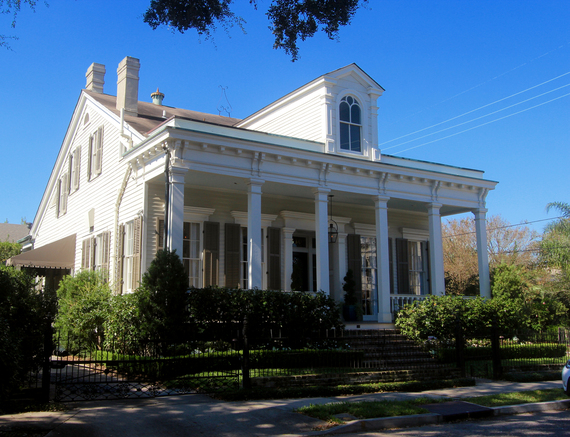 When Dr. Troy Scroggins, Jr., was growing up in Topeka, Kansas, historic homes were few and far between.
Most of the housing stock in Topeka dated back to the 1950s, which makes the circa 1870 New Orleans home Scroggins has lovingly renovated feel all the more special.
The raised center-hall cottage will be on full display during the Preservation Resource Center's Holiday Home Tour on December 12-13, marking the culmination of a long and winding path that has taken Scroggins from the suburban sprawl of Topeka to the heart of the historic Garden District.
He moved to New Orleans about 25 years ago to join the staff of the Ochsner Health System, where he is now chair of the Department of Radiation Oncology.
Before settling in the Crescent City, Scroggins was living in Baltimore, where he first became interested in historic homes.
"I think that's when I first started living in older buildings," he says. "I lived in a converted shirt factory that was right downtown in Baltimore. It was a big loft-style apartment that had won a couple of design awards."
From there, Scroggins bought an old row home that was just 12 feet wide.
"Someone had gone in, gutted it, redesigned it, and made it a much more open floor plan," he says. "That's when I started to see that you could take some of the older homes, still keep the history, but then renovate so that it works."
Scroggins made the move to New Orleans after four years in Baltimore, and he was immediately struck by how much history was on display in every neighborhood.
"The first home I had here was a Spanish Revival home built in the 1920s that was on Trianon Plaza," he says. "That block has so much history. From the fact that the land was owned by a free man of color, to the people who built the homes and all this stuff that happened on that one little block. I was like 'man, this is neat.'"
Right before Hurricane Katrina, Scroggins bought a condo under renovation on St. Andrews and Coliseum.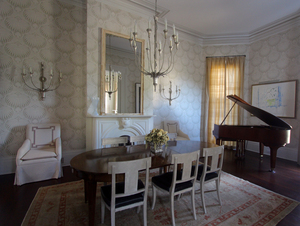 "I was lucky to catch it right when they were renovating so they could put up drywall," he says. "When I bought it, I said 'I want it! Don't do any more!' That gave me a chance to do the bathroom like I wanted and the kitchen like I wanted, and that turned out really well, I think."
"Really well" might just be an understatement.
When Scroggins put the condo up for sale, it sold in less than one day, due in large part to his updates.
Surprised at his good fortune, he set his sights on a new historic home.
"When I was looking for a house, I kind of said 'well, I'm in a 1920s house, but I'd like to be in a house that's a little older than that,'' Scroggins says.
It seemed only natural that he would be drawn to a section of the city home to a wide array of historic houses.
"New Orleans has such an abundance of houses that were built in the early 1900s or late 1800s. Not a lot of other cities have that situation," he says. "To find houses that are still functioning and to think that in the late 1800s people were living in this structure, that it was serving as a home then as it is now, I like that aspect."
When he first stepped foot in the Toledano Street home, Scroggins says he immediately felt comfortable.
"As soon as I walked in, I knew," he says. "I thought, 'I love this house. I think this could really work.'"
The first thing that Scroggins wanted to establish was a good flow that would lend itself to gatherings large and small.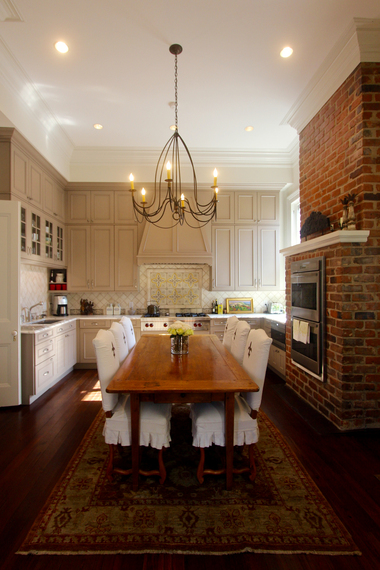 He moved the kitchen entrance from its original position along the outside wall to the center of the hallway wall, closing off the parlor to the left of the front door to create a more formal seating area.
For the parlor to the right of the entrance, Scroggins decided to open things up by removing the hallway door and replacing it with an oversized, custom milled doorframe, a trick he repeated on the back wall of the kitchen, which connects to a relaxed living room space.
"We actually moved the back wall in the kitchen back about a foot and a half because I knew I wanted my refrigerator and wine cooler on one side, and I needed a little more space to get them in," he says. "I think it gives it kind of a more open concept feel without some of the problems that come with having an open concept in an older home."
A large wooden table flanked by six high-backed chairs with embroidered fleurs de lis occupies the center space in the kitchen that might ordinarily be home to an island.
"I think you are always pretty comfortable sitting at a table, whereas with an island, you're comfortable, but you're never really going to sit there for a long period of time, because at some point your knees are going to hit the island and you're not going to be comfortable," he says. "I wanted everyone to be able to sit at the table and just hang out. It makes for long evenings."
As with his condo redesign and renovation, sometimes the comfort conveyed by the custom kitchen can work against Scroggins - especially if he has to wake up early the next day.
"You're cooking, you're doing your stuff, and everyone is just sitting at the table hanging out," he says. "It makes for long evenings. That's the problem. One thing feeds the other and then it's like three o'clock."
The kitchen is often referred to as the heart of the home, and the warmth resonating from the heart of Scroggins' kitchen radiates out to the rest of the historic structure.
"I definitely like to have a beautiful environment, but I also want it to be very comfortable," he says. "I don't want people to come in and think they can't put their feet up. I never want it to feel stiff or that there are rooms that people can't go in."
Scroggins has made it a point to ensure that the interior of his home reflects the surrounding culture and feel of New Orleans.
To that end, he bought his furniture from local sources, most often the shops lining Magazine Street.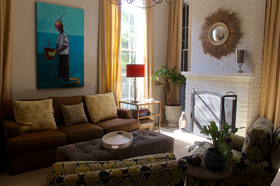 The amazing collection of artwork adorning the walls is heavily populated by New Orleans and Louisiana artists and represents a wide range of styles and formats.
"I really try to be a big fan, locally," he says. "New Orleans is a pretty amazing city for an artist to be an artist and make a living being an artist, because there's not a lot of places where you can really do that."
The key to making it all work is to always stick to what pleases you.
"The thing about decorating for yourself is, in the end, you'll really feel comfortable with it because you picked it out, you had a hand in it," he says. "Just keep buying what you like. It will all work out."
With such a successful historic renovation under his belt, Scroggins says he would be open to taking on another project, but maybe not anytime soon.
His words of wisdom for anyone considering taking on a renovation seem to match his overall aesthetic and approach:
"If you can, do it all at one time and then have a really clear idea what you want and what you don't want," he says. "Keep it moving, because otherwise people get bogged down with little stuff."