MARIA BORGES is the definition of a true angel on and off the runway.
With three Victoria Secret Fashion shows under her wings, Borges made history walking the runway, with her natural hair at the 2015 Victoria Secret Fashion Show.
The Angolan born model is more than just a pretty face, Borges intentions to use her platform, to inspire has taken the world by storm.
I first met Borges at the 2013 Victoria Secret Fashion show and upon meeting it was clear becoming a VS Angel was a calling that exceeded way beyond the runway as she aims to inspire lives globally.
I had the opportunity to meet Borges again at the 2015 VS fashion show and without skipping a beat she greeted me with open arms.
The ascending of a historic moment was apparent and her joy was contagious.
Our post show interview is one that is sure to inspire all of us to be proud of who we are and why taking ACTION is the real secret to making history!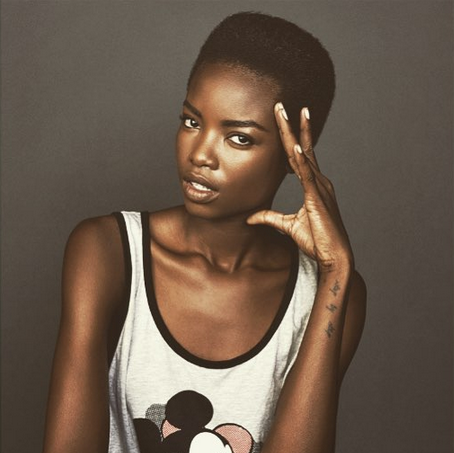 MM: You definitely have the gift of modeling. Did you feel you had that talent in you, as a young girl in Angola?
MB: I think I knew inside me. Growing up I was always the tallest girl in school. They were always telling me to play basketball! At 16 I was in the elite model competition, but I lost. Coming in second made me realize I could do it!
MM: What led you to go natural at this point in your life + career?
MB: I realized from all the different shoots I did, that you always have to be a bit chameleon. With my long hair I was called Black Barbie a lot- especially at Moschino! I had worn extensions, short wigs, long wigs and everything, but when I decided I wanted to let more of myself show, I knew I had to wear my natural hair. It makes me feel even better and more confident in myself. When I decided to go natural, I was bit nervous that the clients would not accept me the same way. I was lucky and surprised that it was well received.
MM: How did the process feel, to do the "big chop" in the public eye with the fashion world especially watching?
MB: I was nervous a bit because I had never done this before. I was getting nice work with the long wigs and extensions. I had no idea what to expect when I cut my hair so short. I did like the way it felt on me. The world of fashion has trends in clothing, but there are also beauty trends- ranging from short hair, to long hair, curly or straight, but I didn't know if the fashion world would accept a Black model just being natural with a short afro. I am more on time than when I had to fix my hair in the morning. With it short, I shower and I am out the door! I'm glad the fashion world is accepting it so far and maybe other women will feel empowered to do the same!
MM: Seeing you have 145K instagram followers and counting how has social media impacted your global career?
MB: I think many clients looking for models to cast, review the model's social media interactions. A lot of personality comes through in which pictures they choose to post, which comments they share, and it shows the model's character and what they focus on. OK, so my followers have grown, especially since the Victoria's Secret taping, which I think is very exciting! I am thankful that there are that many people following me! I think social media gives people around the world the chance to learn more about me personally and to see the growth in my career. Thanks to everyone who follow me! Big Kiss from MB!
MM: I read that you live by the advice passed to you "Be patient, take it step by step." How do you manage that in an industry that moves so fast?
MB: 'Step by Step' is what drives me and gives me strength. I know the fashion industry moves quickly, the world does these days! For me, the philosophy is about being true to myself, knowing where I come from and knowing where I want to go. It is important to learn everyday from the people you are working with. Respect them, and they will respect you and help you grow to be better. Always be on time. Always focus on what is asked of you. Be ready to work whenever you are asked. Always learn from every experience.
MM: What advice would you pass to an individual looking to pursue modeling or any career that seems "tough to break into?"
MB: Hard work pays off, but sometimes luck is a big key. You need luck to get a break to enter this business. Once you are in it, it means lots of hard work. For me, it was also a bit scary. I had to leave my family, my country and friends to pursue my dream. I came to a world that was equally foreign to me. I had no friends, I couldn't communicate with people because I did not speak English, or French, or Italian and I found myself alone much of the time. It was like starting a new life. To start my new life, I would go to a casting and smile- I did not understand what they were saying to me, but I knew they would understand a smile. Many models around the world faced the same things as I did. If there are people who want to do something, I would tell them- it doesn't matter what it is you want to do- but- you need to do it with confidence, believing in yourself first and when others see that, they will be more open to you. Smile, be friendly, be helpful while you learn and work hard- 'Step by Step'. MB
M O T I V A T I O N
"Always be on time. Always focus on what is asked of you. Be ready to work whenever you are asked. Always learn from every experience".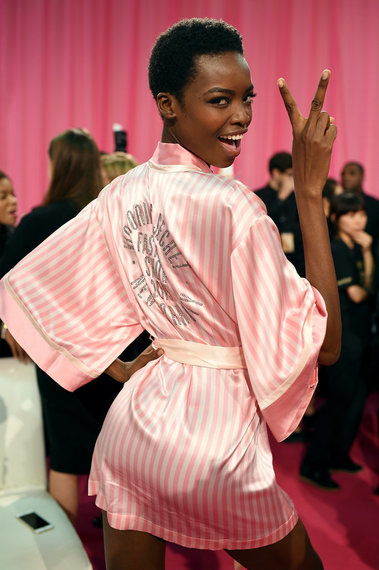 Be Inspired,
Melissa Mushaka
@mushakalakalaka
@iammariaborges
Catch the Victoria Secret Fashion show Tuesday, December 8, 2015 airing on CBS at 10/9C