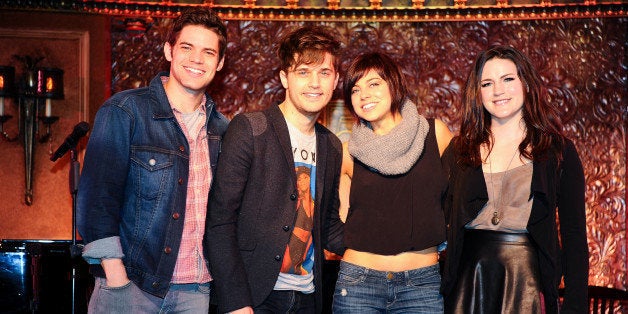 NBC's Broadway-centric musical drama "Smash," which premiered amid dynamite buzz last year but struggled to find an audience, is getting a second life on the New York stage after being canceled in May.
Stars Jeremy Jordan, Krysta Rodriguez and Andy Mientus are reprising their roles from "Hit List," the fictional show-within-a-show that was developed over the course of the second season of "Smash," in a unique concert-rock musical hybrid at the venerable Manhattan nightspot 54 Below. Stepping in for Katharine McPhee is singer-actress Carrie Manolakos, who despite being a newcomer to the cast is no "Smash" novice, having performed on a number of demo recordings produced by composers Drew Gasparini, Joe Iconis and Benj Pasek and Justin Paul for "Hit List."
According to Jordan, the current incarnation of "Hit List" (which features a book by "Smash" writer Julia Brownell as well as a handful of new songs not seen in the TV version) is a testament to the show's still-fervent fanbase; all three "Hit List" performances quickly sold out, while a waiting list for the remaining shows comprises more than 500 hopefuls. The excitement for the show seems even more palpable considering "Smash" was stung by critics and debuted to a mere 1.1 rating in the coveted 18-49 demographic in its second and final season.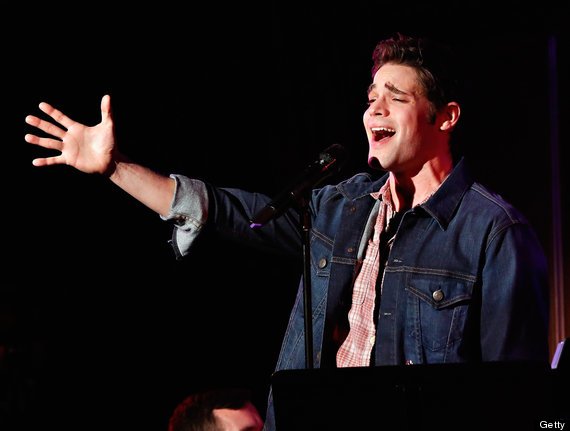 Jeremy Jordan performs in "Hit List" at 54 Below
"The people who loved it really loved it, and they're going to stay devoted to it," Jordan said during a press preview of the show, where he and his castmates performed three high-octane numbers with a full band. Although he said he'd be open to taking the more fully fleshed-out version of "Hit List" on the road or even to Broadway proper, he added, "It's an amazing bookend to the entire 'Smash' experience for me ... I can't say what's next, so if this is the end, I'm happy that it's this."
The show is very much a labor of love between "Smash" showrunner and executive producer Joe Safran and Jennifer Ashley Tepper, 54 Below's director of programming. Safran, who offered his own rough take on the plot of "Hit List" in a Vulture column in May, noted that putting the show on stage offers its creators a certain buffer not enjoyed in a television presentation: "We're getting to experience a whole lot of the love without the snark that accompanied the show when it was on the air," he said.
Rodriguez pointed to social media's impact on "Smash," particularly between the two seasons ("It was basically the only thing that was being listened to ... we made all the adjustments and still didn't make anybody happy"), but the well-documented malice doesn't seem to vex her or the rest of the cast.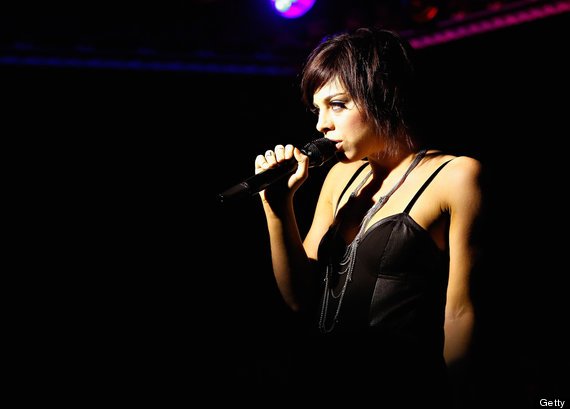 Krysta Rodriguez in "Hit List"
"When we were on the air, there was so much criticism and everybody had an opinion on how to make it better. It was easy to hear the negative stuff," said Mientus, who is set to return to Broadway as Marius in the 2014 revival of "Les Misérables." "Working on this show, I realized that some people don't really want to be pleased, they'd rather just complain. What can you do except do your best?"
For her part, Tepper isn't surprised by the current enthusiasm for "Hit List," as even the most minuscule TV audience dwarfs the number of people who have regular access to Broadway theater.
"I think people really lost perspective when 'Smash' was on the air," said Tepper, who is also the author of The Untold Stories of Broadway: Tales From The World's Most Famous Theaters. "People hear things like, 'Oh, the ratings are bad,' and think that no one was watching the show, but I heard at one point that more people watched 'Smash' in one episode than saw 'The Lion King' on Broadway over the course of a year."
Calling all HuffPost superfans!
Sign up for membership to become a founding member and help shape HuffPost's next chapter
BEFORE YOU GO
PHOTO GALLERY
'Hit List' At 54 Below