Every once in a while, a truly fun original documentary comes along. Hit The Road: India is an adventure documentary that follows two friends, Ric Gazarian and Keith King, as they participate in the heretofore unknown Rickshaw Challenge Mumbai Xpress -- a 12-day-long, 2000 kilometer rickshaw rally across India, from Mumbai to Chennai, recognized by the Lonely Planet as one of the top ten greatest adventures in the world. It's not quite the Safary Rally or the London-Sydney Marathon but in a sense the Mumbai Xpress is more exciting. There's an element of the absurd in watching Gazarian and King -- real estate agent from Chicago and a trained chef from Canada, respectively -- putter along at 30 miles an hour in a rickshaw or tuk-tuk in the middle of monsoon season. The rain, horizontal and vertical, pours down on them. At one point, King exclaims "It's fucking cold out here." It's unclear as well exactly what they are feeding themselves with -- a mixture of dried fruit and nuts, local fish rotis and whatever else they can find in the one and two star hotels where they stop to spend the night along the way in this 10 day rickshawathon.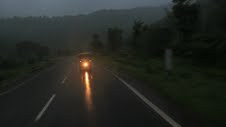 The rain is indeed cold and unforgiving as it batters them from side to side. The rickshaw breaks down on several occasions. There is limited technical help for the six rickshaw teams engaged in this cross-continental bid for tuk-tuk supremacy but the seven-horse motor rickshaws are little more than fancy golf carts when you get right down to it. Gazarian and King -- Rickshaw 006 -- are consistently last among the six participating rickshaws, but as they comment in the film itself, they were motivated by the sense of adventure inherent in such an undertaking. They stop in different cities such as Mangalore and Mysore and participate in a fire festival, are greeted by a pet elephant and dress up as Ernie and the Cookie Monster in order to spend time with local school children in a small Indian city. (Part of the point of the race is to work with Indian children.)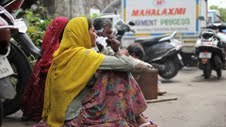 And throughout the documentary there is India, glorious green India in all her majesty: her coastal cities and long swathes of green vegetation that make the imagination soar, the rich, variegated colors and most of all her people, sometimes scowling but mostly smiling, happy to meet foreigners and rich with her millennial architecture and civilization. As expected, the men of Rickshaw 006 do not win the race but they do receive the Bonkers Award, given out to the team that is "most itself," an adult version of the school gym participation award. This lovely, fun, a bit overlong documentary of 80 minutes takes a bit of getting used to at first -- you're not quite sure you are interested in the topic or the drivers at first, but the more you watch the more you become engrossed. Expertly directed by brothers Gor and Mushegh Baghdasaryan out of Yerevan's Manana Film Studios, it may be one the best travel documentaries that I have watched. Along the Gazarian and King proudly display the Howard Stern fist -- it's a strange but oddly appropriate metaphor for this wacky, wonderful 2,000 kilometer adventure across India.
Related
Popular in the Community