Today's action adventure films are so full of explosions and special effects that there is little opportunity to imagine what might be going on in the hearts and minds of their major characters. At the conclusion of Thornton Wilder's 1954 play, The Matchmaker, Dolly Levi suggests that the youngest person should tell everyone what the moral of the story is.
Barnaby Tucker steps forward and nervously describes how, all too often, someone might find himself sitting at home, wishing he were having an adventure. But as soon as he is actually caught up in the middle of an adventure, he might find himself wishing to be safe at home. While there is no doubt in Barnaby's mind that we all need a certain amount of adventure in our lives, there is also a keen understanding that if nothing is ventured, nothing can be gained.
In the early stages of their lives, some people have a great capacity for knowing what they want, setting lofty goals, and performing the necessary tasks to make their dreams come true. Consider the strange case of Margaret Tobin. Born in Hannibal, Missouri on July 18, 1867, Tobin and her sister, Irene, moved to Leadville, Colorado in 1885, where she met and married James Joseph Brown. As she later told people:
"I wanted a rich man, but I loved Jim Brown. I thought about how I wanted comfort for my father and how I had determined to stay single until a man presented himself who could give to the tired old man the things I longed for him. Jim was as poor as we were, and had no better chance in life. I struggled hard with myself in those days. I loved Jim, but he was poor. Finally, I decided that I'd be better off with a poor man whom I loved than with a wealthy one whose money had attracted me. So I married Jim Brown."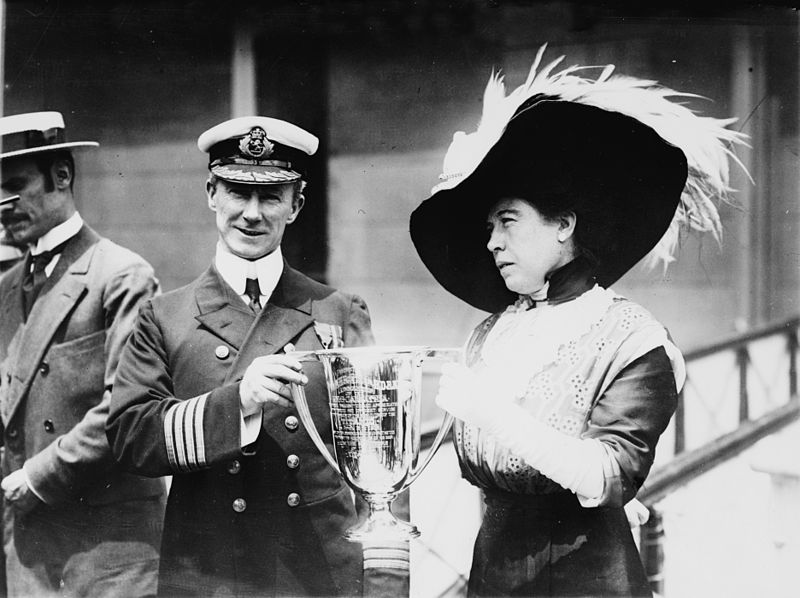 Margaret "Molly" Brown presents a trophy cup to R.M.S. Carpathia's
captain, Arthur Henry Rostron for his role in rescuing passengers
following the sinking of the R.M.S. Titanic .
In Meredith Willson's 1960 musical, The Unsinkable Molly Brown, the audience first meets Molly as she's being rough-housed by her brothers. The introduction to her first number reads as follows:
"MOLLY: I ain't down yet. I ain't never shoutin' uncle to you or nobody 'cause I ain't never down. Sure I'm tuckered and I might give out, but I won't give in. How can anybody say that I'm down? Look: I'm thinking. I'm thinking very hard how to break through. Maybe here, maybe there, maybe no place. But there'll come a time when nothin' nor nobody wants me down like I wants me up. Up where the people are. Up where the talkin' is. Up where the joke's goin' on. Now lookie here: I am important to me -- ain't no bottom to no pile. I mean much more to me than I mean to anybody I ever knew. Go ahead, break my arm. Me say uncle? Hoot! Doesn't make a bit of difference for you to say I'm down until I say so, too. Oh, I hate that word down, but I love that word up 'cause up means hope -- and that's just what I got: Hope for someplace better. Oh, I don't know. Cleaner. Shinier. Hell, If I've got to eat catfish heads all my life, can't I have them off a plate just once? And a red silk dress when there's girl enough on me to wear one?"
In 1957 (the year Willson scored his first and biggest Broadway success with The Music Man), Telephone Time produced a segment entitled Unsinkable Molly Brown which starred a young Cloris Leachman in the title role. Using footage from Werner Klinger's 1943 German propaganda film, Titanic (that was commissioned by none other than Joseph Goebbels) and the 1953 American film, Titanic (that starred Clifton Webb and Barbara Stanwyck), Eric C. Kenton's film contains an extremely poignant factoid about Molly Brown which is revealed in the second of these two clips.
Two recent productions aimed to capture the hearts and souls of people who are on the run. One was based on a highly imaginative novel; the other on a brief and bloody chapter in American history. Each relied on a certain amount of poetic yearning and magical realism to advance its story line.
Sometimes a film catches viewers by surprise, snatching them up in its plot and lifting them out of their tiny worlds into a raucous adventure filled with thrills, chills, and laughter. Like a magic carpet ride floating on an uncommon cushion of affection, affliction, and unexplained animosities, it simultaneously entertains, educates, and enchants its audience.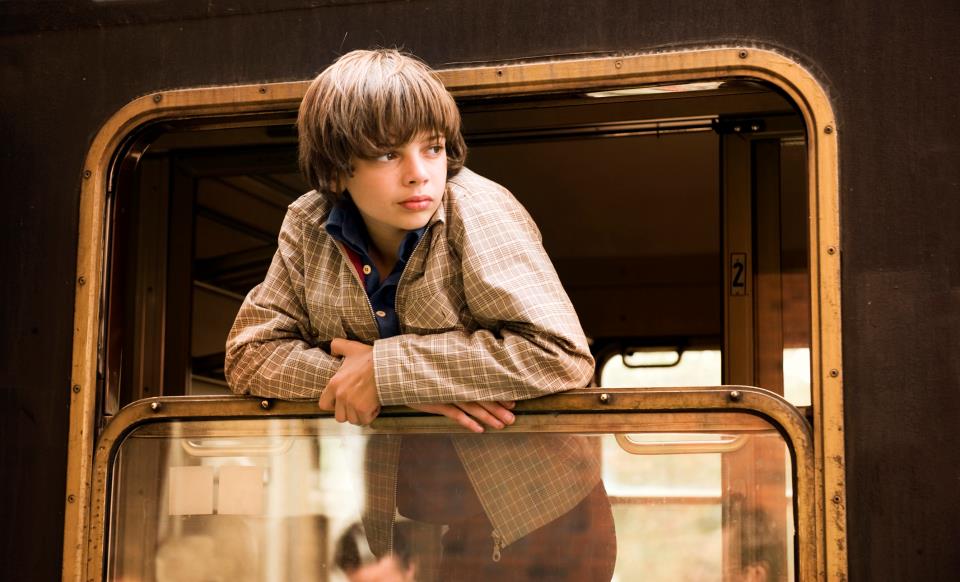 Thomas Simon is Nono in The Zigzag Kid
The Zigzag Kid follows the adventures of Nono Feierberg (Thomas Simon), the 13-year-old son of a workaholic police investigator (Fedja van Huêt). Nono's mother, Zohara (Camille De Pazzis), died when he was only a year old. Since then,no one will tell Nono what really happened his mother. He and his father now live with Gaby (Jessica Zeylmaker), the woman who has always been Jacob's secretary.
Two personal deadlines are fast approaching: Nono is about to be bar-mitzvahed. Not only must he go through the Jewish ritual of becoming a man, his father expects him to prove that he is ready to become a well-trained investigator. But how can Nono become a man when he's not sure of his lineage and he's still got the heart and mind of a boy?
Meanwhile, Gaby (who loves Nono as if he were her own son) is threatening to leave Jacob if he won't marry her. Gaby has always dreamed of acquiring two items that could make her life complete: a trademark golden zigzag pendant belonging to one of the world's great criminals, Felix Glick (Burghart Klaußner), and a red scarf worn by the famous cabaret singer, Lola Ciparola (Isabella Rossellini).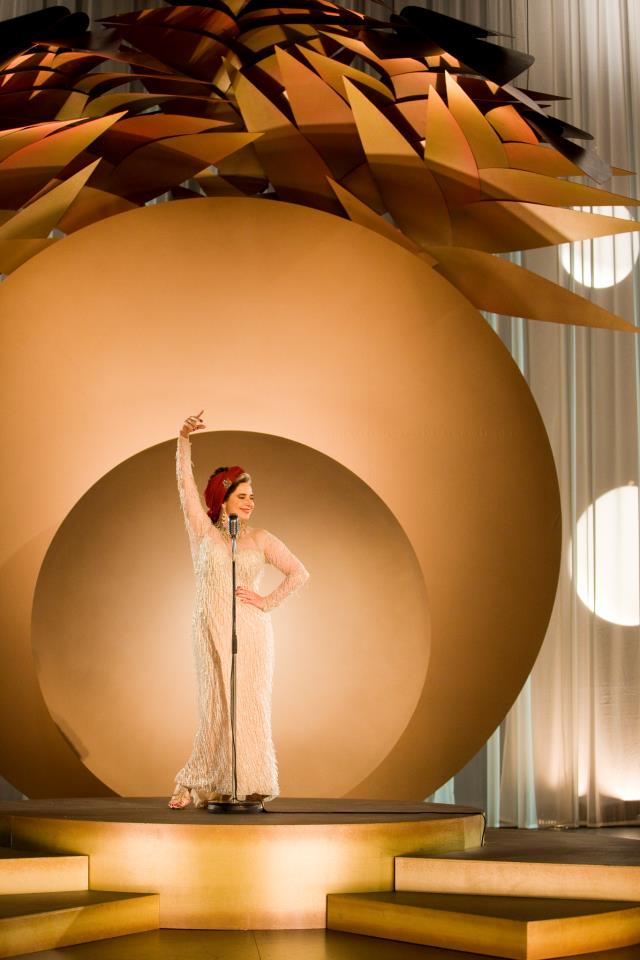 Isabella Rossellini is Lola in The Zigzag Kid
In his director's statement, Vincent Bal writes:
"When I first read the novel The Zigzag Kid by David Grossman, I was really surprised in how many ways the book touched me. The story is sort of a treasure hunt as Nono searches for the truth about his mother and, in the end, his own identity. What struck me is how Nono is taught not to trust his imagination, to rely solely on facts, but how in the end it is precisely this fantasy which makes him discover the truth. His imagination is his strength. I hope the magic and emotion that I saw in the book come across when the audience sees the film and that it makes them dream. Stylewise, I wanted the film to be as diverse as the book. Quick and elusive like mercury, yet more emotional."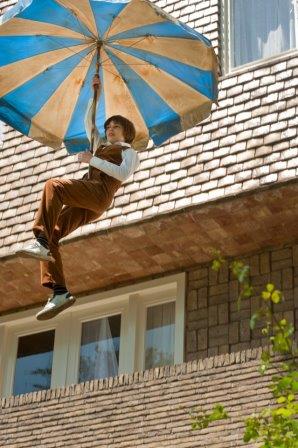 Thomas Simon is Nono in The Zigzag Kid
When Nono is sent on a train trip to visit his dour Uncle Schmuel, his instructions lead to a curious encounter with a very strange man who turns out to be none other than the infamous Felix Glick! Soon, Nono is off on an unbelievable adventure: hijacking a train, wearing a woman's wig to avoid the police, and eventually meeting Lola.
After discovering that Lola and Felix are, in fact, his grandparents, Nono finally learns the secrets of how his parents met and fell in love (who could possibly resist the feminine wiles of a temperamental cat thief who jumped into an industrial tank filled with milk chocolate?) and developed insurmountable relationship problems.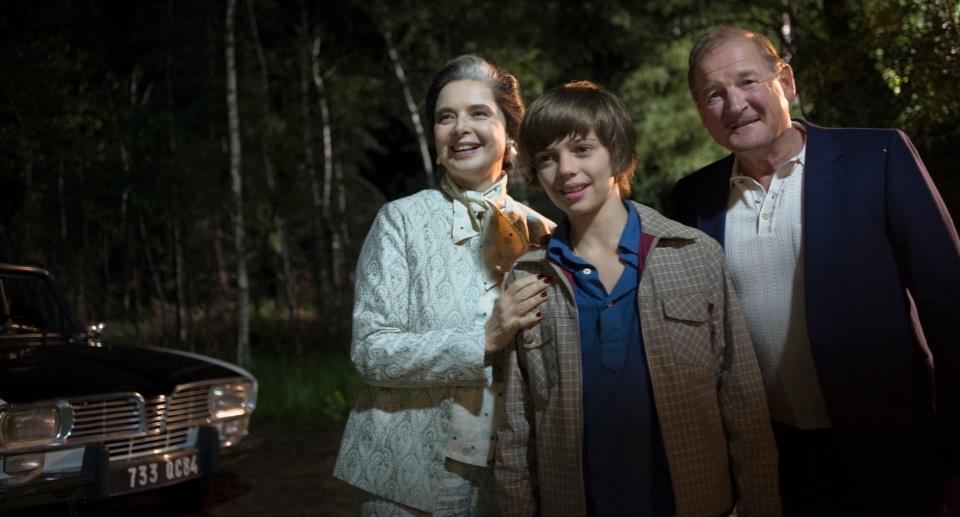 Nono (Thomas Simon) meets his grandparents in The Zigzag Kid
With a winning cast, a deliciously entertaining script, and some superb art direction, The Zigzag Kid is a joy from start to finish. Here's the trailer:

Clyde Barrow and Bonnie Parker share a unique place in American history. During the Great Depression, their gang roamed the Midwest, robbing banks and shooting police officers as well as civilians. They died in a bloody ambush on May 23, 1934 after 130 rounds of ammunition were fired into their vehicle. According to Wikipedia:
"Some today say Bonnie and Clyde were shot more than 50 times. Others claim closer to 25 wounds per corpse, or 50 total. Officially, the tally in parish coroner Dr. J. L. Wade's 1934 report listed 17 separate entrance wounds on Barrow's body and 26 on Parker's, including several headshots on each, and one that had snapped Barrow's spinal column. So numerous were the bullet holes that undertaker C. F. 'Boots' Bailey would have difficulty embalming the bodies because they wouldn't contain the embalming fluid."
In 1967, Warner Brothers released Arthur Penn's film, Bonnie and Clyde, which starred Faye Dunaway, Warren Beatty, Estelle Parsons, Gene Hackman, and Michael J. Pollard. Movie critic Roger Ebert awarded the film four stars and, in a move it would regret, Warner Brothers (which had little faith in the film) gave Warren Beatty 40% of the gross. Bonnie and Clyde went on to become the most commercially successful film produced by Warner Brothers since 1964's My Fair Lady.
In November 2009, Frank Wildhorn's stage musical, Bonnie & Clyde, had its world premiere at the La Jolla Playhouse, followed by a short run at the Asolo Repertory Theatre in Sarasota, Florida. But when the show moved to Broadway in December 2011 (with a cast headed by Laura Osnes and Jeremy Jordan), it got trashed by most of the critics and closed after 36 performances.
In 2010, British playwright Adam Peck premiered his own musical treatment of Bonnie & Clyde at Fairground Theatre (the company he co-founded with Tid in Bristol). As Peck notes:
"Bonnie and Clyde lived recently enough to make it about two people who are in love, who do something crazy that's a bit Mickey and Mallory out of Natural Born Killers, but it was long enough ago to make it historical, with that nostalgia of something different, something distant. Everyone's heard of them but nobody knows who they were."
Peck's version of the story has had several productions in Great Britain and other parts of Europe. The following trailer is from a Greek production by a company named Technopolis:
Berkeley's Shotgun Players is recently presented Peck's version of Bonnie & Clyde in a production directed by Mark Jackson and choreographed by Kimberly Dooley. Parts of this surprisingly bloodless 80-minute staging felt like a brooding tone poem peppered with moments of interpretive dance in which two doomed lovers consider their impending demise.
In one scene, in order to satisfy Bonnie's sexual needs, a wounded and depressed Clyde penetrates Bonnie digitally until she can reach a climax.
In another, Bonnie frets about her inability to relate to her family and her desire to be buried next to Clyde.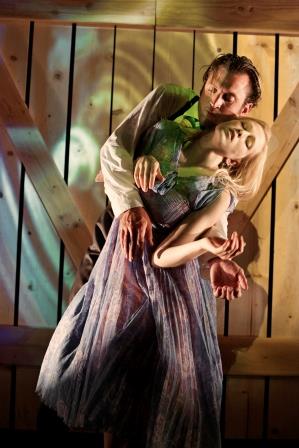 Megan Trout and Joe Estlack in Bonnie & Clyde
(Photo by: Pak Han)
In his director's note, Jackson exp;lains that:
"As Americans, like it or not, Bonnie and Clyde are in our collective blood. They are among the great and lasting American myths. Our version of Robin Hood: two young lovers on the road in a fast car, fashionably dressed, sticking it to The Man. They were living out the fantasies of many Americans who viewed the law as their oppressor, the rich as their aggressor, and the American dream as a cheat stripped naked by the crashing economy.

In reality, Bonnie Parker and Clyde Barrow's lives were unenviably hard, their love as deep and true as their myth suggests, and their deeds at once horrible and perversely admirable. It's undeniably amazing how they survived as long as they did. Their success in that regard embodies one of the American conundrums. How to reconcile our tangled relationships with authority, class, greed, need, desire, and the American dream? While they lived, Bonnie and Clyde themselves were consciously caught between their own mythic status and just being two people. The one fact complicates the other, and it's a complication that chews at the heart of the American experiment."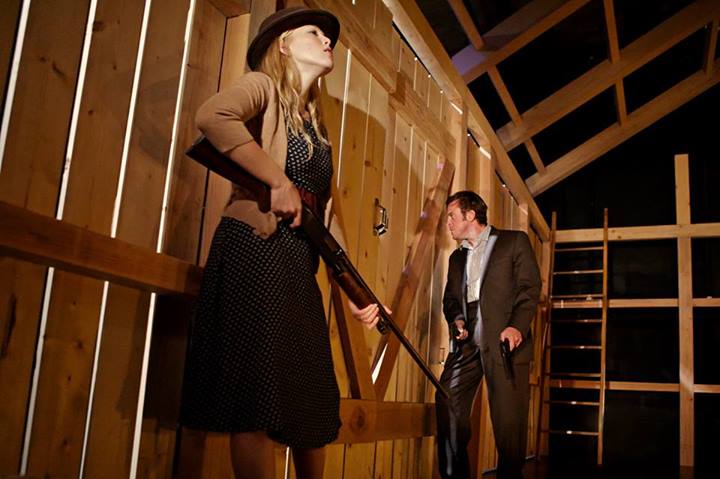 Megan Trout and Joe Estlack in Bonnie & Clyde
(Photo by: Pak Han)
Despite solid performances by Joe Estlack and Megan Trout, something seemed noticeably off balance on opening night. It's rare to find a show's design elements making a much stronger impression than the performances by its actors. But Robert Broadfoot's set design, Micah Stieglitz's video design, Jon Tracy's lighting design, and the superb sound design by Matt Stines ended up being far more impressive than Peck's script. Although Trout and Estlack worked hard to put the show over, my hunch was that it needed a few more performances to gel with its audience.
Calling all HuffPost superfans!
Sign up for membership to become a founding member and help shape HuffPost's next chapter