Who goes to a concert to get scared to death? Those who didn't expect to, that's who! Everyone at the Hollywood Bowl at last night's "The Big Picture: Hitchcock!" was not only scared but also delighted to pieces under the amazing emotional roller coaster conducting of David Newman, a fabulous composer in his own right and a maestro whose Oscar-winning father, Alfred Newman, composed the music for Hitchcock's Foreign Correspondent. What a treat it must have been for him to conduct his father's music as we saw and heard some of this masterpiece!
The concert was one of the most innovative formats as ten-minute clips of Hitchcock's movies had been fashioned into clip type synopses of the plot of a particularly suspenseful part of his movies which we saw while we listened to the music which went with those emotions, scenes, storylines, and the audience stayed on the edge of their seats the entire evening. Imagine the eek, eek, and eek, of Psycho on the giant screens with live music under the stars in the Hollywood Hills. To say a good time was had by all would be an understatement. You could hear a rope or any other murder weapon drop.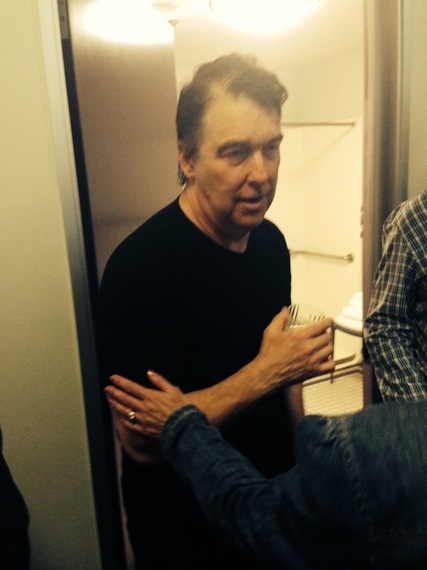 Eva Marie Saint was host for the evening and was as charming as her co-star of North by Northwest, Cary Grant, could ever have been. She graciously shared a few of her own personal Hitchcock stories as Maestro Newman caught his breath between the taxing highly charged intense highs of the music that must have been very physical for him. She told the story that when they were at Mount Rushmore shooting North by Northwest and she slipped, she explained that she really did slip and hurt herself, and she still has the scar on her elbow to prove it! She joked about Hitch's legendary lecherous behavior equating his behavior to one of a "sugar daddy" who seemed to have a weakness for the ladies being ladies.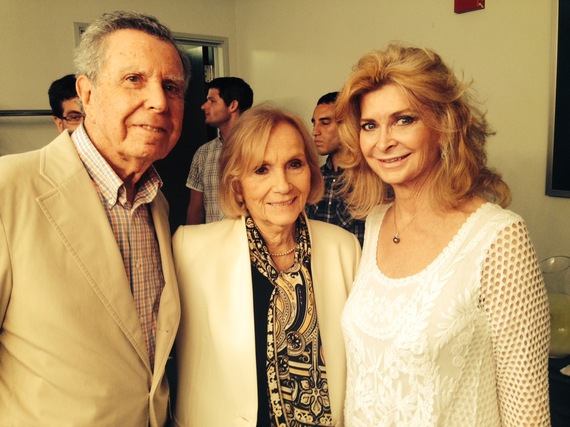 While most people equate Bernard Herrmann with Hitchcock's music which is very black and white and sometimes beyond terrifying, Hitchcock also worked with a number of other talented composers at the start of his electrifying career that are great to hear here. And Maestro Newman brings them to life as only someone who has felt life in all its highs and lows can do. He brings such intensity to his music that you never want it to end. The full evening feels like it's over in five minutes!

For Strangers on a Train, the music crisscrossed like the images of Farley Granger and Robert Walker's roles on the screens across pavements in a way that was artistry and entertainment made perfect by a magically conceived evening.
While this is something Maestro Newman does in some form annually, this had to be the show stopping audience favorite because of the suspense and fear generated by the program itself which was so well planned and executed (pun intended.) Dial M for Murder was spooky to watch up on the screens of the Hollywood Bowl and Psycho was even scarier there than in any movie theatre! The live orchestra really made it come to life..or in this case...death!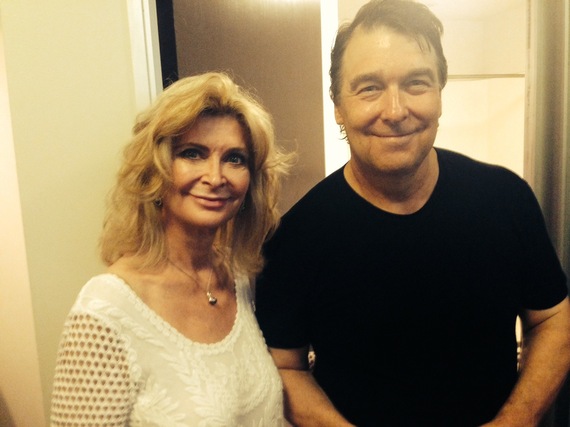 While Maestro Newman is busy conducting all over the world and composing music for movies, the day may come when he is too busy to take this on this Herculean effort. Meanwhile, this annual summer program is not to be missed.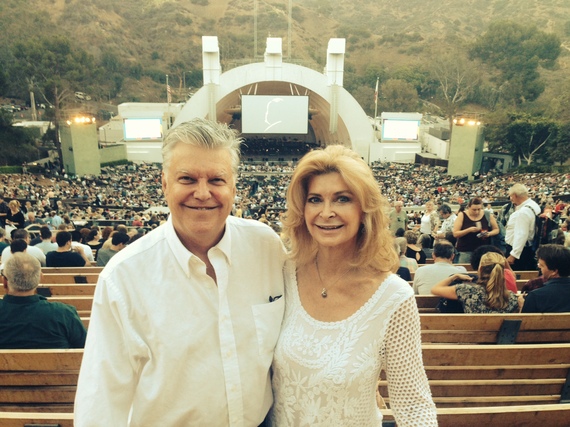 Photos by Patricia Rust and Scott Thomas
REAL LIFE. REAL NEWS. REAL VOICES.
Help us tell more of the stories that matter from voices that too often remain unheard.